Linear's high-efficiency white LED driver powers up to 10 LEDs
Sep 23rd, 2008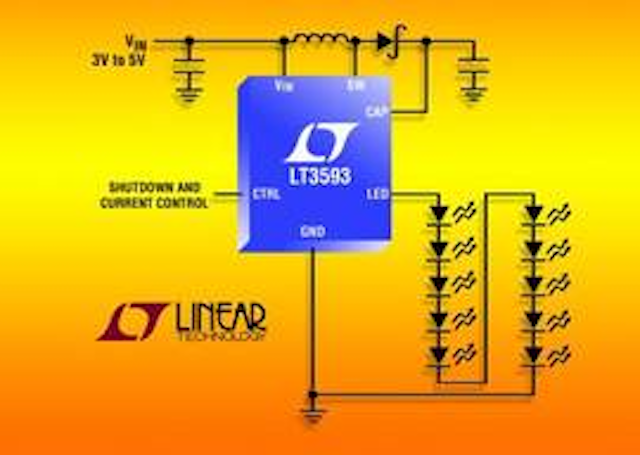 Date Announced: 23 Sep 2008
Linear Technology has announced the LT3593, a high efficiency constant current white LED driver packaged in a 2mm x 2mm DFN (or ThinSOT™) package.
It features a unique high-side LED current sense topology that enables the LED cathode to be connected directly to ground, creating a single wire current source. Also a single digital control pin enables set-and-forget LED dimming with ratios as high as 32:1.
The LT3593 is designed to drive up to 10 white LEDs from a single Li-Ion cell at efficiencies over 80%. It operates from an input voltage from 2.7V to 5.5V, optimizing it for single cell Li-Ion and multicell alkaline/NiCd/NiMH sources. Its 1MHz constant switching frequency allows the use of tiny, low profile inductors and capacitors while keeping input and out put noise low and well controlled.
The combination of high efficiency, low noise and extremely small total solution footprint makes the LT3593 ideal for handheld applications, requiring up to 10 white LEDs for backlighting.
The LT3593 ensures the uniform brightness of each LED by acting as a constant current source, delivering the same current to each white LED, regardless of fluctuations in the LED's forward voltage drop, which varies with temperature, manufacturing tolerances and age.
The LT3593 uses a single wire digital serial interface to deliver 32:1 linear brightness control. Additional features include output disconnect in shutdown, open LED protection and a ±5% reference accuracy.
The LT3593 is available from stock in a 6-lead 2mm x 2mm DFN or ThinSOT package. Pricing starts at $1.40 each for 1,000-piece quantities.
Summary of Features of the LT3593:
· Drives up to Ten White LEDs from a 3V Supply
· One-Pin Shutdown & Current Programming
· LEDs Disconnected in Shutdown
· Single Wire 32:1 Brightness Control Range
· VIN Range: 2.7V to 5.5V
· ±5% Output Current Accuracy at Full Scale
· Low Shutdown Current: 3uA
· 1MHz Switching Frequency
· Requires Only 1uF Output Capacitor
· 2mm x 0.75mm)Low Profile 6-Lead DFN (2mm x & 6-Lead SOT-23 Packages
Contact
UK, Ireland, South Africa and Israel: Alastair Boyd, Linear Technology (UK) Limited Tel: +44 (0)1628 477066 E-mail: aboyd@linear.com North America and General Information: Doug Dickinson, Linear Technology Corporation Tel: (408) 432 1900 ext. 2233 E-mail: ddickinson@linear.com
E-mail:uksales@linear.com
Web Site:www.linear.com