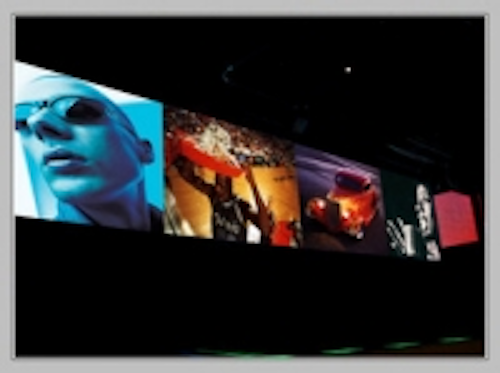 Date Announced: 25 Nov 2008
Shenzhen, China—Unilumin's most recent R-4 indoor panel is one of industry's thinnest, light weight, low power solution for both rental and permanent installations.
Its super-thin design (80-128 mm) utilizes advanced black face for high contrast displaying. Each panel is encased in aerospace grade aluminum to reduce weight. The no-fan cabinet is quiet and power efficient; requiring only 300 watts of power per cabinet.
Combined with the quick seam adjustment mechanism, the Unilumin R-4 has zero seam allows for quick installations and tear downs.
ABOUT UNILUMIN
Shenzhen Unilumin Technology Co., LTD is one of the leading LED manufacturers in the world, providing indoor and outdoor LED solutions for both rental displays and permanent installations.
With its brand new, 20,000 sq meter, fully automated, ISO9001-2000 certified facility in Shenzhen, China, Unilumin continues to provide cutting-edge technology, reliable workmanship, high performance-price ratio products for its customers worldwide.
Unilumin provides sales and technical support in Europe, North and South America, Australia, Asia, and Africa. Please visit youtube.com/unilumin for install examples.
Contact
John Hu Shenzhen Unilumin Technology Co., LTD Tel: 801-938-5337 E-Fax: 413-521-2434
E-mail:usa@unilumin.com
Web Site:www.unilumin.com