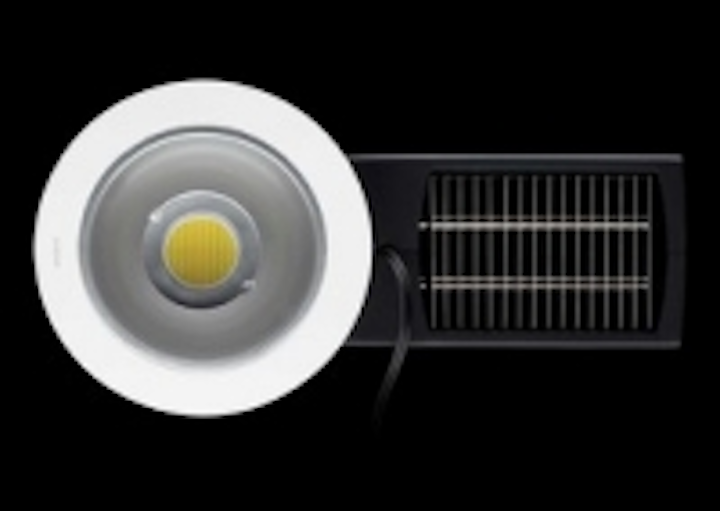 Date Announced: 25 Nov 2008
As part of its Axent brand of architectural lighting solutions, Cooper Lighting has developed two new LED-based products – a spotlight and a downlight – which mark a significant breakthrough in the use of LED technology for commercial lighting applications.
The Axent RXD downlight is the first truly viable LED alternative to traditional compact fluorescent downlights, while the Axent DXS spotlight offers major benefits for retail and display lighting.
Reducing energy consumption is vital for any organisation today, and the RXD downlight can deliver energy savings of 35% when specified in place of the 2 x 26W compact fluorescent downlights currently in widespread use.
Moreover, the RXD achieves these savings without compromising on light levels or quality of light. In a typical hotel corridor, for example, a lighting scheme using the RXD would produce 222 lux and a uniformity of 0.76 compared with 196 lux and 0.71 from the same quantity of 2 x 26W compact fluorescent downlights.
At the heart of the RXD is an innovative multi-chip LED light source. Unlike conventional high-output LEDs, this technology incorporates multiple LEDs in a single package, giving increased light output in a smaller space and a wider spread of light.
The downlight is optimised to deliver a CRI rating of greater than 80 and over 1400 usable luminaire lumens – not to be confused with LED source lumens – while drawing only 37W.
Effective thermal management is crucial for ensuring the long life of any LED-based luminaire, and the RXD uses proven heat-pipe cooling technology to transfer heat away from the back of the LED source. This technique, coupled with a high-quality driver to minimise fluctuations in current levels, enables the RXD to achieve a maintenance-free life of 50,000 hours. Based on 10 hours' use per day, the RXD will last maintenance-free for 13.7 years, whereas a 2 x 26W compact fluorescent downlight will typically require five lamp changes over the same period.
Providing a choice of 2900K warm white or 5000K cool white illumination, the RXD downlight is available in round or square versions and can be specified as trimless or with a choice of white, silver or chrome bezels. It is a compact and lightweight fitting, with a body height of only 86mm, which enables it to be used in restricted ceiling voids.
The Axent DXS spotlight, which employs the same multi-chip LED technology and heat-pipe thermal-management technique as the RXD downlight, offers an ideal solution for retail and display lighting applications because no heat is generated from the front of the unit and there is no UV light to contend with.
The spotlight is designed to be installed directly into most common types of 3-circuit track, and a comprehensive range of Axent DTU track and connectors is also available. Extremely easy to set up and adjust, the spotlight can be moved through 360 degrees horizontally and 180 degrees vertically, with both positions locked by a single lever; no tools are required.
Featuring distinctive modern styling, the spotlight is available in single and twin versions - finished in white, silver or black - with a choice of beam angles and either warm white or cool white colour temperatures.
An optional slide-on optical cartridge with a variety of coloured and honeycomb filters makes the spotlight even more versatile.
Contact
Cooper Lighting Tel: +44 (0)1302 303200
E-mail:info@cooper-ls.com
Web Site:www.artandsciencecombined.com