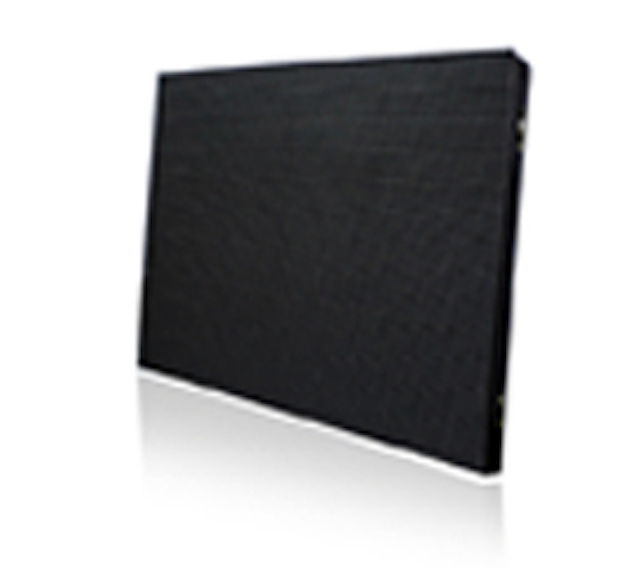 Date Announced: 07 Nov 2008
BROOKINGS, S.D. – October 21, 2008 – Daktronics Inc. (Nasdaq-DAKT) announced today that it will unveil a new, high-end addition to the company's PST product family at the 2008 LDI convention and tradeshow in Las Vegas, Nev., October 24-26, booth #2822. Officially called the PST-10 modular display panel, the product will combine the thin, lightweight cabinet design of the PST series with Daktronics MAG-10 technology, a new breed of indoor/outdoor display module that uses 3-in-1 black-stamped light-emitting diodes (LEDs) to bring bright, vivid images with ultra-close viewing distances to any location.
"The PST-10 panel is an exciting addition to an already proven product line," said Jay deBlonk, Daktronics Product Manager. "The PST's road-tested cabinet design makes for a versatile, lightweight video solution that's ideal for the fast-paced world of rental and staging, while the new module technology offers a bright, clean picture at close viewing distances."
Designed for high-profile rental and staging applications, PST-10 SMD panels use the latest advancements in environmental protection and mechanical engineering to combine the tight pixel pitch of indoor SMD displays with the high brightness and weather resistance of outdoor through-hole LED products. Protected at an IP-66 environmental rating, these panels offer complete protection from the elements, while black package LEDs provide a darker display face, high contrast ratio and a bright, clear picture.
Built on a flexible modular platform, PST-10 panels act like building blocks to combine together in a wide variety of shapes and sizes to form large-screen video displays. Using thin, lightweight panels makes the setup and teardown process quick and easy. PST-10 panels feature 12 removable MAG-10 modules housed within the cabinet offering customers a high level of creative versatility.
"The PST-10 panel lets customers defy the boundaries of traditional LED video," said Myron Linde, Daktronics Mobile and Modular Sales Manager. "Close viewing distances, removable modules and a versatile building-block platform lets customers explore a virtually infinite amount of creative screen arrangements."
Designed to perform under a variety of indoor and outdoor situations, PST-10 panels use Daktronics full-depth factory calibration to measure and adjust both the intensity and color wavelength of each individual LED within the panel, letting customers adjust brightness and color quickly and easily right in the field to compensate for different lighting conditions.
"Daktronics calibration process goes above and beyond traditional 'brightness only' testing on LED displays," said deBlonk. "The ability to adjust both brightness and color wavelength in the field makes the PST-10 panel a consistent, reliable video product that's ideal for cross-rentals."
In addition to the PST-10 panel, Daktronics also offers PST-10i, PST-13, PST-12HD and PST-23 modular display panels, which offer the same versatile modular platform for a variety of indoor and outdoor applications.
About Daktronics
Daktronics is recognized as the world's leading provider for full-color LED video systems. Such Daktronics systems, used in both modular and fixed-installation applications, feature a host of patented manufacturing, image processing and control system techniques and technologies that provide it a significant competitive advantage in the LED video marketplace. Since 2001, independent market research conducted by iSuppli Corp. lists Daktronics as the world's leading provider of large screen LED video display systems. For more information, visit the company's Web site at www.daktronics.com.
Contact
Daktronics Media Relations Joni Diekmann Mobile and Modular Marketing Tel 605-696-3927
E-mail:jdiekma@daktronics.com
Web Site:www.daktronics.com