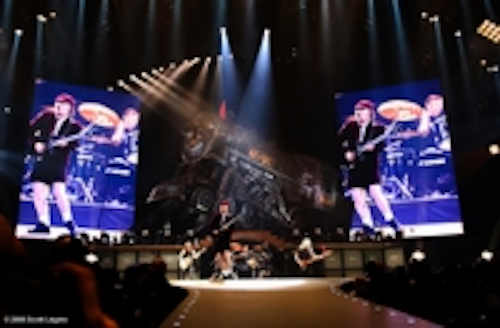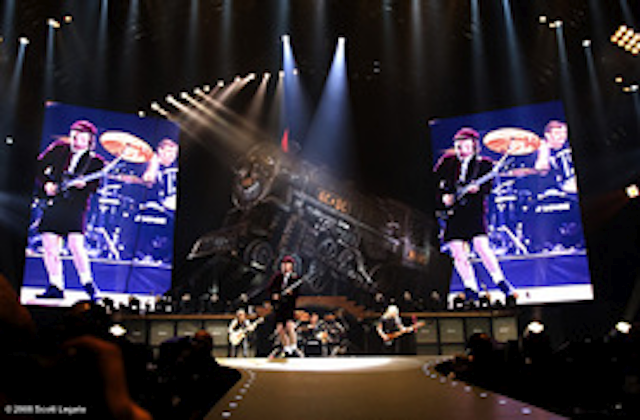 Date Announced: 25 Nov 2008
BROOKINGS, S.D. – November 25, 2008 – While the legendary super group AC/DC might be known for their high-energy stage presence and dark rock anthems, the stage was anything but dark as a 70 square meter Daktronics (Nasdaq-DAKT) LED video display comprised of modular PST-10 panels lit up the set while the band kicked off its Black Ice World Tour in Wilkes-Barre, Pa. on Oct. 28.
Screenworks, the tour's official video partner, provided the video display, which functions as the centerpiece of a dynamic set design featuring advanced pyrotechnics, state-of-the-art lighting and a number of other high-tech props.
"The fans, the music, the set design—everything about the Black Ice Tour is impressive." said Myron Linde, Daktronics Mobile and Modular Sales Manager. "It was a pleasure teaming up with Screenworks, a leading designer and provider of mobile and modular video systems, to help create an engaging display system that's as unique as the tour itself."
The concert started dramatically as the display divided to form two smaller displays, making way for a large mechanical train that emerged as the band struck the opening chords of Rock 'N' Roll Train.
"The fans have absolutely loved it," said Danny O'Bryen, vice president of Screenworks. "We knew this premiere tour was going to be a marathon, and we wanted to put our best foot forward with a high quality, SMD product that could go the extra mile. The PST-10's balance between superior video quality, uniformity and ease of transport made it the perfect fit for this tour."
The video display, measuring approximately 7.3 m H x 10.4 m W, is comprised of Daktronics latest high-end addition to the PST series, PST-10 panels. These panels feature MAG-10 technology, a new breed of indoor/outdoor display module that uses 3-in-1 black-stamped LEDs allowing the display to keep a low profile on stage and then surge with imagery bringing bright, vivid images to fans.
"Designing a display that could move on its own to form two smaller displays was no easy task," said O'Bryen, "but we were pleased with the perseverance of the Daktronics staff as they worked with our staff to iron out the crew's creative vision."
With more than 30 live shows scheduled throughout North America in the coming months, Screenworks wanted a high-end, lightweight video product with accurate and uniform color reproduction that tour technicians could assemble and tear down quickly as the band prepared to travel the globe promoting its latest album, Black Ice.
Screenworks' decision to use PST-10 panels as the tour's official video system marked the maiden voyage of the new product, which Daktronics officially unveiled Oct. 24 at the LDI tradeshow in Las Vegas, Nev.
"The PST-10 panel is an exciting addition to a proven product line," said Jay DeBlonk, Daktronics Product Manager. "The PST's road-tested cabinet design makes for a versatile, lightweight video solution that's ideal for the fast-paced world of rental and staging."
The tour will be hitting up a number of major cities and performing before many sold out crowds before heading to Norway in mid Feb. for the tour's European leg.
About Screenworks
With more than 15 years in the industry, Screenworks NEP is the world's foremost designer and provider of mobile and modular LED video screens for entertainment, corporate, civic and sporting events. Founded in 1990 by Tom McCracken and Danny O'Bryen, BCC Video and Screenworks revolutionized mobile video by using broadcast quality fly packs and mobile and modular video trucks to bring colorful video to a number of big stages across the country. Their vast inventory of mobile and modular LED video products continues to grow as innovations take place in the video industry. The company has proudly been featured as the official video partner for a number of big name acts, including the Dave Mathews Band and the Rolling Stones.
About Daktronics
Daktronics is recognized as the world's leading provider for full-color LED video systems. Such Daktronics systems, used in both modular and fixed-installation applications, feature a host of patented manufacturing, image processing and control system techniques and technologies that provide it a significant competitive advantage in the LED video marketplace. Since 2001, independent market research conducted by iSuppli Corp. lists Daktronics as the world's leading provider of large screen LED video display systems.
Contact
DAKTRONICS MEDIA RELATIONS: Joni Diekmann Mobile & Modular Marketing Tel (605) 696-3927
E-mail:jdiekma@daktronics.com
Web Site:www.daktronics.com