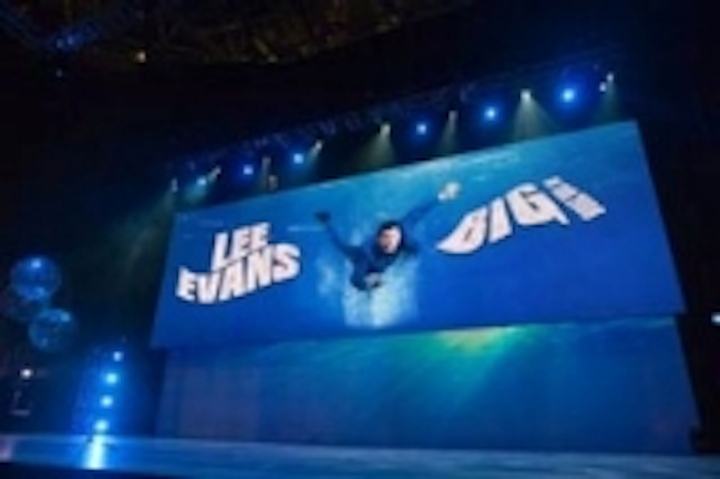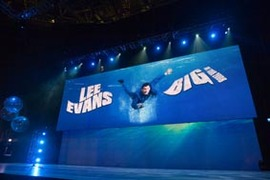 Date Announced: 03 Nov 2008
UK – 3rd November 08 - 59 sold out dates and a total audience figure estimated at 400,000 makes the Lee Evans Big Tour the UK's largest stand-up comedy tour of 2008. Taking in arenas the length and breadth of the UK, visual appeal was an important factor right from the very start. Lighthouse R7-ER LED screen, supplied by leading audiovisual services company Creative Technology (CT), proved an ideal solution.
An impressive total of 150m2 of R7-ER configured as a large 16:9 aspect screen formed the centre piece for the stage set, plus two IMAG side screens in portrait format ensured that Evans' visual comedic style reaches each and every audience member.
The average size for the central touring screen is 10.16m x 6.1m (10 panels wide by 8 panels high), which closely approximates the 16:9 format initially specified. The look of the show was transformed at London's O2 Arena - the largest venue on the tour - to accommodate the re-set for Evan's DVD shoot. Spanning an impressive 60ft, the centre screen was extended to the width of the stage and complemented by a 60ft x 14ft projected image set between the LED screen and the stage.
CT's project manager for the tour, Steve Purkess explains: "The R7-ER's virtual resolution means we'd been able to drive it using a Vista Systems Spyder switcher, which allowed us to 'pixel match' to the Lighthouse LIP processor's native resolution, getting pixel for pixel representation of the HD cameras and playback. The picture quality achieved was fantastic."
Tour production manager, Mark Harris had some very definite requirements. "One of the reasons video is such a critical element of this show is the nature of Lee's comedy," he says. "When you put a stand-up comedian into a large venue where a large number of people sitting far away from the stage, it's very important that you see what he's doing.
"With Lee, this is even more important because his comedy is mostly physical. So to have close-ups of his face, or the way his legs are moving in the head-to-toe shots, in good definition is absolutely critical."
Harris and his team took a significant amount of time at the design stage of the production evaluating alternative ideas. "Our video screens aren't just wing IMAG screens, but a part of the stage set," he continues. "CT was very helpful in demonstrating the available alternatives, what the parameters of them were, what they could achieve. We spent quite a bit of time in CT's warehouse looking at different ideas, screen sizes, positions, shapes, different types of screen that we might use and ultimately, once we had decided what we wanted, I was confident they could deliver and at a competitive price."
As well as superb picture quality, another requirement of the screen was that it needed to be quick and easy to rig and de-rig. "We have a number of overnights on this tour and we also have a lot of screen," says Harris. "Our wing screens are LED, which is unusual – most are projection solutions – and sometimes we're in a position where we have no choice but to build the LED in pretty awkward positions. So we wanted a screen product that is relatively easy to rig and de-rig.
"Lighthouse is an industry standard and I've seen it being put up and taken down pretty fast on other events. It ticked all the boxes and I was convinced that we should use it."
CT screen technician, Giles Conte, concurs: "It's speedy to rig and de-rig and, because it's light, we can easily double stack the panels, which makes it simple to transport as we can get quite a lot on a truck. Add to that CT's bespoke dolly system and it's a good product to tour with."
Both Purkess and Harris have been impressed with the results they have achieved with the Lighthouse R7-ER screen.
"I love the screen," enthuses Purkess. "It's very much in demand at the moment. It's really versatile and, because of its high resolution, small or large screen formats all look fantastic. CT bought the Lighthouse R7-ER panels earlier this year, and it's been in use ever since."
"It's very encouraging that R7-ER has provided CT with the quality required for large indoor shows that demand high resolution reproduction," says Simon Taylor, Lighthouse's UK general manager.
Harris adds: "When the entire compliment of screen went up in The O2 Arena, it exceeded my expectations. I was really chuffed. It did exactly what we hoped it would and probably more.
"We couldn't do this show without the screens giving off this quality image. However good the artist is, when you've got 14,500 people in a venue looking at one man, it wouldn't work without them."
~END~
Lighthouse Technologies Limited is a leading LED technology developer, manufacturer and global supplier of state-of-the-art LED modular video panels, which can be assembled into large scale video screens for indoor and outdoor use. It also produces a range of creative video solutions that have a multitude of applications.
Specializing in the research and manufacture of LED products, Lighthouse has its own intellectual properties with a remarkable number of active patents worldwide and is committed to remaining the premier creator of intellectual property values.
The company's LED components, panels and complete video systems undergo stringent quality control with power-on, burn-in processes at ISO9001 and ISO14001-certified manufacturing plants.
From the company's inception, Lighthouse products have won numerous international awards, from the prestigious Consumer Product Design Award and the HKITCC Certificate of Merit in Technological Achievement in the 1999 Hong Kong Awards for Industry, to Buzz of the Show award at InfoComm 2004 in Atlanta and 2005 IBC Exhibition Design Award. Most recently, Lighthouse was selected as a Top 100 Global Award Winner by Red Herring Magazine.
Lighthouse operates on a global basis. It has sales offices and technical support teams in the United States, South America, the United Kingdom, Continental Europe, the Greater China and Asia Pacific. For more information, please visit www.lighthouse-tech.com
Contact
Sarah James Gasoline Media Limited sarahj@gasolinemedia.com
E-mail:info@lighthouse-tech.com
Web Site:www.lighthouse-tech.com