Neo-Neon image and gobo projection products based on SSLE (Solid State Light Engine)
Jan 24th, 2008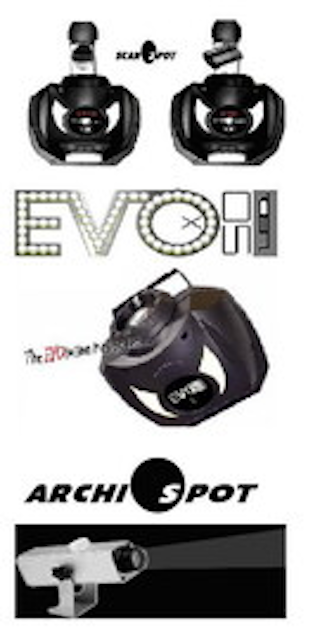 Date Announced: 24 Jan 2008
Hong Kong, P.R. China – Neo-Neon™ International launches three new product series based on its revolutionary new SSLE (Solid State Light Engine) which are image and gobo projection products.
Neo-Neon™ International a public listed company on the Hong Kong Stock Exchange(HKEX 1868) announces a revolutionary breakthrough in the development of core LED Technologies relative to solid-state lighting SSL markets.
In December of this year Neo-Neon™ announced the launch of the REVO100 Moving Head which was the first development breakthrough in high power SSLE based spot, image, and gobo projection products.
Neo-Neon™ has just launched three new ground breaking series of products that utilize LED and LED based direct replacement lamps as light engines to project focused and near parallaxes beams of light and custom engineered optical systems to project spot images, 1gobo patterns, and lighting effects.
This is a truly revolutionary advancement as Neo-Neon's new SSLE (Solid State Light Engines) with proprietary thermal management and optics systems are integrated across a well planned product road map. This development road map for productizing the SSLE's is targeted toward Moving Head Luminaries, Intelligent Lighting, Theatrical and Stage Lighting, Commercial, and consumer based spot and image projection.
These new Series are:
EVO100 Scan Spot Series
EVO100 Scan Spot Series includes a flat mirror version and mirror barrel version. The housing is based on the popular MECH FX series with a new and stylish injection molded metal arm and motor assembly cover. These two products contain the WLED (White LED) 100W SSLE COB Light Engine and project vivid colors and gobos which create stunning aerial effects and patterns.
EVOFX Series
Neo-Neon™ Entertainment Lighting just completed the development of the EVOFX 50 Series which is a WLED (White LED) 50W SSLE based product range. Introduced originally as the MECH FX series the EVO FX series is the next generation of high power SSLE (Solid State Light Engine) based effects lights by Neo-Neon™ Entertainment Lighting.
The EVO FX 50 Series projects a brilliant white comparable to discharge lamp pure white and translates dichroic and glass colors patterns, gobos, and effects perfectly.
EVO Archi-Spot
The all new Archi-Spot Series from Neo-Neon™ Entertainment Lighting incorporates 3 to 100W WLED (White LED) SSLE (solid-state light engines) to project gobo images such as the samples shown above. The first product in this series to be introduced is the Archi-Spot 3 which incorporates a standard LED direct replacement 3W White LED bulb to replace the traditional incandescent light source. The Archi-Spot 3 LED light source lasts up to 100,000 hours and draws negligible electrical current.
The special optics design and user replaceable and user printable image cartridge makes the Archi-Spot.
A complete range of Image based Archi-Spots are in development as the applications of these types of IMAGE projectors is virtually untapped and limitless.
Jim Hardaway, Project Manager of the new SSLE development and productizing, and
CEO of Neo-Neon™ Internationals Entertainment Lighting Division remarks these new breakthroughs as "the world's first and completely revolutionary". These three new series are sure to turn heads and eyes. The launch of the Revo100 met with great enthusiasm and acclaim from peers and customers. I am certain these new products will as well."
Contact Jim Hardaway
Address Gonghe Town, Heshan City, Guangdong, P.R. China
Phone 86 7508300941
Alternate Phone NO. 86 13822399965
Email jim@neo-neon.com
URL www.neo-neon.com
Contact
Neo-Neon International Ltd Gong He Town, He Shan City, Guang Dong, China. Tel No. (86)750-8300941 Fax No.(86)750-8300940
E-mail:america-a@neo-neon.com
Web Site:www.neo-neon.com