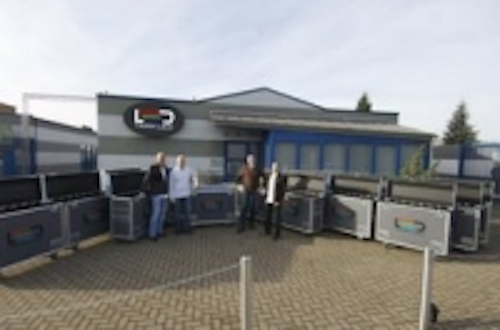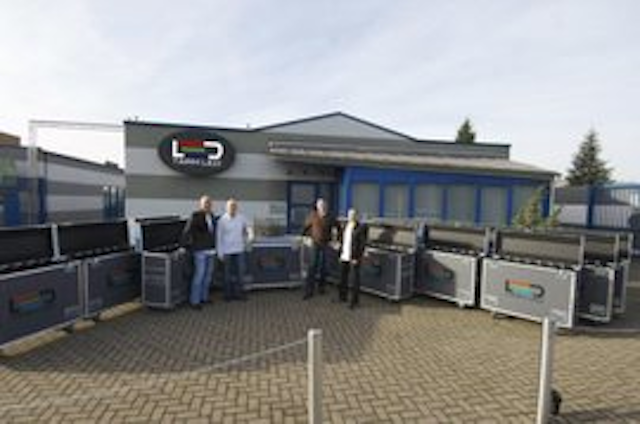 Date Announced: 31 Jan 2008
TARMLED 4x4 passed its first "official" hardship test at the city of Bucharest, Rumania's New Year's-eve celebration. The system withstood temperatures down to minus 15 deg.C (–26 deg.F) and some days extremely high humidity with flying colors.
A 50 sq.m (538 sq.ft) screen assembled from TARMLED 4x4 tiles served as a background for the "Micro-Arch" stage supplied by STAGECO and yielded ultrabright video animations.
After exhibiting exclusively TARMLED 4x4 prototypes at trade shows, tarmLED GmbH & Co. KG presented a system ready for mass production that is available for rental, effective immediately, at this year's "WORLD OF EVENTS" show in Wiesbaden, Germany.
Following upon an intensive testing phase, the product is now also available to the events market. Hamburg based AMPTOWN cases specially developed flightcases that accommodate around 100 sq.m of TARMLED 4x4 tiles and guarantee safe transportation.
The first official showing of TARMLED 4x4 was held in Dubai in late May 2007, in conjunction with the "Palme exhibition." tarmLED GmbH & Co. KG's innovative LED solution subsequently attracted a lot of attention at last year's "Showtech," Berlin, Germany as well as PLASA and LDI.
Managing Director Ralf Lottig noted that, "TARMLED 4x4 is not intended to be a substitute for conventional video screens. The application areas for this system, which is a world first of its kind, are event and concert stages, trade-show displays, and state-of-the art architectural illumination." Of great interest in the case of outdoor use are that TARMLED 4x4-modules qualify for Protection Class IP 65 certification (units qualifying for IP 68 certification are optionally available), are extraordinarily bright, and may even be used in bright sunlight, without sacrificing visibility.
Lottig added that, "Rentals of TARMLED 4x4 are available exclusively through us, which allows us to guarantee that everything involved will be properly handled and will operate perfectly on site, precisely as one would expect from tarm, which has been active on a worldwide scale for more than twenty years. Our equipment inventory will now be gradually expanded in order that even the biggest domestic and foreign productions may take advantage of our latest product."
Contact
tarmLED GmbH
E-mail:info@tarmled.de
Web Site:www.tarmled.de