Artistic Licence launches DMX-Fix: a problem solved
Jan 31st, 2008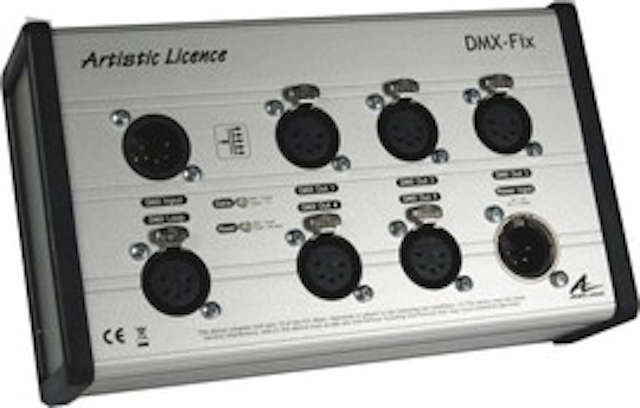 Date Announced: 31 Jan 2008
Recent advances in DMX512 and RDM (Remote Device Management) provide a wealth of benefits to the industry. Unfortunately these developments in technology are often accompanied by some products that are not quite compatible.
DMX-Fix is the solution from Artistic Licence. It is a combined DMX512 splitter and data filter. The product automatically removes any 'clever' information from the data stream, ensuring compatibility with older or out of specification fixtures and dimmers.
The DMX512 input is optically isolated and the product offers five independent DMX512 outputs.
The product automatically corrects:
• Strips all non standard start codes, passing only lighting level data.
• Corrects stop bits ensuring output always has 2 stop bits.
• Corrects short or long break times.
• Stabilises inter-slot delay.
• Automatically retransmits on loss of data.
• Retimes Mark-after-Break.
Perhaps most importantly, the product has an indicator to show when it is 'fixing'!
The product is mounted in a robust aluminium extruded case with optional truss mounting adapter. DMX-Fix is powered by an external power supply of 9-24V DC.
About Artistic Licence
Since 1988, Artistic Licence has specialised in the design, development and manufacture of products for the architectural lighting and entertainment technology industry. The product range encompasses DMX512-A, RDM, Ethernet, Art-Net, DALI and MIDI. The range extends from test equipment to data distribution and motion control to LED lighting.
This vast range of products has evolved from years of experience in solving technical problems. At Artistic Licence, no job is too large or too small and no technology is too old, new or complex.
The Artistic Licence Special Projects department provides a unique service by offering the entire product range as building blocks for custom development. Why reinvent the wheel when you can turn to Artistic Licence!
Contact
Tel: +44 (0)20 8863 4515
E-mail:Sales@ArtisticLicence.com
Web Site:www.ArtisticLicence.com