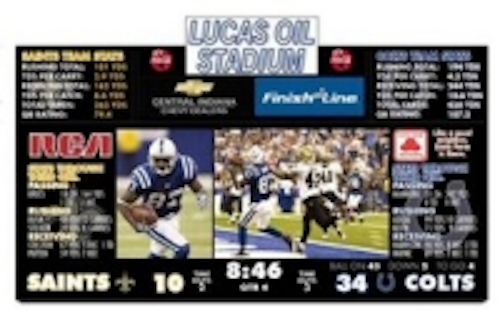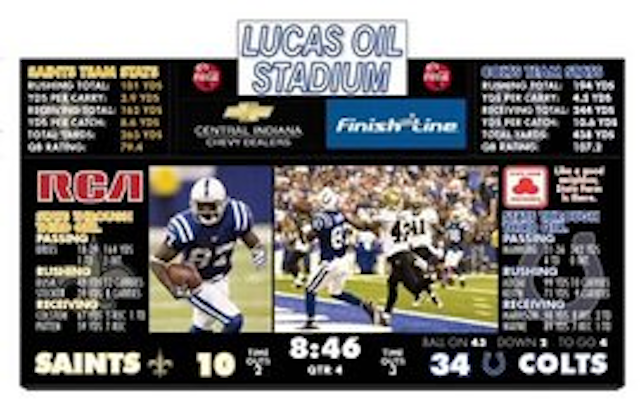 Date Announced: 03 Jan 2008
-- Colts Fans to Enjoy Large Video Displays and Ribbon Board Surrounding the Seating Bowl
BROOKINGS, S.D. -- Daktronics (Nasdaq-DAKT) announced today that it has been chosen to provide an integrated video and scoring super system for Lucas Oil Stadium, currently under construction in Indianapolis.
Installation of the $11 million dollar system is scheduled for completion prior to the start of the 2008 National Football League season. Much of the manufacturing of the system will be completed during the company's fourth quarter of fiscal year 2008.
"This will give fans the best experience possible," said Colts Senior Vice President of Sales and Marketing Tom Zupancic at a press conference held earlier in Indianapolis. "Daktronics has not only the best product, but will be working with the organization to help create the graphic content for these visual elements. The boards will have the ability to portray every available statistic and advertisement, but our goal is to give the fans a clean, crisp HD view of the action on the field."
Two new large scoreboards, to be positioned in the northwest and southeast corners of the stadium, will measure approximately 97 feet wide by 53 feet high, each incorporating one large video board (97 feet wide by 37 feet high) and two smaller full-color digital displays (24 feet wide by 16 feet high).
Daktronics HD-X technology and its control system allows for complete flexibility in programming. The primary video boards can serve as single giant displays or be divided into multiple zones (windows) to show a wide variety of statistics, information, graphics, animation and live and recorded video.
Each of the main scoreboards will also include dedicated space for recognizing corporate sponsors, as well as Lucas Oil Stadium identification signage.
In addition to the two main scoreboards, Lucas Oil Stadium will feature a nearly 360 degree configuration of full-color LED technology surrounding the seating bowl. The ribbon board configuration will measure approximately 1700 feet wide by three feet high.
"We look forward to providing the Colts, the Indiana Stadium and Convention Building Authority, and the fans in Indianapolis with a unique system that will rival any in the NFL," said Jay Parker, National Sales Manager for Daktronics. "Colts fans will appreciate the high resolution, vivid colors and great viewing angles of the new Daktronics HD-X video technology."
"We are pleased to make this announcement that highlights another great component of Lucas Oil Stadium," said Will Ellerbruch, Regional Sales Manager. "Daktronics presented several unique options for the venue, and the decision was made to go with the very latest LED technology. At nearly five times the size of the old video boards in the RCA Dome, and with the widest viewing angles available, fans in all the seats will have a great view of the displays."
Keyframe® creative services, a division of Daktronics, will be providing innovative graphics and animation as part of the contract. Daktronics currently has equipment installed at 26 of 31 NFL venues. Recent projects include super systems designed and manufactured for the Pittsburgh Steelers, Tennessee Titans, New Orleans Saints, Miami Dolphins and Arizona Cardinals.
About Lucas Oil Stadium
Lucas Oil Stadium will be a three-deck, seven-level, multi-use building with a retractable roof that will seat 63,000 for football and 70,000 or more for NCAA basketball, concerts and other special events. The stadium is being built on a downtown site bounded on the north by South Street, on the east by Capitol Avenue, on the south by McCarty Street, and on the west by Missouri Street. The stadium is scheduled to open for the Colts 2008 season. It will replace the RCA Dome, which has been home to the Indianapolis Colts since 1984.
About Daktronics
Daktronics is recognized as the world's leading provider of full-color LED video displays. Daktronics began manufacturing large screen, full-color, LED video displays in 1997. Since then, over 3,900 video-capable displays have been sold and installed in sports, entertainment and commercial facilities around the world. Since 2001, independent market research conducted by iSuppli Corp. lists Daktronics as the world's leading provider of large screen LED video displays.
Daktronics has strong leadership positions in, and is the world's leading supplier of, large screen video displays, electronic scoreboards, computer-programmable displays, digital billboards, and control systems. The company excels in the control of large display systems, including those that require integration of multiple complex displays showing real-time information, graphics, animation and video. Daktronics designs, manufactures, markets and services display systems for customers around the world, in sport, commercial and transportation applications.
Contact
Tel. (605) 697-4300 Toll-free (800) 325-8766
E-mail:sales@daktronics.com
Web Site:www.daktronics.com