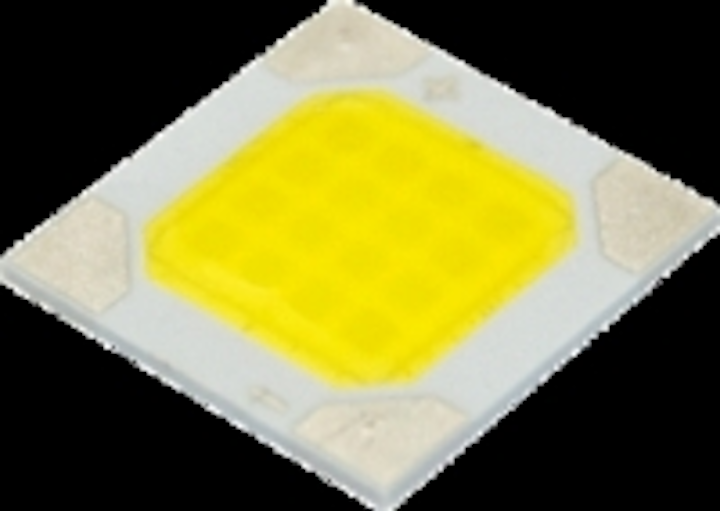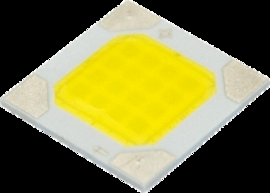 Date Announced: 07 Aug 2008
Edison Opto, a Taiwan based high power LED packaging manufacture, has introduced its popular product, 20Watt EdiPower®. The device is measured at 14.5mm x 14.5mm x 0.7mm, with luminous flux of 1,000 lumens for cool white LED (CCT:5,000~10,000K), and 780 lumens for neutral white LED (CCT:3,800~5,000K), and 620 lumens for warm white LED (CCT:2,670~3,800K) at a drive current of 1,400mA.
The circuit design is a 4 parallel 4 series connection, and the operating voltage is approximately 12.0~15.6V. The thermal resistance of EdiPower® is 2 °C/Watt; with applicable heat dissipation, the lifespan is expected to exceed 20,000 hours (Tj=105℃). EdiPower® are available in cool white, neutral white, warm white, blue, green, amber, red color, and high CRI(color rendering index) series.
The multi-chip ultra high power EdiPower® Series deliver never before seen luminous flux output from a single emitter. The superficial illuminating nature of EdiPower® makes them the preference in task lighting, high specification down lighting, street lighting, PAR20~38 LED Lamp Series , projector, spot lighting ,and high profile architectural lighting.
Assembly & Soldering
We suggested using EdiPower® with Star (ALPCB) will be easier to apply in lighting applications. The EdiPower® with Star can use M3 screws to fix on the heatsink or other metal utilities. It's strongly recommended using thermal grease between Star and heatsinks.
An effective thermal design relies on heat conduction and dissipation. The conduction path which heat travels is dependant on material properties while dissipation depends heavily on the surface area of the heatsink.
Therefore, it is important to provide a fast heat conduction path for the LEDs by reducing the contact resistance between the interfaces. One common method is applying thermal grease. Thermal grease is also known as gap filler; its main purpose is to provide a direct thermal path from heat source to heatsink device.
Contact
Jill Hsu Marketing Planning Dept. Edison Opto Corporation Tel +886 2-8227-6996 Ext.8802 Fax +886 2-8227-6997
E-mail:jillhsu@edison-opto.com.tw
Web Site:www.edison-opto.com.tw