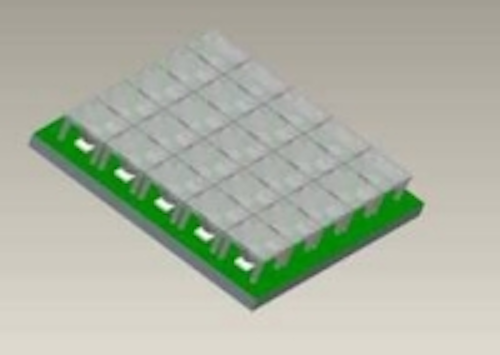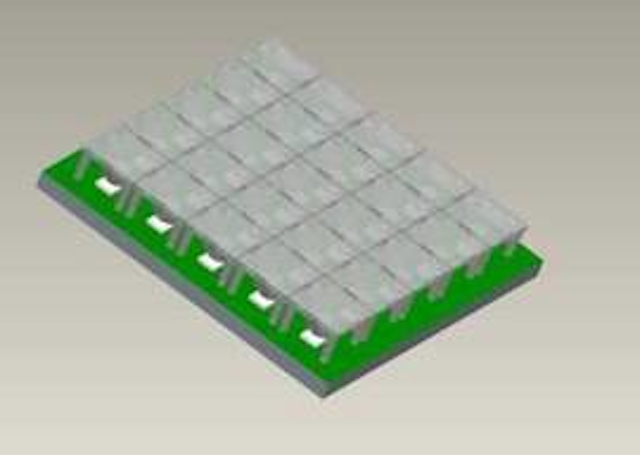 Date Announced: 21 Aug 2008
-- New Polycarbonate Optics Now Available
Slough, United Kingdom and Latrobe, Pennsylvania, USA -- Carclo Technical Plastics announces the immediate availability of a wide range of high performance polycarbonate optics to manage the light output from new Cree XLamp® XP-E and XP-C LEDs.
These new optics are available immediately in 10mm square "small footprint" optics, and soon in standard 20mm and 26.5mm diameter sizes, in both a clear and a frosted finish. The 10mm optics feature a clear medium beam with a FWHM (Full Width Half Maximum) beam angle of 16.4 degrees, an elliptical or "line" optic with a 43x16 degree beam, as well as Carclo-exclusive frosted optics in medium (18 degrees FWHM) and wide (26 degrees FWHM) beams. Carclo 10mm "small footprint" optics do not require a separate holder, and can easily be grouped together in square, rectangular or linear multi-LED arrays.
Carclo also wishes to announce the immediate availability of a 20mm side-emitting optic for the Cree XLamp® XP-E and XP-C LEDs, with an industry-leading 5 degree beam angle around a full 360 degrees, and efficiencies approaching 90%. Finally, 20mm and 26.5mm optics for the new Cree XLamp® XP-E and XP-C LEDs will soon be available in narrow, medium and wide beam angles, in both clear and Carclo-exclusive frosted optics, as well as elliptical and elliptical orthogonal line optics.
Ian Bryant, Business Development Manager for Carclo's UK optics business, said: "Cree XLamp® XP-E and XP-C LEDs have been developed by Cree for lighting-class performance in a small-footprint, low-profile LED package, and to give LED lighting designers enhanced flexibility and performance to further accelerate the LED lighting revolution. We are delighted to be able to offer a line of optics to coincide with the launch of these new LEDs."
Jim O'Connor, Business Development Manager for Carclo USA added: "Carclo's timely announcement of a wide range of optics for the newly introduced Cree XLamp® XP-E and XP-C LEDs is a further indication of Carclo's firm desire to support users of new LEDs developed by all the major manufacturers. We believe that our unique 10mm small-footprint optics and our Carclo-exclusive frosted optics will provide the kind of performance that will allow these new LEDs to be rapidly incorporated into new designs for LED light engines and solid state lighting fixtures."
Carclo Technical Plastics, http://www.carclo-ctp.co.uk, is a global manufacturer of LED and other electro-optics, and is a specialist in the field of precision injection molding, assembly, and value-added solutions for customers across many industries.
Carclo develops, manufactures, and markets a complete range of standard optics to suit the LED products supplied by all the leading manufacturers. Molded using optical grade polycarbonate, these optics are characterized by high efficiency and better heat resistance than competing acrylic products.
Carclo LED optics are available through normal distribution channels, directly from Carclo warehousing facilities in both Europe and the USA, or from Carclo's web shop on www.carclo-optics.com.
Contact
Ian Bryant, (+44 (0)7740 205 338) Jim O'Connor, jim.oconnor@carclo-usa.com (724-539-6982)
E-mail:Ian.Bryant@carclo-optics.com
Web Site:www.carclo-optics.com