Event production company Massteknik tours Europe with digiLED screens
Aug 12th, 2008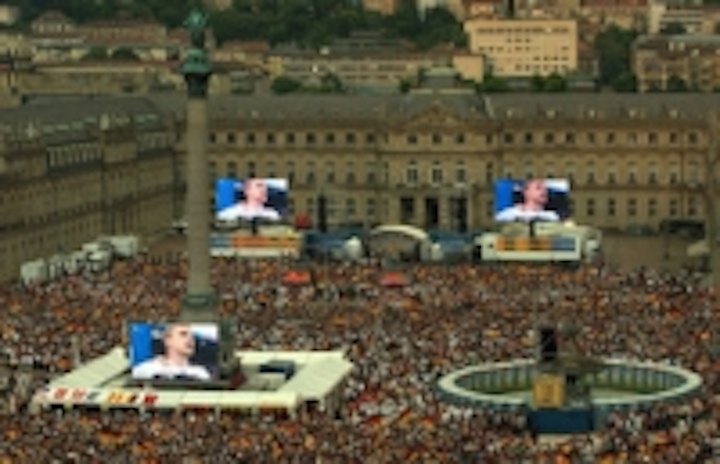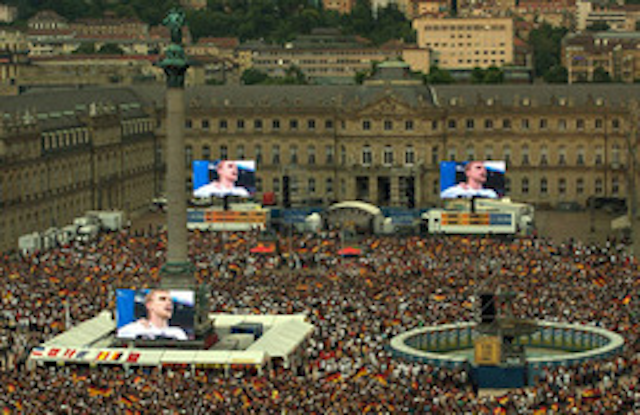 Date Announced: 12 Aug 2008
Leading Scandinavian AV rental and installations integrator - and owners of Europe's largest fleet of mobile video screens - Massteknik, has added five massive digiLED d12N screens to its ever-expanding fleet. These high-resolution screens were out on the road in Europe from day one of the Euro 2008 championships, bringing all the action to the fans on the streets, and are continuing to entertain crowds throughout Europe at concerts, festivals and racing events.
Offering unique solutions that integrate mobility and flexibility, the demand for mobile screens has increased dramatically in the past few years. Installed at festivals, concerts, sports and corporate events, they are ideal for advertising, promotional and live events, enhancing audience experience and participation at any venue. The digiLED d12N screens are the ideal choice for such applications, having a 12.5mm effective, 25mm physical, pixel pitch to providing a high-resolution images with excellent brightness and vivid colours, even in direct sunlight.
Four of Massteknik's trailers have been installed with 56m2 digiLED screens, each measuring 10m x 5.6m. The fifth houses a massive 88m2 screen, which is ideal for the larger events. All five screens are 16:9 aspect ratio and utilise the latest digiPRO HD processing technology enabling Hi Def images.
Ready to use in less than 60 minutes from arrival to site, the mobile screen can be managed by just one operator, making it the perfect solution for event managers working to tight deadlines and budgets. Ease of installation and mobility means that even the most remote and inaccessible location can be reached, avoiding the often time consuming and difficult task of building a modular screen. The screens can be rotated a full 360 degrees and the trailers are equipped with a built-in "super-silent" power generator, which provides a working time of up to 100 hours.
All trailers include a fully integrated TV-production and control room and a non-linear editing system. Several cameras can be configured from the control room, and the cabins can be configured to meet specialist requirements.
COMMENTS FROM THE PEOPLE INVOLVED:
"Demand for our screens, in particular mobile screens, continues to grow," says Massteknik`s Managing Director, Mikael Hallberg. "So we are delighted to add the five digiLED d12N screens to our fleet. We are always looking for cost-effective solutions that don't compromise on quality," concludes Hallberg. "We've got that with the digiLED screens. What's more, working with a manufacturer that has such vast experience in the LED market is a great bonus"
"Massteknik's commitment to digiLED screens is a major step forwards for us," commented displayLED's CEO Graham Burgess. "Massteknik was a our first European customer for digiLED fixed installation screens and is now the first major rental company to buy into our digiLED rental range."
About digiLED - digiLED is the in-house LED brand of LED display specialists displayLED. displayLED acts as an integrator for all leading brands of LED displays in addition to installation, maintenance and consultancy services and are also the world's largest broker of used LED displays. www.digiLED.com and www.displayLED.com
About Massteknik – Massteknik was founded in 1981 and is today Scandinavia's leading event production company with large video screens for indoor and outdoor events. Its head office is located in Kungälv, 20 km north of Gothenburg. It also has offices in Stockholm, Australia, Denmark, the United Kingdom and Norway. www.massteknik.se
Contact
info@displayLED.com
E-mail:sians@displayLED.com
Web Site:www.displayLED.com