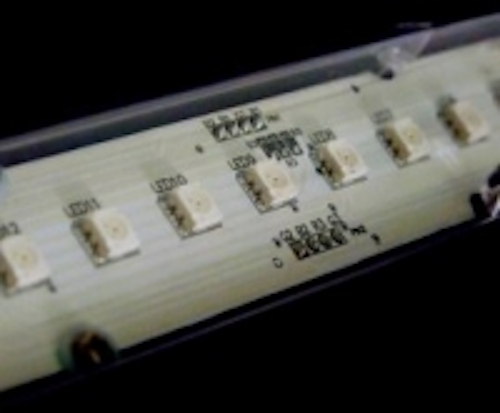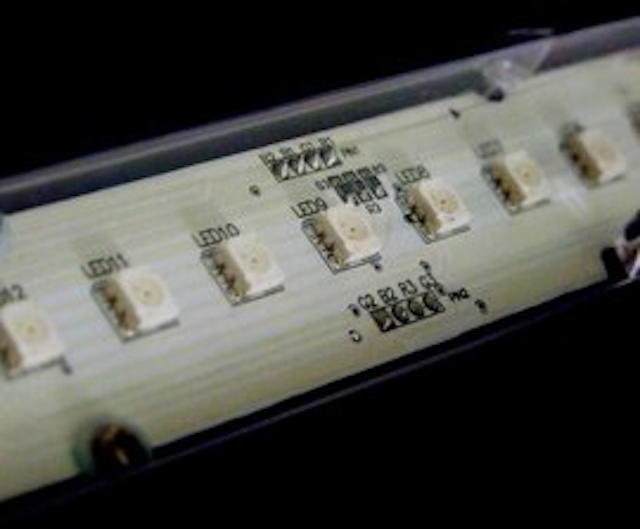 Date Announced: 18 Aug 2008
News Release
For Immediate Release
Contact:
Kim McAdams
Solid State Luminaires
(877) SSL-GREEN; kim@solidstateluminaires.com
Linear Direct View Accent – Uniform Backlight Wash
ST. CHARLES, IL— May 21, 2008: Solid State Luminaires announces the release of the Colour Line Series, an RGB LED light bar that combines industry leading LEDs with a cylindrical housing. These versatile 12" luminaires utilize multi-chip SMD RGB LEDs, rather than individual R-G-B LED sources creating greater uniformity for direct view and backlighting applications, and are available with a clear lens or opal diffuser. Fully controllable using DMX512 protocol, these luminaires are easily integrated into a wide range of lighting themes.
"The Colour Line can generate millions of colors, in a compact package that delivers smooth surface illumination, yet is just as capable of being applied for direct view effects." said FC's President, Bruce Bukas. "This is also the perfect product for backlighting translucent glass or acrylic panels to create decorative effects without heat or visible light sources."
About Solid State Luminaires: To create the next generation of LED technology, Solid State Luminaires invested three years of exhaustive research, built a network of worldwide partners and utilizes the best technology available in the market. The result is high-end, environmentally conscientious products, bottom line value and guaranteed peace of mind. Solid State Luminaires backs its products with a 5 year limited warranty. Headquartered in St. Charles, Illinois, the company distributes its products globally. For further information about Solid State Luminaires and its rapidly growing line of leading edge lighting products, call 877-SSL-GREEN or visit the company's web site at www.solidstateluminaires.com
Contact
Kim McAdams Solid State Luminaires (877) SSL-GREEN; kim@solidstateluminaires.com
E-mail:kim@solidstateluminaires.com
Web Site:www.solidstateluminaires.com