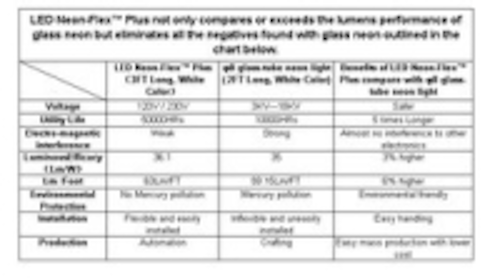 Date Announced: 17 Mar 2008
Hong Kong, China – Neo-Neon™ International exceeds the Lumens performance of Glass Neon with the release of the new and patented LED Neon-Flex™ Plus.
Neo-Neon™ International, a public listed company on the Hong Kong Stock Exchange (HKEX 1868), introduces the next generation of our patented LED Neon-Flex™ product line. Now LED Neon-Flex™ is offered its three levels of high performance -economical, standard, and the new LED Neon-Flex™ Plus.
LED Neon-Flex™ Plus has been engineered to achieve a lumens efficacy of 36.1Lm/w and 63Lm/Ft. Neon-Flex™ Plus assuredly will expand the proliferation of Neo-Neon's LED Neon-Flex as a direct replacement to traditional glass Neon..
LED Neon-Flex™ Plus's increased lumens stemmed from the application of high quality, high brightness LEDs coupled with an enhanced PVC mixture used in the main housing extrusion process. This optical gain enhancing PVC increases homogenization of the light effect which translates the maximum amount of lumens consistently delivered to the surface of the Neon-Flex™ Plus.
In comparison to white glass neon, the white luminous efficacy of white LED Neon-Flex™ Plus achieves an equivalent brightness of 36.1Lm/W, whereas the power consumption of 6.6 times less. These results are not only limited to only white light. The Lumens efficacy and power consumption of the primary colors red, green, blue, and yellow colors of LED Neon-Flex™ Plus are significantly comparable to glass neon as well.
Neo-Neon™ is pleased to announce our revolution and innovation with our LED based, flexible, LED Neon-Flex™ Plus.
Neo-Neon™ International secures our leadership through continued, dedication toward the innovation energy savings products by forging the edge of technology while maintaining the value proposition for our customers and markets.
Contact
Neo-Neon International Ltd Gong He Town, He Shan City, Guang Dong, China. Tel No. (86)750-8300941 Fax No. (86)750-8300940
E-mail:america-a@neo-neon.com
Web Site:www.neo-neon.com