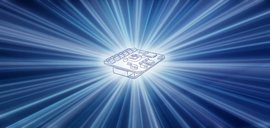 Date Announced: 20 Mar 2008
-- Customised LED light fit for movies
Optimally adjustable lighting with high luminous efficacy and colour rendering – these are the criteria that typify the name KREIOS from OSRAM.
The first integrated LED module with twelve power-LED chips professionally puts every film set and television studio in the spotlight. The colour temperature of this intelligent light
source ranges from 2,000 to 20,000 Kelvin, making it the ideal lighting solution for any film scene or studio situation.
The KREIOS 12-1.0 LED modules from OSRAM combine flexible solutions for studio and film lighting with innovative LED technology. Featuring a compact module design, KREIOS comes with an integrated microprocessor, heat sink, and control gear and measures a mere 34 x 34 mm. These small dimensions enable luminaire manufacturers to come up with ever new designs and even scalable luminaires.
In addition to their extraordinary design, these innovative light sources from OSRAM also convince with a range of flexible applications: the LED modules can be calibrated and optimally adjusted to meet individual lighting requirements due the individual control of the twelve high-power LEDs.
Whether white or coloured light in the colour temperature range of 2,000 to 20,000 Kelvin – the KREIOS LED module makes it possible to mix virtually any colour in the colour spectrum. The constantly high colour rendition index ranges between 90 and 95.
Changing between the individual colour temperatures is possible with almost seemless precision – ideal for versatile use in TV studios or on the set.
The OSRAM trade fair stand in hall 9, aisle B, stand 34 provides a glimpse of studio and film lighting and the range of products from OSRAM.
Contact
Lars Stühlen Tel.: +49 89 6213-2597 Fax: +49 89 6213-3457
E-mail:l.stuehlen@osram.com
Web Site:www.osram.com