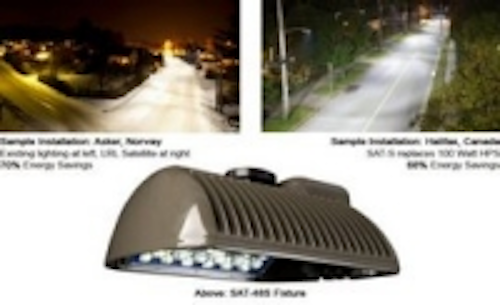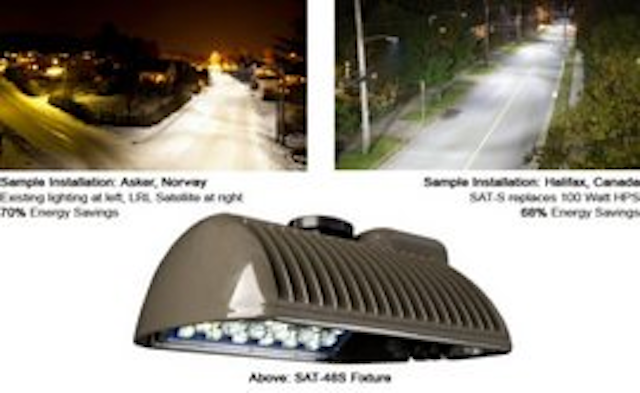 Date Announced: 14 Feb 2011
LED Roadway Lighting Ltd. has introduced a new, smaller form-factor LED street and area lighting fixture. The SAT-S is part of the company's SatelliteTM Series. While the SAT-S is smaller in size, it compromises nothing in terms of performance and reliability. The Satellite Series fixtures are engineered for a 20 year design life, using high reliability aerospace and automotive grade components. The SAT-S provides up to 80% energy savings and has a total life cycle cost that is substantially lower than conventional street lighting systems. The SAT-S is available in 24 and 48 LED models and a range of finishes.
SAT-S Benefits:
• Highest Power Supply Reliability (independently tested in accordance with Telcordia SR-332)
• 20 Year Design Life
• Energy Efficient – Up to 80% savings
• Environmentally Friendly – RoHS compliant and Dark Sky Association Approved
• Easy to Install and Maintain – No special tools or training are required - fixtures are maintenance-free
• Lowest Total Life-Cycle Cost
• Wall-mounting bracket available (for commercial-industrial applications)
About LED Roadway Lighting Ltd.
LED Roadway Lighting Ltd.(LRL) is a leading designer and manufacturer of LED (light-emitting diode) based street and area lighting fixtures and control systems. LRL is located in Nova Scotia, Canada, with research and design facilities in Halifax and a 55,000 square foot manufacturing facility in Amherst. LRL offers a complete range of LED based street and area lighting fixtures that meet or exceed IES (Illuminating Engineering Society), CIE (Commission Internationale de L'Eclairage) and IDA (International Dark Sky Association) requirements. LRL's products are RoHS compliant (free of lead and mercury), provide energy savings of up to 80% and substantially reduced maintenance costs. LRL's products are currently installed in more than 250 locations in 9 countries. For further information please visit our website
www.ledroadwaylighting.com
.
Contact
Ken Kovachik Director of Corporate & Strategic Accounts Direct Tel: 519-239-4809
E-mail:kovachik@ledroadwaylighting.com