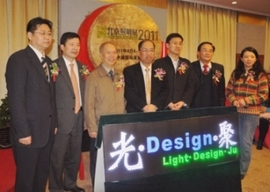 Date Announced: 02 Feb 2011
World energy consumption is increasing at an exponential speed nowadays and lighting alone consumes around 20% of world energy consumption annually. In China's 11th and 12th five-year plans, energy conservation and low CO2 emission are both focal policies with green lighting technology being one of the most important execution directions. At the same time, many countries are actively promoting environmental programs, including the phase out of incandescent lamps and adoption of energy-saving lamps. Many lighting suppliers are in production of green lighting solutions, creating new market supplies. Driven by government policies and surge of market supply, lighting industry is at its booming stage.
To cater for the flourishing demands for lighting applications, China Illuminating Engineering Society (CIES) and Adsale Exhibition Services Ltd. (Adsale) join hands to organize the China (Beijing) International Lighting Exhibition & LED Lighting Technology and Applications Exhibition 2011 (also known as "China Lighting Expo 2011") on April 6-8, 2011 at China International Exhibition Center, Beijing, China. With the theme of "Promote Green Lighting‧Enjoy Low-carbon Life‧Support Energy Saving", China Lighting Expo aims to provide lighting suppliers, lighting designers and lighting end-users a world-class communication platform. The preparation works of the Expo together with its large-scale concurrent events, namely, China International Lighting Conference and "Light‧Design‧Ju" Lighting Design Activities are now in full swing.
Joint Effort of the Organizers, Exhibitors and Industry to Promote the Lighting Industry
The Expo staged its press conference in January this year in Beijing, China. Its supporting organization, China Hotel Purchasing and Supplying Association (CHPSA) and sponsor exhibitors, Philips, Osram and Optiled attended the event to update a hundred of media representatives on the Expo's latest development. The organizers were glad to announce many famous lighting brands have confirmed to exhibit, including Diamond Sponsor - Osram, Gold Sponsors - Optiled, Toshiba and Waichi, "Light‧Design‧Ju" Premium Design Initiative Sponsor - Philips, BYD, YanKon, Hella, Yajiang, Future Electronics, Nationstars, ChangFang, Cree and etc. At the conference, Dr. Liu Jianping of Osram China Lighting Ltd, Mr. Lu Weidong of Optiled Lighting International Ltd and Mr. Ye Ming of Philips (China) Investment Co., Ltd had made speeches to introduce their preparation work for the Expo. To mark the strong commitment of the organizers, supporting organizations and exhibitors to bring a world-class exhibition to the lighting industry, the guests have participated in the drumming ceremony.
Explore the Needs of Users
The organizers of China Lighting Expo 2011 has visited many architectural institutes, famous lighting design companies and representatives from different user-industries to introduce the event as well as understand their needs to create a world-class exhibition. The Expo received the warmest welcome from the lighting design industry, and end-user industries, such as hotels. To date, visitors from China, Hong Kong, Germany, Japan, Australia, India, Singapore, Thailand and etc. have pre-registered, covering industries from lighting suppliers, buyers, designers, energy management, architecture, property management, and hotels. The supporting organizations of China Lighting Expo 2011, China Solid State Lighting Alliance (CSA), China Association of Real Estate Developers (CRDA), Branch of Architects - The Architectural Society of China (ASC) and China Hotel Purchasing and Supplying Association (CHPSA) have also showed their strong support by introducing China Lighting Expo 2011 to their members and arranging delegations to visit.
Remarkable Concurrent Events
China Lighting Expo 2011, being a lighting exhibition for the whole industry-chain, will stage China International Lighting Conference for researchers and manufacturers in the upper reaches as well as "Light‧Design‧Ju" Lighting Design Activities for lighting design and application users. China International Lighting Conference adopts the theme of LED lighting latest trends and introduces new developments in structural technology. "Light‧Design‧Ju" Lighting Design Activities serve as a gathering platform for professionals in the industry, aiming to instill the industry's high value-added and creativity content into the market, and ultimately to become a sustainable platform of design excellence for lighting suppliers, designers, engineers and end users in the region. The organizer has plotted a splendid program to bring together latest lighting technology and innovative design, including Lighting Designer Day, Contemporary Lighting Environment Display, Renowned Lighting Designer Salon, Green Lighting Workshop and Cocktails.
For enquiries on "Light‧Design‧Ju" or China Lighting Expo, please contact Ms. Adele Chui - Tel:(852) 2516 3386, Email: light@adsale.com.hk or visit our official websites at www.ChinaLightingExpo.com or www.LightDesignJu.com.
Contact
Issued by Adsale Exhibition Services Ltd For enquiry, please contact: Hong Kong: Ms Rita Chu Tel : (852) 2811 8897 Fax:: (852) 2516 5024 Email: publicity@adsale.com.hk
E-mail:publicity@adsale.com.hk
Web Site:www.ChinaLightingExpo.com