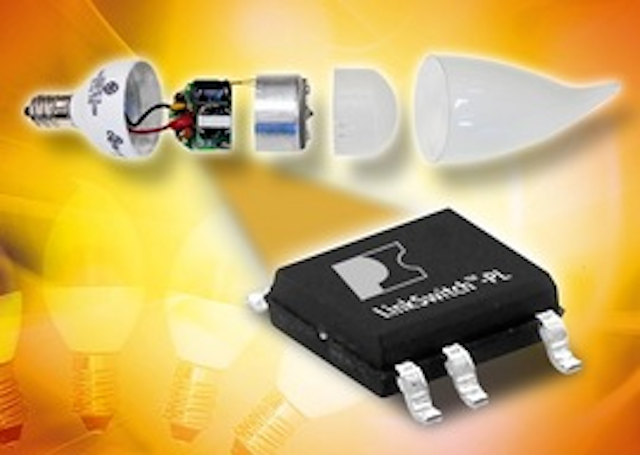 Date Announced: 28 Feb 2011
-- New LinkSwitch™-PL design boasts small size, high efficiency, low THD, high power factor
LED CHINA 2011, GUANGZHOU, CHINA –– Power Integrations (Nasdaq: POWI), the leader in high-voltage drivers for offline LED lighting, today published a new reference design (RD-268) for candelabra-style replacement bulbs. The design is based on LNK454DG, a member of the company's recently launched LinkSwitch-PL family of LED driver ICs, featuring TRIAC dimming support, low total harmonic distortion (THD), and high power factor (PF).
The reference design meets the extremely compact requirements of standard candelabra-shaped bulbs. RD-268 provides a single constant-current output of 366 mA with an LED nominal voltage of 3 V, for a total of 1.1 W. This yields approximately 100 lumens of light output, which is similar to a 15 W conventional incandescent candelabra lamp. The reference design is optimized to operate from 85 to 300 VAC, which allows manufacturers to make bulbs suitable for use in all regions and increases field reliability and lifetime during line sags and swells. Importantly, the high power factor (above 0.9) and low THD (less than 15% at 115 VAC; meets EN61000-3-2, Class D) enable a single design to be used worldwide and in multi-lamp fixtures, where overall power use exceeds various regional power quality regulatory thresholds at 5 W and 25 W.
Comments David New, product marketing manager at Power Integrations: "RD-268 demonstrates the ability of our new LED driver ICs to deliver superior performance and end-user experience. It is a low-cost, low-component-count solution that fits in the tiny form factor of the candelabra bulb, yet still passes required power factor and EMI tests."
Introduced last year, the LinkSwitch-PL IC family enables small, low-cost, TRIAC-dimmable, constant-current drivers for solid-state lighting. LinkSwitch-PL devices are optimized for direct LED current sensing, operate over a wide input voltage range, and deliver output power up to 16 W. An innovative control algorithm provides flicker-free TRIAC dimming with minimal external components. Each device incorporates a 725 V power MOSFET, single-stage power factor correction, a novel discontinuous-mode variable-frequency / variable-on-time controller, frequency jittering, cycle-by-cycle current limit, and hysteretic thermal shutdown – all in a monolithic IC.
LinkSwitch-PL devices are available now in SO-8, eSOP™, and eDIP™ packages, and are priced as low as $0.86 each for 10,000-piece quantities. RDK-268 and RDR-268 are available now on the Power Integrations website at www.powerint.com/rdk.
Contact
Peter Rogerson Power Integrations, Inc. (408) 414-8573 progerson@powerint.com
E-mail:info@powerint.com
Web Site:www.powerint.com/rdk