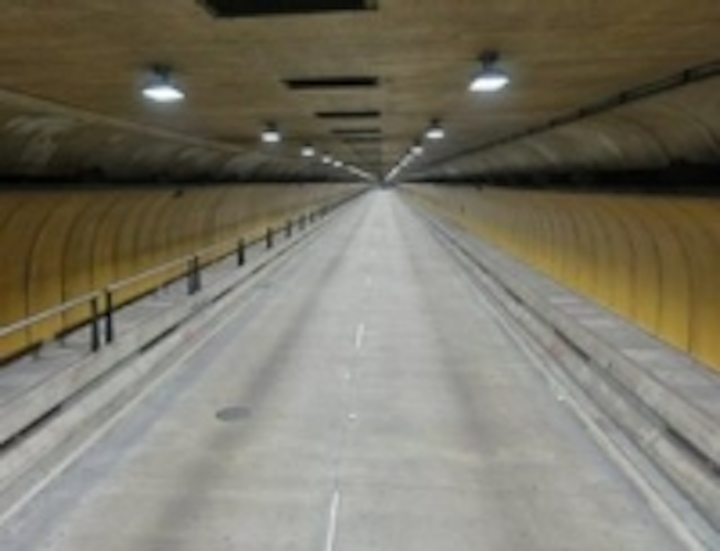 Date Announced: 16 Feb 2011
In August of 2010, Neo-Neon LED Lighting International Ltd (Neo-Neon) won a bid, amidst a field of world-class competitors, for a prominent tunnel-illumination project in São Paulo, Brazil.
Winning the bid on this significant tunnel project, Neo-Neon gained a significant order for 1800 pieces of LED Tunnel Light fixtures.
Prior to the installation of the Neo-Neon LED Tunnel Light fixtures, the tunnel's traditional illumination left the tunnel dim and was difficult for the user to transition.
Light adaptation is a challenge in tunnel illumination. The goal of effective tunnel illumination is to enable the driver to adapt to the tunnel lighting as fast as possible from the exterior lighting conditions both on the inlet and the exit of the tunnel.
Now, the tunnel illumination is utilitarian and has improved the driving experience due to the effectiveness of the Neo-Neon LED fixtures installed to transition the user and to provide effective energy-saving illumination.
Mr. Sun from Neo-Neon, the project manager in charge of this project, explained: "The 75W LED Tunnel Lighting fixture used in this project incorporates high-quality, white, power LEDs, which provide stable lumen output and color uniformity. Using our patented reflector design and quality optical-delivery techniques, the fixture efficacy is very high and the foot-candles achieve a gain increase accordingly."
Neo-Neon has been working diligently and with great fervor in the European and American market for the last 30 years, which has made it to be a very famous brand there. Recently, as market development has expanded in the BRIC countries, Neo-Neon has strengthened its promotion in the Brazilian and South American markets for the LED products. For the last year, Neo-Neon has developed and strengthened its LED lighting business in the Brazil market.
Early in 2010, when Neo-Neon had just entered the Brazil market it is possible that not many people knew the Neo-Neon name well. However, now in early 2011 Neo-Neon has an established name in Brazil. It is said that whenever Neo-Neon's name is mentioned most people in the industry associates the name as the brand with the first LED roadway lighting project in Sao Paulo, Brazil. In addition, Neo-Neon has become synonymous with LED lighting, energy savings, and excellent quality of both product and service.
Neo-Neon LED Tunnel and Roadway Illumination fixtures
Neo-Neon's LED Tunnel and Roadway Illumination fixtures are the newest generation of energy-saving lighting products. The fixtures boast benefits of high energy-saving, long life, low maintenance costs, uniformity of the color and color temperature, multi-voltage, reliability, and high effectiveness. Since the early developments in this area, LED Tunnel and Roadway Illumination fixtures have been successfully installed worldwide in literally hundreds of roadways, tunnels, both private and public.
About Neo-Neon
Neo-Neon was founded in 1978, which has 33 years of applied history in the self production of LED chips, LED packaging, product manufacturing, research and development, design, installation management, and sales. Neo-Neon went public in Hong Kong (HKG: 1868) in 2006, and became the first TDR(911868) LED company in Taiwan in 2009.
As early as 1997 Neo-Neon started developing and promoting LED illumination products. It's the first company in Asia to enter into the LED Application Lighting development. In 2002, Neo-Neon established our own LED packaging factory. In 2003 Neo-Neon strengthened the vertical integration plan and began to research and develop the White LED illumination technology and product line. In 2008 Neo-Neon established its first LED Chip Factory deploying multiple MOCVD machines to manufacture the EPI and supportive EPI processing facilities and equipment. Neo-Neon is the only public company in our industry which has obtained our level of vertical integration and as such has secured our place in global leadership in the LED illumination industry.
Contact
Neo-Neon LED Lighting International Ltd
E-mail:marketing@neo-neon.com
Web Site:www.neo-neon.com