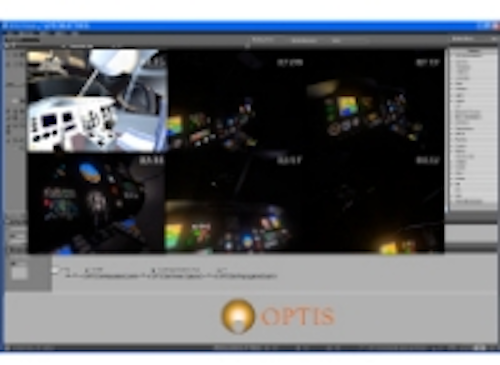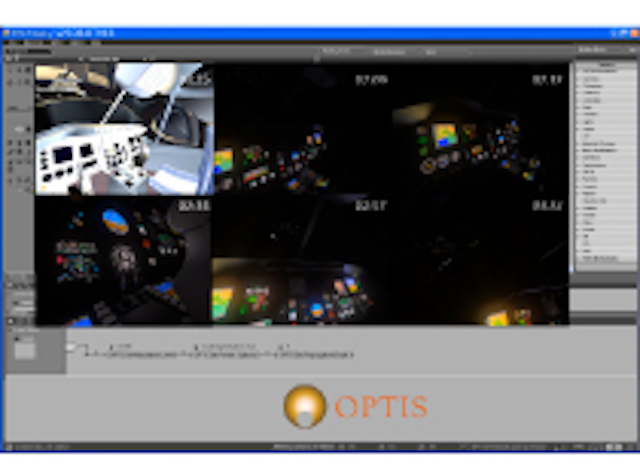 Date Announced: 02 Feb 2011
Photo shows: OPTIS's real-time visual ergonomics application corrects reflection and visibility problems early in the vehicle design process.
Toulon, France – 2 February 2011 – OPTIS announces the launch of its real-time Visual Ergonomics (RTVE) application, which enhances its industry standard Visual Ergonomics solution. This software corrects reflection and visibility problems early in a vehicle's design process.
Using OPTIS's unique physics and physiology-based rendering SPEOS VE3 solution, customers are able to perfectly analyze and measure both the ergonomic criteria and perceived quality of any user-machine interface. This solution helps designers to optimize and improve any form of driver or operator position, or aircraft cockpit, by choosing better materials, illuminate buttons and displays to cope with the environmental light conditions during the drive, flight or operation of a machine.
This software solution is used throughout the design process to study the vision and visibility for different driver positions depending on size and seating configuration, helping to avoid potentially dangerous reflections for the driver.
The request to OPTIS to develop an interactive Visual Ergonomics tool emerged whilst the company's engineering teams were working closely with automotive designers. In addition to having a precise analysis tool, the designers also wanted to dynamically visualize a driving or operating location, or cockpit in its real-life context – with real lighting effects, including light emission and reflection from objects. Such a technology solution needs to compute true physics-based rendering and in real-time.
Thanks to OPTIS's new RTVE application, the process is now complete because it allows the user to visualize the complete workspace / cockpit interactively and simultaneously, moving in real-time from any point of view. This allows a designer to detect then isolate problem areas such as distracting reflections, sun glare and other visual problems in the cockpit. This brand new solution ensures that the designer is able to consider all points of view in just a few seconds before analyzing precisely selected points of interest in the SPEOS VE3 solution.
Dominique Chabaud, VP R&D at OPTIS, comments, "As the original project began in 2006 it was obviously a challenge to simulate in real-time what traditional rendering algorithms generate in several hours. Most rendering software editors are focused on a graphics approach, disregarding physics and optical properties which is becoming more and more unacceptable to the users. OPTIS believed that to be successful, the start of the development needed to have the opposite approach: starting with the physics. I am happy to conclude that we have been successful."
Pete Moorhouse, VP Sales & Marketing at OPTIS adds: "This technology provides completely new, unique possibilities for our customers. Our real-time solutions link the safety driven ergonomic world to the design and engineering activities of every company. Designers are now able to take instant decisions on material and color choice taking into consideration an accurate representation of the environment and lighting. I am confident that this technological 'first' will revolutionize the way our customers interact with their virtual prototypes, solving complex to reproduce scenarios in real time with unsurpassed accuracy.
Jacques Delacour, OPTIS's President & CEO says: "I am really excited about this new technology coming to the market. Taking physics into consideration in real-time will help our users save time and solve issues where no solution previously existed. The challenge to move to full virtual prototype design is on the way and I am proud to see OPTIS is a major player in this emerging market."
About OPTIS
OPTIS is the world leading software editor for the scientific simulation of light and human vision within a Virtual Reality Environment. Its solutions allow designers, ergonomists and engineers to simulate and optimize lighting performance, product appearance as well as the visibility and legibility of information on Human Machine Interfaces, in a fully-immersive environment.
Since integrating its SPEOS solution in SolidWorks in 2001, CATIA V5 in 2002 and Pro/ENGINEER in 2008, OPTIS is still the only company to provide a light simulation solution fully based on a physical model inside a CAD/CAM software.
OPTIS has delivered more than 6000 licences to 1600 customers in 36 countries worldwide. Users include most of the major automotive, aerospace, electronics, white goods and lighting manufacturers, as well as architects, universities, research laboratories and defence agencies. They use the SPEOS technology to design, simulate and visualise in a Virtual Reality environment, products as diverse as automotive lighting, mobile phone screens and keypads, dashboard and cockpit displays, LCDs, LEDs, luminaires, military detection systems and optics for industrial vision, defense and medical applications.
Contact
Press Contact: Angela Green Telephone: +33 4 94 08 66 97
E-mail:agreen@optis-world.com
Web Site:www.optis-world.com