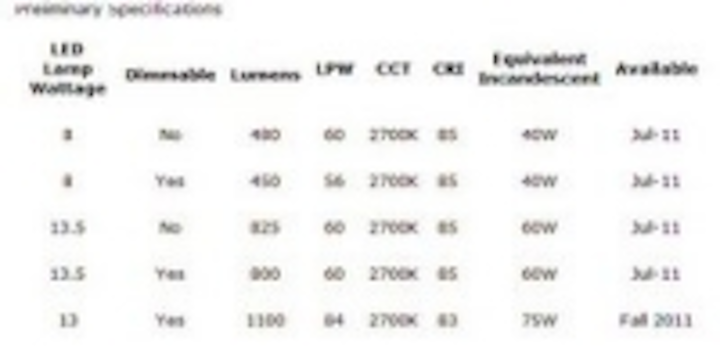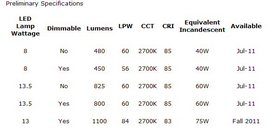 Date Announced: 17 May 2011
-- Next-Generation LED Lamp Offers Quality Light in Every Direction and an Energy Efficient Alternative for Today's Common Light Sources
Philadelphia and Danvers, Mass. -– Continuing to lead the way in providing cutting-edge LED solutions, North American lighting leader OSRAM SYLVANIA is proud to introduce new omni-directional LED A-Line lamps.
The latest addition to OSRAM SYLVANIA's ULTRA High Performance Series, the new omni-directional LED A-Line lamps offers a long-life, energy efficient alternative to conventional lighting sources such as incandescent, halogen and compact fluorescent lamps (CFL).
Dimmable and available in three low-power wattages, the new LED A-Line lamp offers a true substitute for 40, 60 and 75-watt incandescent lamps. Producing equivalent lumen output and a similar distribution pattern, the new ULTRA High Performance LED A-Line lamp provides up to 82 percent energy savings over traditional incandescent lamps. With a rated life of 25,000 hours, the LED lamps lasts up to 25 times longer than traditional light sources, resulting in further cost and energy savings.
"These new products demonstrate our commitment to LED technology and the understanding the market requirements," said Phil Rioux, general manager of the Consumer Lighting SSL business unit. "Our advanced engineering department is focused on providing innovative SSL solutions for the future."
The ULTRA High Performance Series omni-directional LED A-Line lamp features a high color rendering index (CRI) of 85 and a 2700K warm white color temperature that rivals incandescent and halogen light sources. These combined features make the new LED A-Line lamp an attractive option for residential applications, hospitality, healthcare, and retail environments.
Preliminary Specifications: see Table
OSRAM SYLVANIA's innovative new lamp reinforces the company's commitment to bringing cost and energy efficient LED lighting options to the consumer and professional markets. The environmentally-preferable lamp is mercury and lead free, making it an ideal choice for indoor and outdoor fixtures.
For more information about the ULTRA High Performance Series LED Lamps and other sustainable lighting solutions from OSRAM SYLVANIA, please go to www.sylvania.com or visit booth # 833 at LIGHTFAIR International 2011, May 17-19, 2011 at the Pennsylvania Convention Center in Philadelphia.
About OSRAM SYLVANIA:
OSRAM SYLVANIA is a leader in lighting solutions and specialty products that feature innovative design and energy saving technology. The company sells products for homes, businesses and vehicles primarily under the SYLVANIA brand name, and also under the OSRAM brand. Headquartered in Danvers, Mass., OSRAM SYLVANIA is the North American operation of OSRAM GmbH, a wholly owned subsidiary of Siemens AG. For more information, visit www.sylvania.com.
Contact
Colleen Applebaugh OSRAM SYLVANIA/978.750.2763
E-mail:Colleen.applebaugh@sylvania.com
Web Site:www.sylvania.com