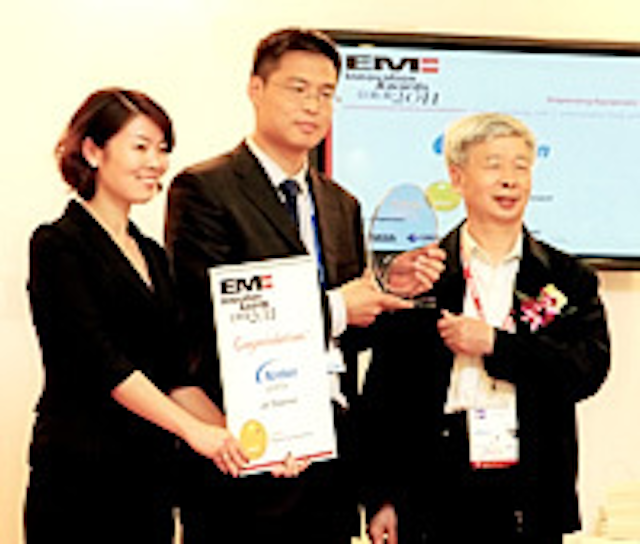 Date Announced: 24 May 2011
Nordson ASYMTEK, a leader in dispensing, coating, and jetting technologies, earned two prestigious awards for innovative technology during NEPCON China 2011. Both the VISION Award from SMT China magazine and the Innovation Award from Electronics Manufacturing (EM) Asia magazine were presented to Nordson ASYMTEK for product excellence in the dispensing category for its jet dispenser for side-view LED manufacturing. This was the fifth year in a row that Nordson ASYMTEK received the SMT China award and the fifth time they received the EM Asia award.
Nordson ASYMTEK's jet dispenser enables sticky silicon phosphor to be dispensed into extremely small and hard-to-reach cavities for side-view LEDs. Silicone phosphor dispensing is critical for LED color quality. The system uses a jet for non-contact dispensing, jetting 0.1 to 0.2mm dots through windows as small as 0.4mm into LED cavities. Unlike a needle, the jet retracts much less for silicone break-off, dispensing multiple shots faster, increasing speed and throughput. The jet's small, controlled drops of fluid reach tight cavities consistently and reliably, unlike needles which have orifices larger than the cavity windows of side-view LEDs.
The SMT China VISION Award honors achievements in China's electronics manufacturing industry. Awards are based on the creativeness and innovativeness of the product and its contribution in helping the downstream industries to reduce cost, improve quality, increase efficiency, enhance reliability, improve safety, and environmental friendliness.
The EM Asia Innovation Award recognizes top performing companies in the Asian electronics industry for achieving the highest standards for products, materials, and equipment introduced and offered for sale in Asia. Entries were judged on innovation and achievement and for setting challenging objectives.
"We are honored to receive these two awards," said Frank Wang, Nordson ASYMTEK's general manager, Greater China. "Nordson ASYMTEK has been recognized as the leader in dispensing and coating innovation and technology for over 25 years. We have grown with our customers to develop equipment and processes to enable them to produce many of the products we rely on today. Our patented jet dispensing technology for LEDs has helped our customers reduce process variation, increase yield, and reduce cost. We will continue to serve our customers throughout China and Asia with quality products and provide the very best service and support. We thank SMT China and EM Asia for these awards."
Both awards were presented at ceremonies during NEPCON China, Shanghai, May 2011.
About Nordson ASYMTEK
Nordson ASYMTEK, a world leader in precision automated fluid dispensing, conformal coating, and jetting technologies, designs and manufactures a full line of dispensing and coating systems, supported by a global applications and service network. Recognized for its innovative equipment and excellent service, Nordson ASYMTEK continues to offer advanced dispensing solutions for a range of precision assembly processes. These include semiconductor packaging, printed circuit boards, LEDs, flat panel displays, medical and biotechnical devices, and solar and photovoltaic products. Nordson ASYMTEK is an ISO 9001:2008 certified company and has received numerous awards for its service excellence and product innovations. For more information, visit
www.nordsonasymtek.com
or
www.twitter.com/NordsonASYMTEK
.
Contact
Nordson ASYMTEK Headquarters Roberta Foster-Smith Tel: +1.760.431.1919 Email: roberta.foster-smith@nordsonasymtek.com 2747 Loker Ave. West Carlsbad CA 92010 USA
E-mail:info@nordsonasymtek.com
Web Site:www.nordsonasymtek.com