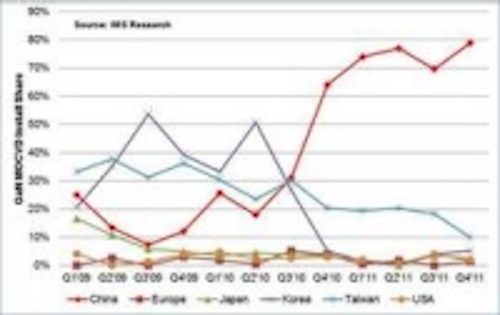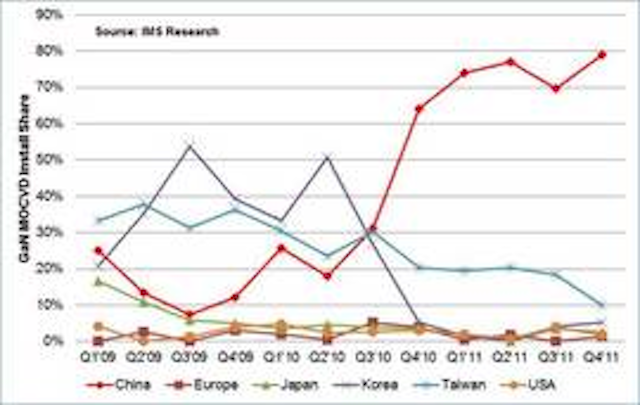 Date Announced: 11 May 2011
Austin, Texas –- Although Q1'11 MOCVD installations were down, ending the 7-quarter streak of sequential growth, the 2011 outlook remains bright for MOCVD and other upstream equipment and materials suppliers. Highlights of the latest MOCVD results and forecast from IMS Research's Quarterly GaN LED Supply and Demand Report include:
• Global merchant MOCVD reactor shipments fell 18% Q/Q while rising 31% Y/Y to 194 units with GaN LEDs the dominant application with a 97% share.
• Veeco gained a point of market share to 44% of total MOCVD reactor shipments and maintained its 44% of the GaN MOCVD market.
• Aixtron maintained its leadership position in both segments, losing a point of market share in total MOCVD from 53% to 52% and maintaining a 53% share of the GaN MOCVD market.
• Regionally, China dominated the GaN MOCVD market as expected, accounting for a 74% share, up from 64% with Taiwan maintaining a 20% share as shown in the Figure below.
• 23 different companies installed tools in China with 9 companies installing in Taiwan.
• San'an Optoelectronics remained the dominant customer for the second consecutive quarter, accounting for over 20% of tools installed in Q1'11.
• The top 3 and 7 of the top 10 MOCVD customers in Q1'11 installed tools in China.
• Veeco was #1 in China and Europe while Aixtron led in Korea, Taiwan and the USA.
According to IMS Research SVP Ross Young, "Looking forward, we are not seeing installations being pushed out in China. We expected to see some delays, but we have only reduced our 2011 forecast by 8 reactors from 1097 to 1089. A number of companies also provided us with their 2012 plans regardless of whether or not there are MOCVD subsidies. Other incentives and the prospect for rapid growth in LED lighting are proving powerful enough to enable continued investment in LED capacity in China in 2012."
Highlights of the latest forecast include:
• Significant growth is expected in Q2'11 and Q4'11 resulting in the 1089 GaN MOCVD reactor unit forecast which will be up 36% Y/Y.
• China is expected to account for 820 tools, up 181%. China is expected to account for 75% of the 2011 MOCVD market, up from 36% in 2010. It is the only region expected to show Y/Y growth. Taiwan is expected to be the #2 region with a 16% share, down from 36% on a modest decline of 14% with Korea down 85% to 33 tools.
• China's Q4'11 installations alone are expected to be larger than the entire worldwide 2009 market.
• Each manufacturer's planned 2011 installations are included and compared with 2009 and 2010.
For more information on LED supply and demand, please visit www.ledmarketresearch.com.
IMS Research SVP Ross Young will also be presenting the latest LED supply and demand information at the SID/IMS Research Green Displays Conference on May 18th at SID. Visit here for more information
About the Quarterly GaN LED Supply and Demand Report
This unique report quantifies LED supply, demand, pricing, market size and much more. Each panel manufacturers' LED configurations and LED consumption are provided at every size, resolution and refresh rate along with their conventional and LED panel shipments and projections. The report also tracks all other segments including lighting, automotive and signage by die size in units and revenues with market sizes projected out to 2015 in units and revenues. MOCVD shipments and share are segmented by manufacturer, region and tool type. A rolling MOCVD 4-quarter forecast is provided by LED manufacturer and MOCVD and LED supply and demand are projected out to 2015.
About IMS Research
IMS Research is a leading independent supplier of market research and consultancy to the global electronics industry, offering syndicated market studies, custom research and consulting services. Clients include most of the household names in the industry. IMS Research has offices China, Europe, Japan, Korea, Taiwan and the US.
Contact
Ross Young 512-302-1977
E-mail:ross.young@imsresearch-usa.com
Web Site:www.imsresearch.com