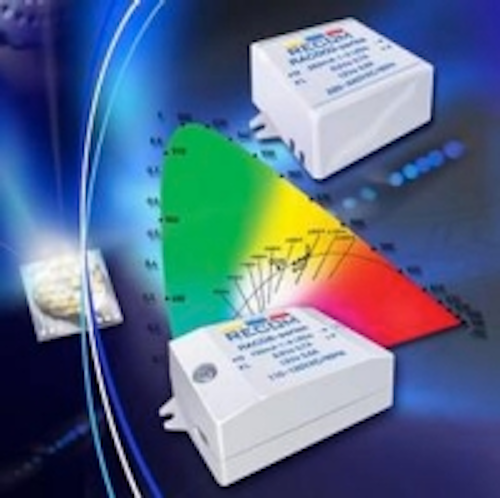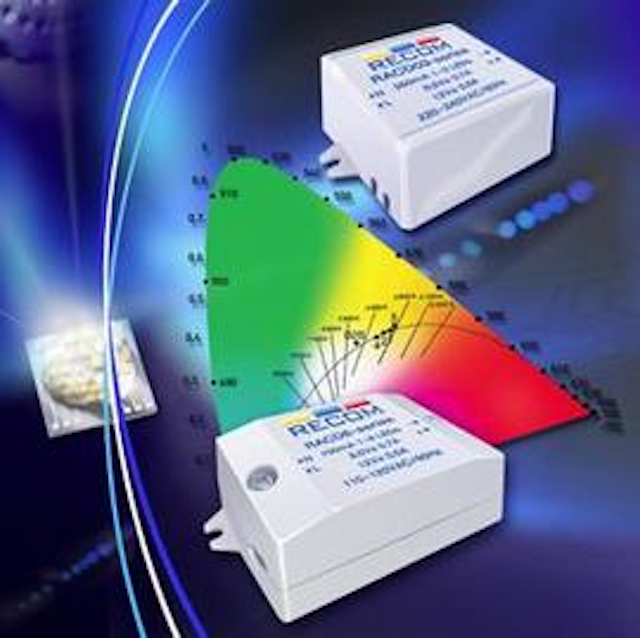 Date Announced: 18 May 2011
RECOM announces the release of an extension to their range of isolated AC/DC
LED drivers
with constant current-output in 3 to 6 Watt power supply.
Advances in LED technology require low power of 1W or 3W for LED-illumination. The two new families meet the growing demand for low cost drivers below the previously available products with 12W, 20W, 30W and 60W power. With an input voltage range of 90 to 264AC the new drivers can be used universally on all networks worldwide.
The RACD03 can drive three 1W LEDs with 350mA or single 3W LED with 700mA constant current. The LED-Driver has flying leads. RACD03 is IP65 rated and can be used in damp area such as sanitary facilities, exterior lights or cellar.
The RACD06 can drive six 1W LEDs with 350mA constant current or alternative two 3W LEDs with 700mA constant current. The LED-Driver has screw terminals and is ideal for applications include low cost cabinet lighting, reading lamps and bathroom spotlights. Both drivers are designed for panel mounting and are supplied with mounting screws.
Although the converters are very compact with a low profile case that is 39mm x 30mm x 21mm high for the RACD03 and 58mm x 35mm x 21mm for the RACD06, they contain a fully featured input filter and meet EN61347, EN55015 and FCC18A without the need for any external components. The converters offer 3kVAC isolation and are CE and EN safety certified. UL8750 certification is pending. The LED drivers are designed to give a long, trouble-free life. The "Design Lifetime" is rated at >20.000 hours, equivalent to 8 hours daily operating time up to 7 years. The warranty period is 3 years.
For more information, contact your local RECOM-Distributor or visit our website:
www.recom-electronic.com
.
About RECOM POWER
RECOM Power, Inc. offers constant current dimmable LED drivers, DC/DC converters, switching regulators, and single, dual, and triple output AC/DC modules as standard catalogue products for quick delivery. Their main markets are industrial controls, lighting, medical, military (COTS) and telecommunications, although their converters are used in virtually every industry requiring low-to-medium DC voltage conversion in the 0.25 to 60 watt range. For additional information about RECOM and its award-winning products, please visit
www.recom-power.com
.
Contact
Nadja Schneider Tel.: +49 (6103) 30007-34
E-mail:schneider@recom-electronic.com