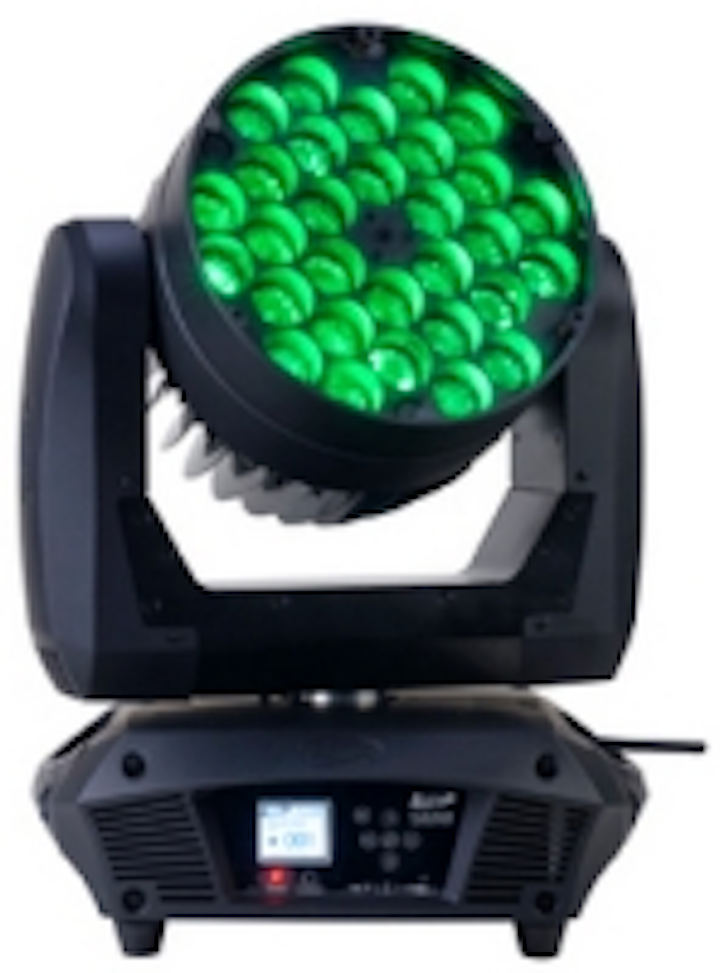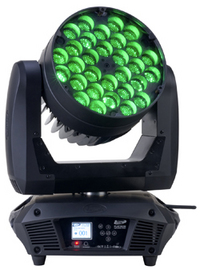 Date Announced: 04 May 2011
Los Angeles – With its new Platinum Wash LED Zoom, Elation Professional is combining some of its most cutting-edge features -- all in one powerful, compact, energy-efficient DMX moving head LED color wash with a built-in zoom. Featuring a 300-watt Quad Color LED system and built on Elation's revolutionary space-saving Platinum base, the Platinum Wash LED Zoom offers brilliant RGBW colors in a trimmed-down fixture that's as ideal for concerts and stages as it is for churches and theatrical applications.
Powered by 30 x 10-watt RGBW CREE LEDs, the Platinum Wash LED Zoom produces an output comparable to a 575-watt discharge moving head. Yet it draws only 360 watts of electricity at maximum use, offering great energy savings over fixtures with conventional lamps. Its powerful LED source emits 1,672 lux/ 155 foot-candles at 16 feet -- for a bold, bright wash in any color under the sun. Not only will the Platinum Wash LED Zoom lower your electrical bills, it also requires much less maintenance than traditional fixtures, since its long-life LEDs will run for 50,000 hours on average.
The Platinum Wash LED Zoom also requires much less space than conventional 575-watt moving heads. That's because it's built on Elation's revolutionary Platinum base, which is so compact in size it's changing the way lighting designers think about spatial requirements vs. output. Measuring a mere 14"L x 13.2"W x 19"H/ 355.6 x 335.28 x 482.6 mm, the Platinum Wash LED Zoom can fit into very tight areas, so it's ideal for cramped spaces where an extremely bright output is desired. At only 35.5 lbs./ 16.1 kg., it's as lightweight as it is compact, offering an easier-to-handle, more truck-pack-friendly alternative to conventional moving heads.
"With the Platinum Wash LED Zoom, we are bringing together two breakthrough technologies – a Quad Color LED system and our scaled-down Platinum case design," said Eric Loader, director of sales for Elation Professional. "Now lighting designers can enjoy the low maintenance, energy efficiency and smooth RGBW mixing of Quad Color LED technology in a compact Platinum-style case that's easy to transport, set up and can fit virtually anywhere. The Platinum Wash LED Zoom also has all the professional features that today's designers are looking for."
One of these features is a built-in motorized 11°-50° Zoom. This zooming capability gives designers fast dynamic beam control, allowing them to produce a smaller wash for long throw or wider coverage for short throw applications, providing maximum creative flexibility.
Another coveted feature found on the Platinum Wash LED Zoom is a built-in EWDMX Wireless DMX receiver. When used with an Elation EWDMXT Wireless DMX transmitter (sold separately), the unit is capable of receiving DMX signals wireless from up to 3,000 feet away. This attractive option of not having to run DMX cable is another feature that makes the Platinum Wash LED Zoom an ideal color wash for small, tight spaces.
The Platinum Wash LED Zoom also features an electronic dimmer and strobe, and can pan 540° (630° optional) and tilt 265°. It can be run in 3 DMX modes -- 12-, 14- or 15- channel – with 3- or 5-pin DMX input. A convenient touch screen display on the rear of the base makes it easy to scroll through DMX settings. The unit also offers multi-voltage operation (120V-240V-50/60Hz).
Contact
Elation Professional Toll-free:866-245-6726
E-mail:abby@fucinipro.com
Web Site:www.elationlighting.com