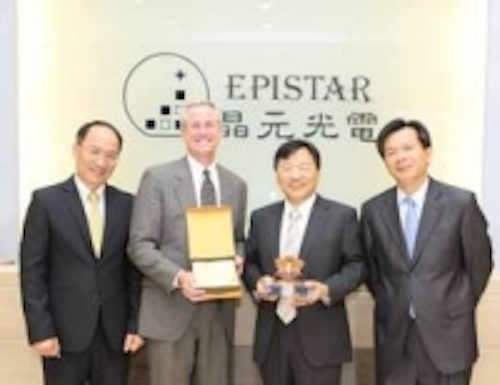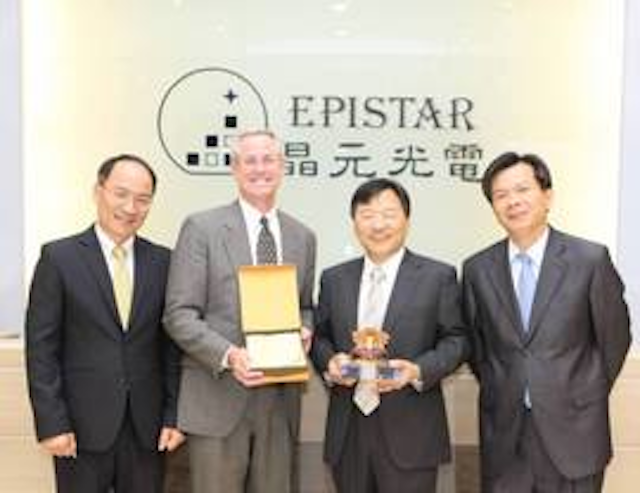 Date Announced: 04 May 2011
Taoyuan, Taiwan - Dow Electronic Materials, a business unit of Dow Advanced Materials, today announced that Epistar Corporation, a world leading high brightness LED epiwafer and chip manufacturer, has awarded its first-ever Supplier Award to the Metalorganic Technologies business of Dow Electronic Materials. As a supplier to Epistar of metalorganic precursors for the manufacture of high brightness LEDs, Dow was recognized for ensuring the supply of precursor materials, improving product quality, providing excellent material and process support for manufacturing, offering superior customer communications and achieving high customer satisfaction.
"Dow has demonstrated itself to be an exceptionally trustworthy partner over the past year that deserves more than an excellent supplier award," said Dr. BJ Lee, Chairman of Epistar, upon presenting the award. "Dow is a key, long-term supplier that we rely on for critical materials and technical service, both now and in the future. We are honored to recognize Dow's hard work with our first annual Supplier Award acknowledging its contributions to our strong growth over the past year."
The ceremony took place on March 30, 2011 in Epistar's facility in Hsinchu, Taiwan. Attending on behalf of Epistar were Dr. Lee; Dr. MJ Jou, President; Jack Lin, logistics director; and Cathy Lin, procurement deputy manager; as well as Derek Ma, vice director of Huga Optotech Inc., a leading manufacturer of light emitting diode (LED) semiconductor devices dedicated to LED chips and wafer production. Accepting the award for Dow's Metalorganic Technologies business were Joe Reiser, global business director; Leo Tsay, greater China sales and operations director; and Johnny Chien, Taiwan sales manager.
"Customer satisfaction and responding to each customer's requirements is at the core of how we operate as a company," said Reiser. "It is a tremendous validation of our efforts to receive this recognition from Epistar, which acknowledges the quality of products, technical expertise and personnel we bring to every customer. We look forward to building on our cooperation with Epistar and continuing to enhance our product and service offerings to increase our support in the future."
Exceptionally high-quality materials and precise delivery of metalorganic precursors are essential to building reliable LEDs. Dow Electronic Materials is the leading supplier of precursors to the LED market, including trimethyl gallium (TMGa), which are used to create the electroluminescent films in LED chips through a chemical vapor deposition (CVD) process. In addition to developing and supplying advanced materials for LED manufacturing, Dow Electronic Materials also offers the VAPORSTATION™ Central Delivery System for bulk delivery of CVD precursors to multiple reactors and other patented delivery technologies for both liquid and solid precursors.
About Epistar
Epistar Corporation is a world-leading high brightness LED epiwafer and chip manufacturer based in Hsinchu, Taiwan. Founded in 1996, Epistar develops cutting-edge production and innovative engineering in epitaxy to enable LED manufacturing. This expertise and the company's extensive capacity have allowed it to become the premier global supplier. Epistar works with some of the best-known brands around the world to popularize LED applications such as cellphone screens, laptops, and televisions. Epistar works closely with its customers to produce the highest quality end products and serves as a partner to co-design chips and production processes, while ensuring quality control. Epistar's pivotal role in the full commercialization of LEDs led the way into the solid-state lighting era. Today, Epistar is more equipped than ever to take on increasingly challenging processes and applications to drive the advancement and adoption of LED technologies. For more information please visit
http://www.epistar.com.tw/index.php
.
About Dow
Dow (NYSE: Dow) combines the power of science and technology with the "Human Element" to passionately innovate what is essential to human progress. The Company connects chemistry and innovation with the principles of sustainability to help address many of the world's most challenging problems such as the need for clean water, renewable energy generation and conservation, and increasing agricultural productivity. Dow's diversified industry-leading portfolio of specialty chemical, advanced materials, agrosciences and plastics businesses delivers a broad range of technology-based products and solutions to customers in approximately 160 countries and in high growth sectors such as electronics, water, energy, coatings and agriculture. In 2010, Dow had annual sales of $53.7 billion and employed approximately 50,000 people worldwide. The Company's more than 5,000 products are manufactured at 188 sites in 35 countries across the globe. References to "Dow" or the "Company" mean The Dow Chemical Company and its consolidated subsidiaries unless otherwise expressly noted. More information about Dow can be found at
www.dow.com
.
About Dow Electronic Materials
Dow Electronic Materials, a global supplier of materials and technologies to the electronics industry, brings innovative leadership to the semiconductor, interconnect, finishing, photovoltaic, display, LED and optics markets. From advanced technology centers worldwide, teams of talented Dow research scientists and application experts work closely with customers, providing solutions, products and technical service necessary for next-generation electronics. These partnerships energize Dow's power to invent. Its key end-use applications include a broad range of consumer electronics from personal computers, to television monitors, cellular phones, global positioning systems, automobile safety systems, and avionics.
Contact
Jeremy Cole The Dow Chemical Company Tel: +1 (508)229-7047 Ina Chu Impress Public Relations Tel: +1 (217)766-1011 E-Mail: ina@impress-pr.com
E-mail:jfcole@dow.com
Web Site:www.dow.com