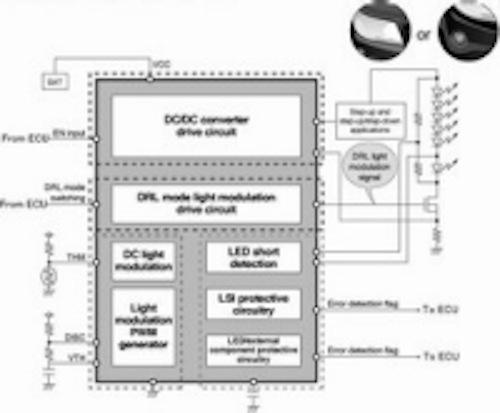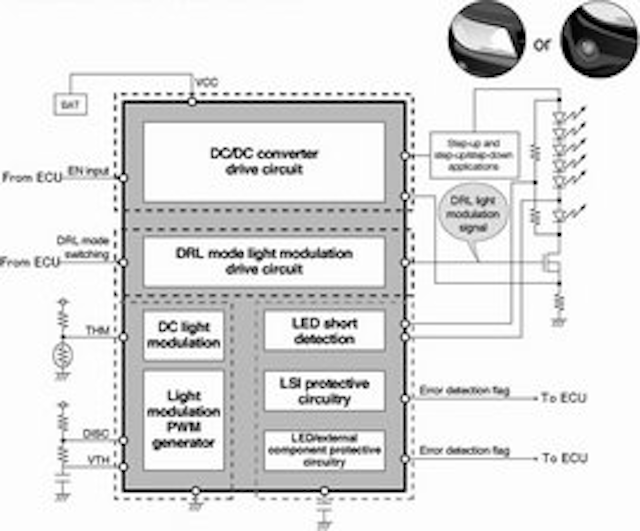 Date Announced: 19 May 2011
Kyoto, Japan – Semiconductor manufacturer ROHM CO., LTD., has developed the BD8381EFV-M single-chip LED driver for use with automotive LED headlamps and daytime running lights (DRLs), a market that continues to experience a high rate of growth.
The part was developed specifically for automotive headlamp and DRL use and incorporates such features as a built-in PWM function for use with DRLs, which are becoming more common on vehicles sold in Europe and the United States. The single-chip design includes the entire range of functionality needed to serve as an LED driver circuit, which in previous designs has consisted of a general-purpose LED driver LSI or a series of discrete components.
ROHM began shipping samples of the new product in April (sample pricing: ¥400/part) and plans to begin mass production with an initial monthly volume of 50,000 parts in July 2011. The company plans to split production into a pre-process handled by ROHM Wako Co., Ltd., (Okayama Prefecture) and a post-process handled by ROHM Integrated Systems (Thailand) Co., Ltd., (Thailand).
Automakers have been gradually switching to LED lighting for automotive headlamps, and LED-based headlamps are expected to eventually account for most of the market due to the higher efficiency and longer service life promised by the technology.
Increasingly, manufacturers are equipping their vehicles with LED-driven DRLs to ensure an optimal level of safety and visibility, and LED headlamps and DRLs are widely expected to become a fixture of automotive equipment specifications. At the current time, use of LED headlamps is limited to certain portions of the market such as the luxury segment, and automakers and headlamp manufacturers have used general-purpose LED driver LSIs or designs based on discrete components, necessitating the inclusion of a separate driver circuit when equipping the vehicle with DRLs.
ROHM launched an early effort to develop a dedicated LSI for use with LED headlamps based on its forecast of the future adoption of this technology, leading to the development of an LSI incorporating all the functionality needed to serve as an LED driver that would be used with headlamps.
The BD8381EFV-M provides PWM light modulation without a microcontroller by incorporating a built-in oscillator circuit for use with DRLs, which are beginning to enter into widespread use particularly in Europe and the United States, where automakers are pioneering their use.
The part also offers a range of protective functionality to detect headlamp faults such as LED short and open states to better meet the automotive market's need for a high level of reliability. This design feature dramatically improves reliability by allowing the number of components in the part to be reduced compared to solutions consisting of discrete components or general-purpose LED driver LSIs. An absolute maximum voltage of 50 V gives the product sufficient dielectric strength to withstand battery voltage fluctuations.
ROHM, which offers a broad range of LED driver products for use in mobile phones, thin-panel displays, and other devices, has earned praise from customers in the LED driver LSI market thanks to features such as low power consumption and high reliability. The development of the BD8381EFV-M was made possible by the exhaustive range of capabilities ROHM brings to the table, including extensive expertise in LED driver circuit technology and a commitment to delivering high levels of quality and reliability, for example by building a dedicated production line for the automotive market.
Going forward, the company plans to further strengthen its portfolio of LED driver LSI products for the automotive electrical component market, which is expected to continue to experience dynamic growth.
Principal features of the BD8381EFV-M LED driver LSI for automotive headlamps:
1. Input voltage range of 5 V to 30 V
2. Built-in step-up/step-down current mode DC/DC controller
3. Built-in CR timer for PWM light modulation
4. Support for PWM and linear light modulation
5. Built-in protective functions (UVLO, OVP, TSD, OCP, SCP, LED open detection, LED short detection)
Contact
ROHM Semiconductor
Web Site:www.rohm.com/news/110512.html