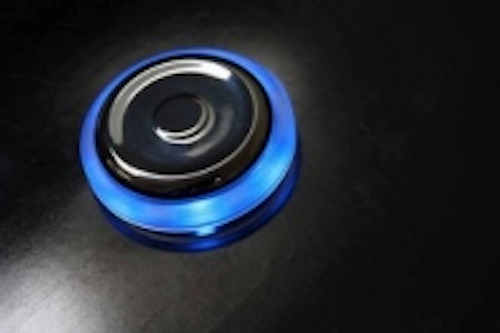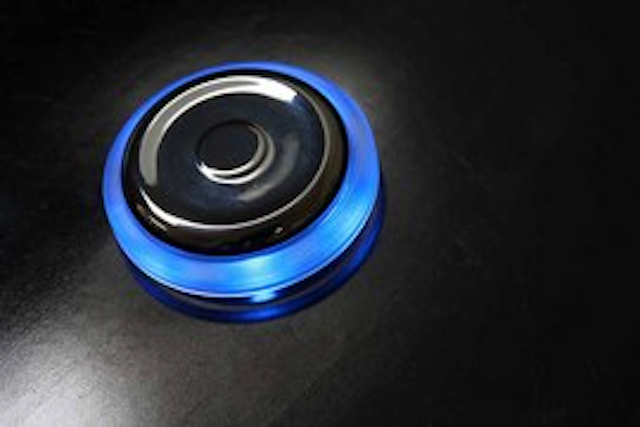 Date Announced: 26 Apr 2011
-- Features Patented Splash-Proof, Dual-Color Halo Ring
PALATINE, IL – Lumex announces the global launch of the TransBrite™ family of light pipe technology for LEDs in both standard and custom formats created with state-of-the-art ray trace software with precise 3D CAD/CAM models to ensure optimal design for light transmittance.
Halo Ring
Part of the new Lumex TransBrite light pipe family, the patented Halo Ring™ light pipe makes it possible to add visible dual-color indicator lights on switches with efficiency and performance unmatched in the market today. The Halo Ring is mounted not to a PCB but rather directly to the panel, generating real-estate savings of up to 10% on the PCB board and up to 20% inside the technology cabinet. Product design is simplified as indicator lights can be quickly and easily integrated into the panel without creating the need to redesign the PCB board.
The Halo Ring´s unique design also provides dual-color performance from a single light pipe without color mixing. Allowing a single dual-color light pipe to replace two individual light pipes generates up to 15% real estate savings on the display panel as separate holes are no longer needed for different indicator colors.
The Halo Ring is designed for optimal performance in challenging environments. It´s unique dual-ring plus gasket design provides a protective rubber layer in front of the indicator light, making the technology splash and water-proof (IP rating 67) The Halo Ring features a wide viewing angle (120°) and an extended temperature range of -40°C to 100°C to ensure high visibility even in extreme conditions.
Due to its ability to generate significant real-estate savings and market-leading durability, the Halo Ring is ideally suited for a wide number of portable and extreme environment applications including:
•medical device technology (including instrument controls for devices such as x-ray, MRI and ultrasound equipment);
•industrial control applications (including visual toggle switches, portable metering controllers and custom track panels);
•security and life safety applications (including panel switches, burglar and fire alarm systems, and access control panels);
•communications equipment (including network routers, switches and video servers).
Available in custom sizes from 10mm to 20mm in blue, white, red, yellow and green color varieties, the RoHs compliant Halo Rings are available for $9.00 to $10.00 in production quantities with lead times ranging from six to eight weeks.
TransBrite Family
The TransBrite light pipe family consists of over 70 standard light pipe technologies in single or array, molded or flexible, single or multi-color formats with right angle, vertical or horizontal packaging for either panel or PCB mounting.
Lumex also provides custom light pipe technology using cutting-edge development tools to ensure optimal performance for each specific application. The Lumex Technical Design Team expertly matches complimentary LED and light pipe technologies and then uses state-of-the-art 3D CAD/CAM modeling, ray tracing program and rapid prototyping to provide a solution that maximizes light intensity and uniformity while minimizing unwanted light loss. The ability to conduct precise trial-and-error development with advanced software technology speeds time to market while reducing up-front tooling costs considerably. Products can be brought to market up to 35% faster than traditional product development timelines at up 40% cost savings.
Custom and standard TransBrite light pipes for LEDs are well-suited for a wide variety of applications including panel illumination, automotive accent lighting, and small space lighting, as well as indication for control panels, user-interfaces and warning lights.
About Lumex
For 30 years, Lumex, a member of the ITW Photonics Group, has been a global leader in the optoelectronics industry. With the broadest range of high efficiency, high performance LEDs and LCDs in the industry, Lumex provides thousands of standard products and specializes in semi-custom and custom designs. Lumex's optical range encompasses a wide spectrum including UV, visible and infrared wavelengths. Lumex's team of Technical Design Specialists are experts in collaboratively developing effective, smart solutions from the most complex design dilemmas.
Lumex has a global footprint with the worldwide headquarters outside Chicago and the Asian headquarters in Taiwan. With manufacturing capabilities in the United States, China, Taiwan and Thailand, Lumex is able to support over 23 end markets with more than 80,000 customers both directly and through our distribution channel partners. Lumex received its initial ISO 9001 registration in 1996.
About the ITW Photonics Group
The ITW Photonics Group was created to bring together and build on the technical expertise of individual companies that specialize in photonics technology and span the full spectrum of wavelengths. The group consists of:
• Lumex - LED and LCD technology
• Cal Sensors - IR Detector and Emitter technology
• Opto Diode Corp - LED, Silicon Photodiodes and Electro-Optical Assembly technology
The synergy of these three industry front-runners provides an unsurpassed range of photonic capabilities within a broad spectrum of markets, including medical, military and industrial controls. The ITW Photonics Group provides integrated solutions that encompass the technology and experience from all three business units, offering design engineers higher performance with greater feature enhancements. For more information on the ITW Photonics Group, go to www.itwphotonicsgroup.com.
Contact
Lumex Contact Information For additional information or engineering assistance: In North America and Europe, contact Lumex's Sales Department, 290 E. Helen Rd., Palatine, IL 60067 USA. Phone: 1-800-278-5666. FAX: 1-847-359-8904. E-mail: lmxsales@lumex.com Web: www.lumex.com. In Asia, contact Lumex's Asian Pacific Headquarters at 3F, No. 972, Sec. 4, Chung Hsing Rd., Chu Dung, Hsin Chu County, Taiwan, ROC. Phone: +886-3-582-1124. FAX: +886-3-582-1154. Web (in Chinese): www.lumex.com.tw
E-mail:dianel1135@lumex.com
Web Site:www.lumex.com