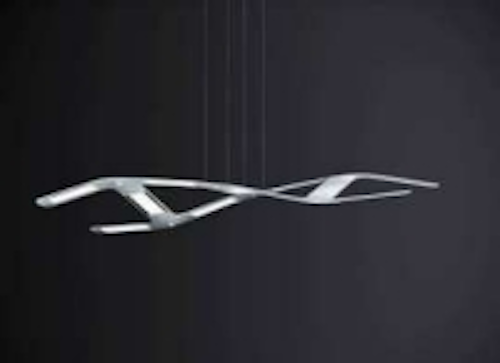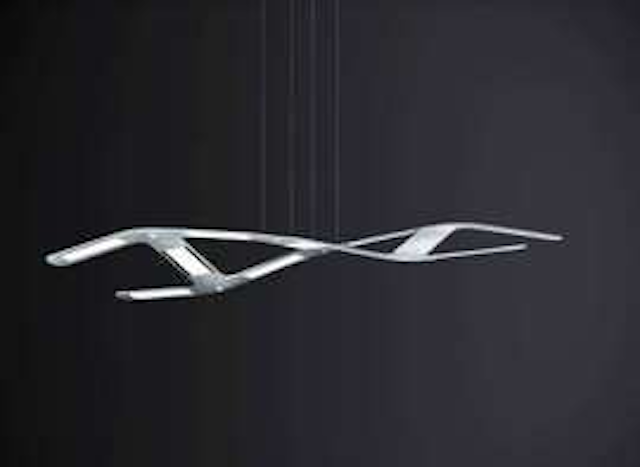 Date Announced: 14 Apr 2011
Everything in flux – that is the concept behind Airabesc, the OLED designer luminaire which OSRAM is presenting in the context of Euroluce, the international lighting trade fair (12-17 April) in the new showroom in Milan. The design consistently draws upon the assets of OLED technology: like the organic light diode itself, the luminaire is very delicately refined, with an organically flowing form. Thus, in the room, it appears somewhat restrained. Nevertheless all eyes are drawn towards it – for instance those of the jury for the red dot award 2011, which singled it out for one of the sought-after prizes, in the category "Product Design". The product is available in the stores from
July.
The originator of the Airabesc design is Dietmar Fissl from the design bureau 2DoDesign. The design brings organic forms and themes to the forefront: as if modelled by the wind ("Air"), the elements of the reduced, symmetrical aluminium form are floating in the air. Together with OSRAM's OLED experts, the idea was further developed and successfully brought into being. Decisive elements: the 1.8 millimetre thin, rectangular OLED panels from the Orbeos series, as well as Oslon LED from OSRAM. "We let technology inspire us", Fissl comments on his design. "I wanted to develop a design which can only be implemented in this form by using OLED." Karsten Heuser, who is advancing the topic of OLED as General Manager at OSRAM, adds: "OLED offers wholly new design opportunities. With each one of our luminaires, we direct attention to one of these options."
Despite the flowing lightness and harmony of the structures, which take as their inspiration the arabesque, a ballet position, the biomorphic shape casts its spell on the observer. The dimensions of the suspended luminaire are 81 x 30 x 10 centimetres. It is height adjustable and can thus be adapted to the concept of the room in question.
Optical harmony throughout the room
From the technical viewpoint, the product deploys eleven rectangular reflecting warm-white OLED panels from the Orbeos series. The extremely thin new panels contain no visible conductors and are thus particularly suited for use in designer luminaires, as they lend additional emphasis to the refined optical impression. The diffuse warm-white light of the Orbeos has a colour rendering index (CRI) of 87; it thus enables objects bathed in its light to appear in flowing form and in colours authentic to nature. In addition, it deploys six compact warm-white Oslon-LEDs with a CRI of 95. The interaction of OLEDs and LEDs is making the Airabesc the answer for setting the mood, using light to get the right emphasis. The catalog "A new approach to light" offers an overview of the OSRAM LED product range for professional lighting. The catalog is available for download at
www.osram.com/led-catalog
.
ABOUT OSRAM
OSRAM (Munich, Germany) is part of the Industry Sector of Siemens and one of the two leading lighting manufacturers in the world. Sales for OSRAM worldwide totalled to €4.7 billion in fiscal year 2010, 88 percent of which came from outside Germany. OSRAM is a high-tech company in the lighting industry. Over 66 percent of sales come from energy-efficient products. This global player employs around 40,000 people worldwide, supplies customers in some 150 countries and has 46 production facilities in 17 countries (September 30).
Contact
Christian Bölling Tel. +49 89 6213-2597 Fax +49 89 6213-3457
E-mail:c.boelling@osram.com
Web Site:www.osram.com