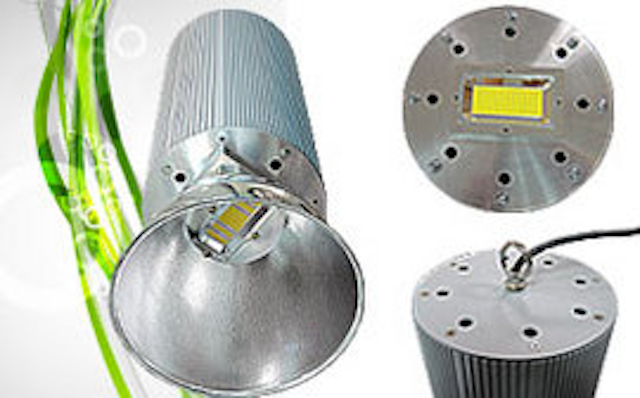 Date Announced: 08 Apr 2011
Aims to replace 400W HQI fixture to achieve at least 70% energy savings, Color Vision 120W LED High Bay fixture is specifically designed to light up working place in the range of 8~12 meter from high sky area.
Equipped with unique reflector, Color Vision 120W High Bay fixture is delivering uniform light distribution on the work plane surface, giving average 210 lux within a diameter of 5.4 meter illumination circle at the height of 10 meter. Compared to traditional HQI and metal halide fixtures, Color Vision high bay is not only consumes much less energy, but also provides abundant light for industrial application.
Thermal conductivity issue remains extremely important when we design LED-based lighting products, especially for high-wattage fixture. Our concept is to create a "chimney effect " to transits plenty of heats out of chips in the operation effectively and then disappeared amid air flow. The approach that we took differs from most of people are doing with their LED products , what we do is to eliminate weighty heat sink structure served as only passage to conduct heats while we use the simplest way to build multiple dissipation paths to ensure LED's lifespan.
Despites, "exclusive coating substance has also been applied to our High Bay housing surface, heat dissipation process has been speeded up as a result of physical changes". On the whole, Color Vision High Bay is a perfect combination of better light quality, durability and significant energy savings industrial choice.
Brightness Comparison
Color Vision 120W High-Bay LED
Minimal luminance = Emin 97 lux
Maximum luminance = Emax 151 lux
250W HQI Fixture
Minimal luminance = Emin 31,8 lux
Maximum luminance = Emax 82,6 lux
400W HQI Fixture
Minimal luminance = Emin 76 lux
Maximum luminance = Emax 113 lux
Color Vision, founded in 2005, is a professional supplier of solid-state lighting solutions. We specialize in manufacturing high-watt LED lighting products which require superior heat-management capability. We treat our products' durability and lifetime as our top priority in order to ensure our customers' long-term satisfaction.
With several years' experiences in manufacturing, we provide the highest quality products, and customize the products for our customers. Our strength is the professional know-how of Multi-Chip LED packaging technical, unique construct designed, excellent optical design, and efficient heat-dissipation system.
Contact
Billy Hou Tel: +886-2-2221-3729 ext.880
E-mail:sales@color-vision.com.tw
Web Site:www.color-vision.com.tw