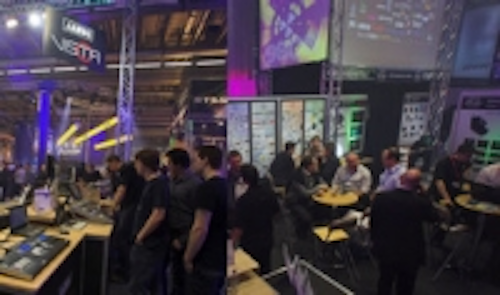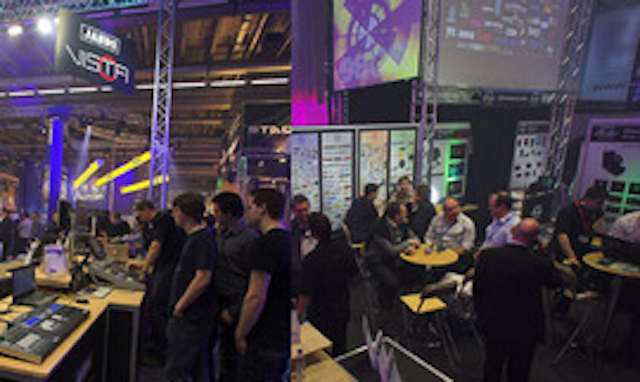 Date Announced: 19 Apr 2011
A.C. Entertainment Technologies Ltd enjoyed an extremely busy and successful Prolight & Sound 2011 exhibition in Frankfurt.
The UK based company exclusively unveiled for the first time exciting new products from popular international brands including Chroma-Q™ and Jands, as well as a selection of other leading lighting technologies for which they are a distributor.
The AC-ET stand saw a steady stream of high quality visitors, with the new products in particular attracting lots of interest, alongside many other established technologies in the company's extensive portfolio.
AC-ET previewed the new Chroma-Q Studio Force D (Daylight white 6,000K CCT) and Studio Force V (Variable white 2,900K – 6,000K CCT) LED fixtures. Featuring an extreme output from 5,000 - 28,000 lumens across the range, the products were specifically developed for TV, broadcast, fashion shows and other applications normally utilising bright daylight or tungsten fixtures.
Both versions are available in a choice of 48" and 72" battens, as well as a 12" multi-purpose unit, and utilise the same innovative core technologies as the Color Force RGBA LED range launched last year.
AC-ET's Chroma-Q product manager, Spantax (Thor-Andre Saether) says "The show delivered a high calibre of international visitors, including rental companies, lighting designers, venue owners and operators - all of whom were very focused in what they were looking for from the latest LED technologies."
Chroma-Q product demos throughout the exhibition included one to a number of TV lighting designers who commented on the Color Force range's excellent colour gamut and the quality of the white that can also be obtained using the same RGBA fixture, which in their opinion, was one of the best they'd ever seen from an LED unit.
Also popular with visitors were the many new accessories that are available for the Studio Force and Color Force 12" multi-purpose fixtures - including a SoftBank and a SoftBox/homogeniser - again designed with the film, TV, video and photographic worlds in mind.
The AC-ET stand also provided the official launch for the new Jands Vista v2 software - which is exclusively distributed in Europe and the Middle East by AC-ET.
AC-ET's Jands product manager, Neil Vann demonstrated this eagerly awaited new software (code named Byron during its development) on several consoles on the stand, which created a real buzz and kept him busy for all four days of the show. The v2 is now shipping with the entire range of Jands Vista consoles as factory-standard, and is available as a free upgrade for existing users.
As well as a revamped visual interface, Vista v2 introduces a host of features, including tracking backup - which instantly switches control to a synchronised second console or PC; integrated media server control - including automatic thumbnail import of content from most industry standard media servers; matrix and video effects - that run intensity, colour, movement and even video files across LEDs or other multi-cell fixture types arranged in columns and rows; and default and split fade times, which provides quick and easy setting/editing of cue timings, including separate up and down times for intensity.
Neil comments, "It was a really good show with lots of professional international visitors. The reaction to the v2 was very enthusiastic from a wide cross section of existing and potential users, including LDs, operators and programmers. All were impressed by the power and the simplicity of the console running v2, how well it makes sense of multi-cell LED fixtures and how straightforwardly it can control a whole range of media servers."
Cally Bacchus, AC-ET's international sales director, sums up "With AC-ET's truly international customer base, the show gives us the opportunity to network with our clients face-to-face. This year's show was no exception, with a very high calibre and broad range of visitors impressed with the new Chroma-Q and Jands products."
With over 200 leading industry brands, a vast multi-million pound stockholding of new and used products, a massive body of expertise and a comprehensive range of in-house associated services, AC-ET provides a complete one-stop entertainment technology solution - renowned for its efficiency and rapid service - to customers worldwide.
Contact
A.C. Entertainment Technologies Ltd. +44 (0)1494 446000
E-mail:louise@loosplat.com
Web Site:www.ac-et.com