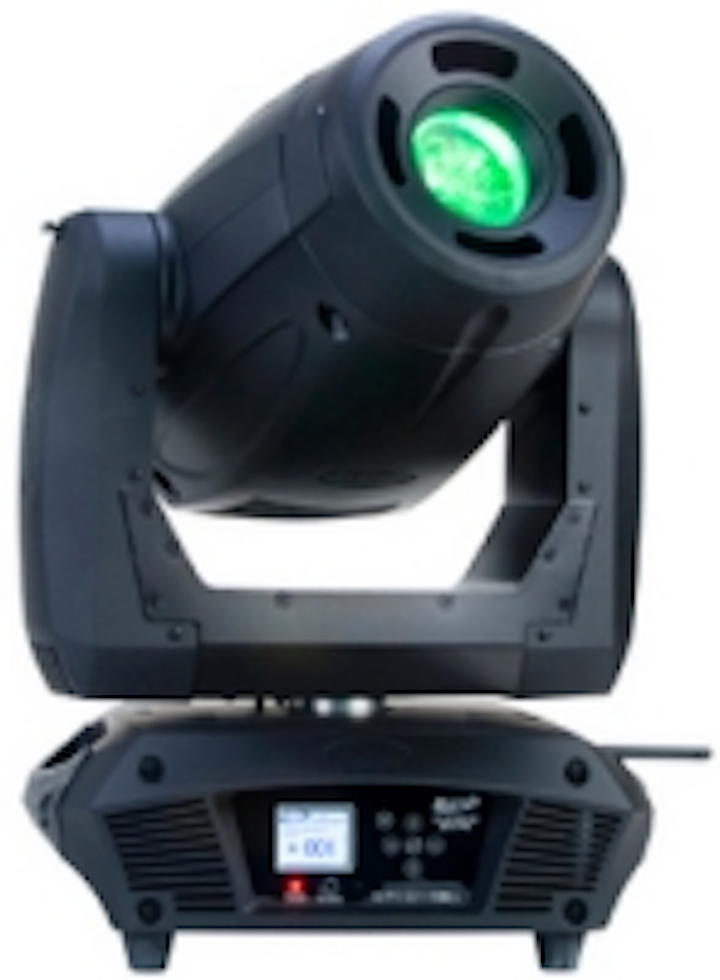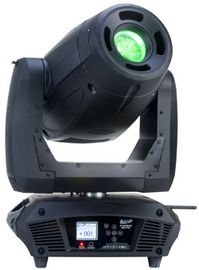 Date Announced: 22 Apr 2011
Los Angeles - Elation Professional, a leading supplier of lighting and video solutions, will be unveiling groundbreaking products in some of today's hottest categories at the InfoComm 2011 Show, held in Orlando, FL, June 15-17. These new products can be seen at Elation's Booth #5665.
One exciting area the Los Angeles-based supplier is addressing is the convergence of lighting and video, with its new EPV (Elation Pro Video) Series of hi-res video LED panels, which includes a flexible 15mm model that can be used to create curved video walls (EPV 15 Flex), and a 7.62mm video panel that pans and tilts just like a moving head fixture (EPV 762 MH). Here's a closer look at these two EPV Series video panel models:
EPV 762 MH – A high-resolution 7.62mm pitch LED moving head video panel, the EPV 762 MH can rotate just like a moving yoke light fixture. Its pan of 540° and tilt of 265° give video displays maximum exposure at shows and events. Equipped with 4,096 tri-color (red, green and blue) SMD LEDs and featuring 2,000 nit brightness and high contrast levels, this versatile screen will create eye-popping videos, graphics, text messages, special effects or any other image. A high refresh rate of 2,000Hz ensures flicker-free performance. Each square panel measures 19.2" x 19.2"/488mm x 488mm and is equipped with Ethercom input/output for the video signal and Powercon in/out for power link, and includes its own built-in 100-240V psu. Extremely energy efficient, each panel consumes just 350 watts of electricity maximum (230 watts average).
EPV 15 Flex – A 15mm pitch LED video panel, the EPV 15 Flex has a flexible design that makes it easy to create curved video walls. Featuring 16-bit processing and 4,500-nit brightness, it is IP56-rated on the front and IP54-rated on the back, allowing it to be used either indoors or outdoors. Equipped with a 100-240V built-in power supply, each panel measures 19.2" x 19.2"/488mm x 488mm and weighs 20 lbs./ 9 kg.
With LEDs taking over an increasingly bigger share of the stage, display, exhibition and production lighting market, Elation will be also introducing some innovative white LED-powered fixtures that offer substantial advantages over conventional lighting in terms of energy savings, long lamp life and low heat emission. Check out the WW Tone, a high-output 100-watt warm white wash featuring the new Bridgelux™ LED source, and the ELED Fresnel II, a 100-watt warm white LED Fresnel light with that can take the place of a 500-watt halogen fixture. Then there's the incredibly versatile TVL2000, an LED panel equipped with 450 cool white and 450 warm white LEDs that can be combined to create any shade of white, from cool natural daylight to soft warm tungsten – or anything in between. More info on these products below:
WW Tone – A high-output 100-watt warm white LED wash fixture, the WW Tone is the ideal key light, stage wash or house light. Featuring the new Bridgelux™ LED source (3,000K color temperature 82 CRI), and silent operation, it is perfect for broadcast, stage or front of house lighting applications. Capable of operating in 2 DMX modes, the WW Tone includes an electronic Dimmer and Strobe. It comes with barn doors, a gel frame and 25° lens standard, with optional 45° lens available. A 5-year LED engine warranty (supplied by the LED manufacturer) adds to its value.
ELED Fresnel II – Bringing all the advantages of LEDs to stage lighting, the ELED Fresnel II is a 100-watt warm white Fresnel light with barn doors and a gel frame that can be used in place of a 500-watt halogen equivalent. Equipped with full DMX capabilities as well as on-board manual control, the ELED Fresnel II features a 10° to 50° Zoom, Shutter/Dimmer, and silent, flicker-free operation.
TVL2000 – A white LED panel with variable WW/CW color temperature, the TVL2000 is ideal for a wide array of broadcast and exhibition lighting applications. Equipped with 450 cool white and 450 warm white LEDs, it can produce color temperatures from 3200°K-6500°K to create any desired shade of white, using either DMX or on-board control. With this amazingly versatile and compact panel, it is possible to instantly customize studio lighting to complement any skin tone or production environment. The unit provides a 30° beam angle standard and produces up to 98 foot candles @ a 10' throw. It features full 0-100% dimming capabilities, a 4-way barn door system and a magnetic gel/filter holder.
The search for new, more efficient lamp sources is another trend in today's lighting market – one that Elation is on the forefront of with its Platinum Series DMX Moving Heads. Utilizing advanced MSD Platinum Lamp technology from Philips, Elation Platinum Series fixtures feature an extremely compact and lightweight design, use half the energy and offer double the lamp life over equivalent conventional discharge moving heads. Here's a closer look at two new Platinum Series fixtures:
Platinum Spot 5R Pro – Comparable in output to a 575-watt moving head, the Platinum Spot 5R Pro measures just half the size, consumes half as much energy, and offers twice as long lamp life -- thanks to its MSD Platinum Lamp technology. Featuring CMY color mixing, a built-in Zoom and optional wireless DMX receiver, it also offers a wide array of other professional features, including: 22 gobos, 3 facet rotating prism, Motorized Iris, Motorized Focus, and a Variable Frost Filter that gives it the versatility to function as a "hybrid" spot-wash fixture.
Platinum Spot 15 R Pro – Designed for larger concert/arena applications, the Platinum Spot 15R Pro is the most powerful member to date in the Elation Platinum Series of space/energy-saving DMX moving heads. Utilizing the revolutionary new Philips 300-watt MSD Platinum 15R lamp, it is comparable in brightness to a 700-watt (and some 1,200-watt) moving heads, yet is one-third smaller than a 700-watt fixture and uses just 43% of the power. Featuring CMY color mixing, it is loaded with pro features, including a 8 dichroic colors, 22 gobos (8 rotating and replaceable), a 3-facet rotating prism, strobe effect, Motorized Iris, Motorized Focus, Variable Zoom (9° to 27° beam angle), and variable Frost Filter. The Platinum Spot 15R Pro also includes a built-in EWDMX wireless DMX receiver, allowing it to receive DMX signals wirelessly from up to 3,000 feet away when used with an Elation EWDMXT transmitter (sold separately).
Contact
Elation at InfoComm 2011 Booth 5665 866-245-6726
E-mail:abby@fucinipro.com
Web Site:www.elationlighting.com