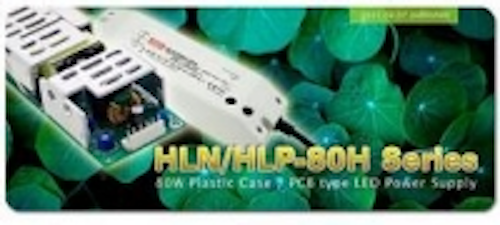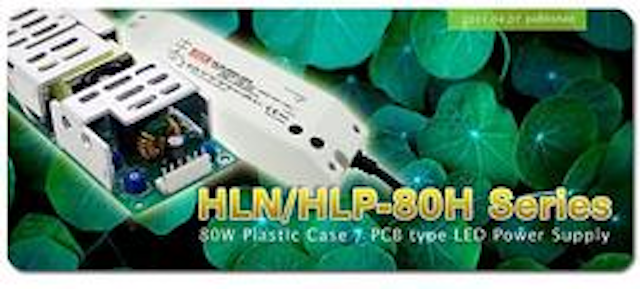 Date Announced: 08 Apr 2011
MEAN WELL launched new generation of 80W LED power supplies ~HLN-80H and HLP-80H series. Features with insulated plastic enclosure, HLN-80H series can reach IP64 waterproof/ dustproof level by its mechanical design and has cost-saving on glue. With casing removed and miniature PCB design, HLP-80H series also has significant cost-saving on the mechanical parts. Therefore, these series can be good solutions for LED lighting fixtures with economical concerns. Compared with the existing PLN-60 and PLP-60 series, these two new models not only increase 1~4% of efficiency and extend its warranty from 2 years to 3 years, their -40℃ power-on ability (at 230VAC) is also superior to the -30℃ of PLN/PLP-60. Besides, HLN-80H-xxB/HLP-80H models equipped with three-in-one dimming function (1~10VDC, PWM, resistance) to fulfill the growing demands of energy-saving dimming applications.
Featuring with 90~305VAC wide range AC input, HLN/HLP-80H series not only suitable for general 115VAC or 230VAC main input, but also can be operated under 277VAC input in North America. Built-in two stage active PFC function, these two series comply with harmonic current limitation per EN61000-3-2 Class C (>60% load). They also fulfill PF>0.9 if loading over 60% and possess 4KV surge immunity (EN61000-4-5) ability which comply with the requirements of general lighting. With up to date high efficiency topology, these new models possess up to 91% of high efficiency, so HLN-80H can be cooled by free air convection from -40℃ to +50℃ ambient temperature, and HLP-80H can be operated from -40℃to +70℃ that meet the high ambient temperature requirements for closed systems. Besides built-in standard functions of protections for short circuit, over voltage, overload, and over temperature, these power units apply for global certificates per UL / CUL / TUV / CB / CE including UL8750 and EN61347-2-13 of lighting regulations, which can greatly guarantee your safety. Suitable applications include indoor LED lighting, LED electric display, LED decorative lighting, and LED stage lighting…etc.
Features:
1. Wide range input 90~305VAC
2. Built-in active PFC function
3. Built-in 3 in 1 dimming function (1~10VDC, PWM signal or
resistance) for HLN-80H-xxB & HLP-80H
4. Output voltage and current adjustable (selected models as table below)
5. Meet 4KV surge immunity level (EN61000-4-5)
6. 91% of high efficiency
7. Cooling by free air convection
8. Plastic case with UL94V-0 fire protection level(HLN-80H)
9. Protections: Short circuit / Overload / Over voltage / Over temperature
10.Certificates: UL / CUL / TUV / CB / CE
11.Dimension (LxWxH): 181x 61.5x 35mm (HLN-80H); 162x 53x 29.5mm (HLP-80H)
12.3 years warranty
Contact
MEAN WELL ENTERPRISES CO., LTD
E-mail:info@meanwell.com
Web Site:www.meanwell.com