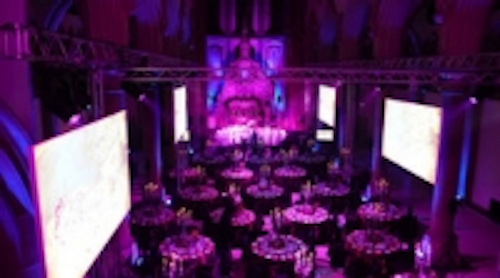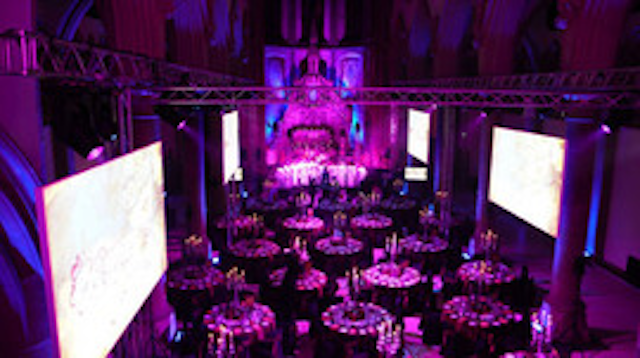 Date Announced: 03 Apr 2011
Manchester-based lighting rental house, DBN Lighting has just completed another purchase of Chroma-QTM Color ForceTM LED fixtures to keep up with increasing demand for the range from its customer base.
The latest investment saw DBN take delivery of 30 fixtures - a mix of the 30cm wide multi-purpose Color Force 12 and 1.2m/1.8m Color Force 48 / 72 battens - doubling their existing stock and bringing their total count to over 60 units, currently the largest in the UK.
DBN was also the first rental company in the UK to buy these cutting edge Chroma-Q fixtures when they launched in June 2010. Since then they have proved extremely popular, being used on numerous shows and events. Says DBN's Nick Walton "Color Force is a hugely versatile product, we use the fixtures constantly for our shows, we all really like them and they are in great demand with our customers!"
DBN provides lighting design services and equipment to a full and diverse range of shows and live events, from high profile corporate events to festivals, art installations and events, theatre performances, concerts and TV shows.
Nick Walton explains that after an initial demo, they realised that the Color Force would be absolutely perfect for many applications, including up-lighting large areas and scenic elements. "The light field is very flat and the LED light engine blends just inches from the fixture, offering totally smooth, even colours," comments Nick. He adds that with previous up-lighters (both LED and incandescent) they usually needed to add diffusion filters, but with Color Force, this is now a thing of the past!
The "Incredible" light output makes it a winner, he continues, enabling the same surface areas to be illuminated more efficiently with less fixtures than using previous technology. They also love the excellent colour palette of the Color Force range, which rolls effortlessly from the subtlest of pastels to the richest of saturates and is "The best" they have yet encountered from an LED fixture.
The Color Force's RGBA colour mixing system delivers an incredible CRI of 92 and also makes it one of the few LED fixtures that can deliver a proper set of whites, capable of being matched to different colour temperatures. This feature has been particularly useful for DBN's recent work.
Nick Walton is currently working on a corporate roadshow. Using Color Force 48 & 72 battens allows him to white balance a 20 metre wide Scanachrome set print to the screens above that receive video and projected images throughout the show. At other points in the show he can introduce a spectacular array of colours and effects from the fixtures onto the same set piece.
His first show using Color Force was the Merseyside Tourism Awards at the Liverpool ACC (Arena & Conference) for client's The Glasgow Group.
This was quickly followed by the BBC's 2010 Proms In The Park event in Salford, where they were used to highlight a series of white legs and cloth elements framing the stage, with layers of breakup and texturing overlaid.
Twelve fixtures were used in total, six Color Force 48s and six Color Force 72s - all on the floor. In previous years, a similar drape arrangement was lit with a top and a bottom row of lights, but now, with the power and optics of Color Force, they needed only one set. Apart from looking fabulous, this saved considerable rigging and focusing time on site - which is always helpful.
Nick Todd from DBN also recently used them to highlight the spectacular architecture at Gorton Monastery in Manchester for an awards event produced by Apex, for which DBN lit the main room and gala dinner.
DBN's Stephen Page - well known for his imaginative lighting designs - has the same enthusiasm, "The Color Force batten offers exceptional brightness with ample output to up or down-light stage backdrops and all kinds of spaces and objects. The RGBA optics deliver a full range of colours and varying colour tones, and it produces a great white. Having separately controllable LED cells can make for interesting coloured effects using a single fixture, and the dimming is the smoothest I've seen in an LED fixture of this type."
The Color Force fixtures were supplied by Chroma-Q's exclusive UK distributor, A.C. Entertainment Technologies Ltd.
DBN has enjoyed a long standing business relationship with AC-ET over the years, which includes purchasing substantial quantities of Chroma-Q's Color Block DB4 and Color Block 2 products, plus Chroma-Q Color Splits and now the Color Force series. "You can see a real progression through the ranges," observes Nick Walton, who thinks that Color Force is "showing the way" for LED products in general.
DBN's contact at AC-ET's High Wycombe HQ is Spantax (Thor-Andre Saether), who comments, "Working with DBN is always a pleasure. They are a great team who pay close attention to their client's needs and expect the same levels of service from their suppliers. We value their loyalty to the Chroma-Q brand and their early uptake of Color Force. They provide us with detailed and informed feedback which is essential for future product development."
All Chroma-Q LED products are licenced by Color Kinetics. Chroma-Q and all associated product names are recognised trademarks, for more information visit
www.chroma-q.com/trademarks
. The rights and ownership of all trademarks are recognised.
Contact
Louise Stickland +44 7831 329888 +44 1865 202679 sales@chroma-q.com
E-mail:louise@loosplat.com
Web Site:www.chroma-q.com