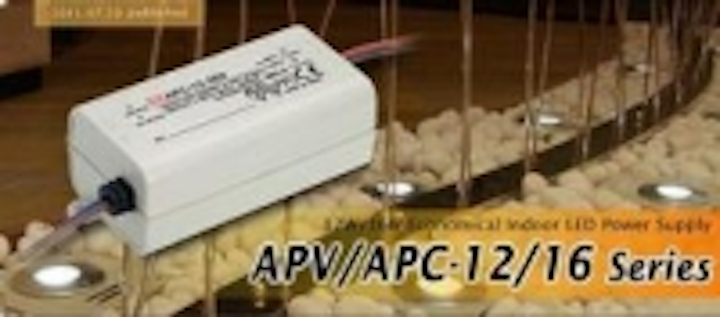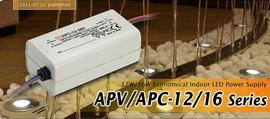 Date Announced: 28 Jul 2011
After introducing the slim shape economical plastic LED power units without PFC ~ LP family: LPH/L-18(18W), LPHC/LPLC-18(18W), LPV/C-20(20W), LPV/C-35(35W), LPV/C-60(60W), and LPV-100(100W), MEAN WELL launches another 12W and 16W economical LED power supplies with rectangular plastic enclosure~ APV/APC-12/16 series. These new models mainly target at lower wattage applications such as indoor LED lighting, decorative lighting which have space limitation for the power supply. With non-PFC design and save part of the glue cost, AP series have price competitiveness to fulfill all kinds of economical applications. Meanwhile, to comply with various system designs, they have two modes for choice: APV series with constant voltage design (C.V. mode) and APC series with constant current design (C.C. mode).
With up-to date high frequency switching topology, these four new series features with 90~264VAC input range and possess up to 84% of high efficiency, so that they can work between -30~+70 ℃by only free air convection. APV/C-12 (12W) are not potted while APV/C-16 (16W) are semi-potted for PCB protection to provide the basic ability of anti-moisture, anti-dust as well as heat-conduction purpose. They are very suitable for indoor LED lighting applications without the need of high level waterproof and dustproof requirements. Built-in standard features include short circuit, overload, over voltage protections, and wire-style input/output (18AWGx2C (15cm) / 20AWGx2C (15cm)) for flexible installation. Typical applications include LED indoor lighting, LED-based decorative lighting, and LED electric display…etc.
Features:
1. 90~264VAC universal AC input
2. Constant voltage design (C.V. mode) for APV series
3. Constant current design (C.C. mode) for APC series
4. Plastic case with 94V-0 fire prevention level
5. 84% high efficiency
6. Cooling by free air convection
7. Isolation class II, no FG
8. Protections: Short circuit / Overload / Over voltage
9. Low cost, high reliabilty
10.Certificates: CE
11. Dimension (LxWxH): 77x 40x 29mm
12. 2 years warranty
Contact
MEAN WELL ENTERPRISES CO. LTD
E-mail:info@meanwell.com
Web Site:www.meanwell.com