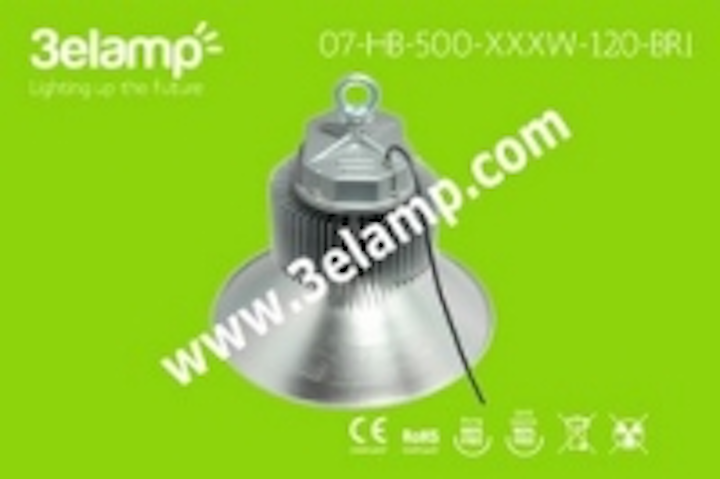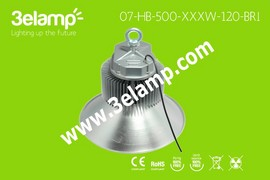 Date Announced: 22 Jul 2011
3elamp, the Hong Kong based company specialized in the design, production and distribution of lights and lamps in high-powered LED, introduces a new super bright series of LED Industrial Lights, able to manage till 200W of encapsulated LED because their new heat sink design that holds the Bridgelux chip (with a Tj≤85ºC) and the HLG Meanwell power supplies used in this series.
This series includes the 07-HB-500-164W-120-BRI (with 150W high bright encapsulated LED able to deliver more than 14500 lumen of total flux) and the 07-HB-500-218W-120-BRI (with 200W high bright encapsulated LED able to deliver till 16500 lumen of total flux).
Both fixtures use high-purity aluminium for the reflector, the heat sink and the hanging hook, while the housing is in aluminium alloy and the cover in 3.5 mm high resistant glass (lead free).
The standard beam angle is in 120º (90º and 40º are also available) and the working temperature is between -40ºC and +55ºC. The fixtures have a wide range of power supply of AC85V-265V (at 50-60Hz) with a PF>0.95.
The new series 07-HB from 3elamp, with his IP65, isolation Class 1 and 5 year warranty, is very good news for the energy efficiency projects in high ceiling buildings that require high level lighting (such as in factories, warehouses, Fairs and other commercial pavilions).
Contact
JM Casanovas Managing Director Tel: (852) 8175 8125
E-mail:info@3elamp.com
Web Site:www.3elamp.com