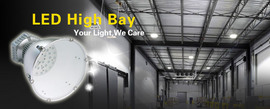 Date Announced: 18 Jul 2011
SPARK Optoelectronics after about two years of development and continuous improvement, Finally launched a new generation of LED high bay light, two models SPG-90(90w) and SPG-120(120w), This new LED high bay light not only in appearance, heat dissipation structure, optics, power supply have new technical breakthrough, but more important is gave LED application field bring new development prospects.
May 2009, SPARK R&D department received a difficult task that to develop the new generation LED High bay light in two years. But the price must be accept by the majority of customer.
The SPARK management why made such big decision? Why take as long as two years of research and development? This is question.
After reporters to Spark general manager Wu feng interviews, they made the big decision were according to the domestic and international marketing feedback information and to the international market demand forecast.
1. Due to the global environment and energy crisis, the Green, environmental protection, energy-saving concepts have deep into each man's heart, LED to replace the traditional lighting has become an irreversible trend, The LED high bay light has obvious advantages which compared with the traditional metal halogenating lights and high-pressure sodium lamp. Energy saving more than 75%, service life of LED high bay light is almost 10 times as much traditional lamp, all kinds Light color temperatures are available, no light pollution, completely green pollution-free.
2. The application of LED high bay light is very wide, shipyards, mines, workshops, factories, warehouses, highway toll stations, gas stations, supermarkets, exhibition halls, stadiums and other places need LED high bay light, that is why SPARK company made so much effort to develop a new generation of LED high bay light.
3. According to SPARK R&D department general engineer Mr. Le, R & D put out the first sample within 6 months after receiving the task, however, whether its optical, thermal, structure, appearance still fall far short of the desired effect for this first sample. Fortunately, after hundreds of changes and thousands of all kinds of tests (of which more than 6,000 hours of continuous LED high bay light depreciation test), now SPARK LED high bay light has finally reached the originally expected effect. This is why development of a new LED high bay light would take SPARK company near two years time.
So, since Spark it took 2 years to develop a LED high bay light far ahead of the lighting industry. Which area is this new generation of LED high bay light ahead in? What is the new technical breakthrough?
Reporter interviewed Mr. Le for answers, who is responsible for the development of SPARK LED high bay light and revealed some related information.
1. Spark use the most famous brand CREE XP-E series LED for LED high bay light source, Which fundamentally guarantee the quality of the LED high bay light.
2. Integration design, Ordinary LED high bay light release heat just only through heat sink that the cooling effect not very goods when the power big. But, Spark LED high bay light release heat through the combined of lamp body and heat sink, which greatly improved the cooling efficiency. LED junction temperature of SPARK LED high bay light can control in between 60-62 degrees. According to the CREE test report show: when the LED junction temperature 85 degree, the LED life more than 50,000 hours, but, when the LED junction temperature 65 degree, the LED life can be use more than 90,000 hours.
3. For the new LED high bay light, SPARK specially designed a power supply and achieved some new invention patent, for the Electronic components, Spark use the top quality brand capacitor (Rubycon) and IC (National Semiconductor) that make sure the stability and long life span.
4. Spark LED high bay light adopted Nano material coating ensuring high reflection & luminance uniformity.
5. Very beautiful appearance design Humanized design and very easy for installation, 2mm Aluminium alloy with oxidation finish ensuring good heat release and corrosion resistance.
6. PARK in order to win the market access of each country, they have sent the samples to AVT (UK Laboratory) do test for CE certificate. And applying for UL certificate already.
The Chinese government attaches great importance to LED products application, and given the SPARK great courage and support. Energy conservation and environmental protection is one of seven strategic emerging industry of states. The future of lighting industry upgrade must rely on technological innovation, particularly with energy conservation and environmental protection industry integration of development. SPARK people believe that they will develop more and better new products of LED lighting. For world environmental protection and energy saving business to contribute a strength.
Contact
Aileen Huang Spark Marketing Director Tel: (86 755) 8390 4366 Fax: (86 755) 8390 4766
E-mail:sales@spark-oe.com
Web Site:www.spark-oe.com