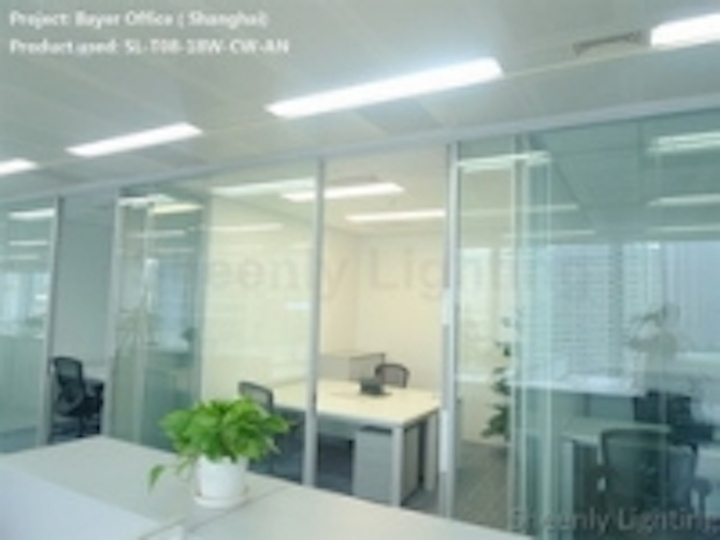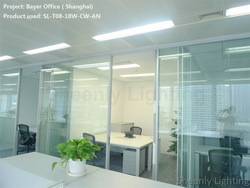 Date Announced: 14 Jul 2011
Shanghai, China – Bayer's new office in ShangHai has installed high light efficacy LED panel and T8 lights. The installation has covered 90 office rooms, 15 lounges and one car park. The light solution is absolutely comfortable for staffs working in the office. The stylish light design suits the modern day office environment.
Sheenly is a mature and advanced has real factory LED Company in China. Sheenly exports more than 80% of total sales to overseas every year. Our experiences guaranteed you with a flexible and efficient operation procedure on process oversea sales. High quality products, mature operation procedure and good logistic connection, these factors Sheenly can survive and keep developing in such furious competition. We aim to build long term cooperation relationship with customers.
As the only Bayer's partner in China, Sheenly concentrates on making high quality and environmental friendly LED lights. Especially in the field of LED panel lights, LED T8 and LED downlights, Sheenly has very outstanding competitive advantages.
During first project with Bayer, the quality and services provide by Sheenly were really impressed Bayer's high level managers. After first successful project with Bayer, they have more faith with Sheenly, they sudden decide to give another four projects to Sheenly. Bayer Shanghai office is one of the four projects.
The whole Bayer Shanghai office used total 310 Sheenly panels and 90 Sheenly T8 lights. They are:
Sheenly 600*600mm, 370 LED, Cool white, 80lm/w 100 pieces
Sheenly 300*1200mm, 600LED, Cool white, 80lm/w 210 pieces
Sheenly T8 shock protection, 1.5m, 330 LED, Cool white, 75lm/w 90pieces
'The lights are absolutely amazing, bright but not irritate eyes, and also advantage of energy saving and long life span, we want to reduce our energy expenditure and carbon emissions. Sheenly perfectly complete our goals' Said by Bayer's office manager.
Contact
TEL: 86-021-64113138-613
E-mail:dean.wang@sheenly.com
Web Site:www.sheenly.com