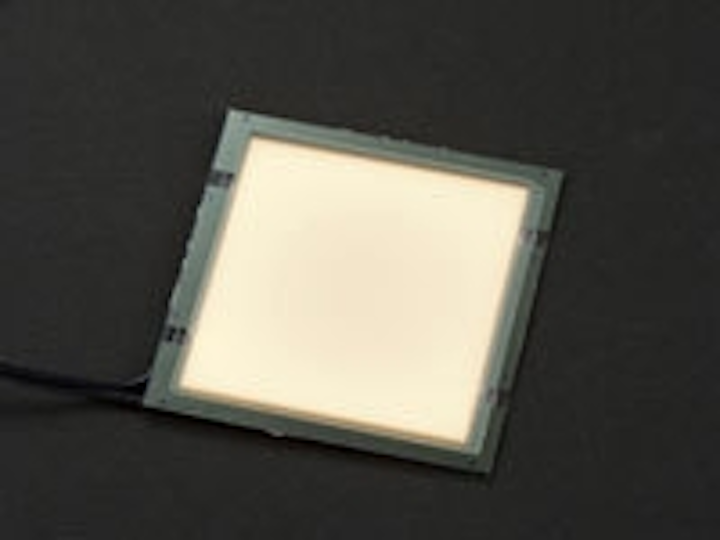 Date Announced: 22 Jul 2011
Tokyo -- Konica Minolta Holdings, Inc. (Konica Minolta) has been developing Organic Light Emitting Diode (OLED) lighting as one of its promising new businesses in the field of environment and energy.
The company today announced that this autumn it will start production of OLED lighting panel with the world's highest-level* power efficiency, to which its own developed organic materials and layer structure have contributed. The panels will be produced by Philips Technologie GmbH, based in Germany.
(* As of July 12, 2011, among OLED lighting panels for which start of production before the end of this year has been announced - research by Konica Minolta.)
Specifications of OLED lighting panel to produce:
Luminance: 1000 cd/m2
Luminous efficiency: 45 lm/W
Luminous flux: 12 lm
Current: 71.5 mA
Voltage: 3.6 V
Lifetime (LT50): 8000 hours
Color temperature: 2800 K
Size (length x width x thickness): 74 x 74 x 1.9 mm
Planned start of production: Autumn 2011
OLED lighting is attracting attention as the next generation lighting having such unprecedented features as thin, light weight, and surface light source. In addition, it features high energy efficiency, relatively low temperature, and reduced environmental footprint since it is mercury-free unlike fluorescent lightings. Furthermore, OLED lighting technology is mild to eyes and friendly to people, since it is free of ultra-violet rays.
Konica Minolta considers OLED lighting as one of the most promising environmental and energy conscious new businesses, where we can take full advantage of our own core technologies, and will continue to aggressively drive research and development work and marketing activities.
Contact
Konica Minolta
Web Site:ww.konicaminolta.com