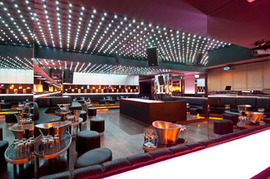 Date Announced: 01 Jul 2011
A.C. Special Projects Ltd (ACSP) has supplied specialist LED and effects lighting, plus a custom integrated control system, to Whisky Mist Beirut - one of the region's hottest and most exclusive new venues, located in the luxurious InterContinental Phoenicia Beirut hotel.
For ACSP, the project included the delivery of over 100 square metres of Chroma-Q Color Web™ 250 LED panels, Chroma-Q LED strobes, 165 linear metres of RGB LED strip and 90 linear metres of warm white LED strip, plus the control solution and full technical support throughout .
ACSP was contacted by Egham, Surrey based Light Tecnica, and asked to consult on products that would realise their concepts, plus assist in developing a complete, flexible, easy to operate and manageable control solution. The final specification was then provided to Intramuro Interior Contracting, who completed the fit out and installation in Beirut.
A Special Collaboration
Following the massive success of Whisky Mist London, the rich and colourful mix of international clientele and cultural vibrance in Beirut led to it being chosen as an ideal location to open this second venue. With a capacity of 350, it transports all the glamour, sophistication, amazing service and other serious A-list attributes to the uber-stylish club, lounge and bar scene of Lebanon's buzzing capital city.
In keeping with the vibe and ambience of the club, the same premium levels of expertise, imagination, service and attention to detail were expected of all involved in the creative design, technical supply and management process.
"That alone made it a great honour to be involved in" explains Lance Bromhead, adding, "Overall it was a great collaboration. We shared a fabulous synergy with Light Tecnica and the end results absolutely speak for themselves."
From the outset, lighting was seen as an absolutely vital component in building atmosphere and mood in Whisky Mist Beirut's quest to become a leading global nightspot.
ACSP's role included comprehensive technical support and a substantial amount of advanced planning, including the supply of detailed drawings, renderings and schematics that were constantly updated, to ensure that Intramuro were kept informed. ACSP's technical manager Dave Cowan, traveled to Beirut for the final stages of the installation, programming and commissioning process, to ensure the handover was seamless and on time.
Dancing on The Ceiling
The LED ceiling creates a stunning and dramatic kinetic effect and has become a talking point in its own right, commented on in many of the main opening reviews, and now a conversation piece among the beautiful people and VIP guests frequenting the venue.
The idea of a ceiling feature was originated by the client and developed by Light Tecnica and ACSP, who wanted it to radiate out across the club, bringing a dynamic selection of movement effects that came alive in a living, breathing, artwork feeding off the positive energy in the space.
Color Web 250 is ideal for this application, fed with low resolution video effects and graphics which can be easily manipulated, changed and edited via a DMX controller. Its lightweight and compact construction makes it perfect for ceiling attachment and the neat construction means the only elements visible are the illuminated pixels. Being an LED source, the power needed is minimal in comparison to the visual impact!
The clients also wanted a strobing effect, so ACSP suggested 40 Chroma-Q LED strobes, an item available by special order through the company. Running these alongside the Color Web 250 brings a unique LED continuity and feel to the room, also providing a low energy aspect to the installation, which everyone favoured.
To subtly illuminate the back of the fixed seating areas, ACSP supplied RGB LED strip, which is easily mountable and emits high quality light. It is ensconced behind frosted glass and creates a classy, diffused glow effect that can change colour. As a counterbalance, about 90 metres of the same LED strip in warm white was also supplied and is fitted beneath the steps linking the different level of the club, and around the bottom sections of the banquette seating - offering a delicate luminosity.
In the VIP Area, reserved for extra special Whisky Mist guests wanting additional discretion and privacy, ACSP supplied GLP Volkslicht 60 Zoom LED moving lights. These are fixed at low levels and wash up the walls and onto the ceiling, giving a rich selection of colour from an almost concealed source, greatly enhancing the intimacy of the space.
ACSP In Control
Control for these lighting effects had to be flexible and integrated - involving the Color Web, the linear LED sources, strobes and Volkslichts - from one central point, from which the club also requested there be provision for additional control of some other light sources.
ACSP therefore specified a Martin LightJockey 2 system for the strobes, linear LED and Volkslichts, primarily for its flexibility and excellent sound to light features.
The Color Web is run from a Madrix media control system which allows video clips and other graphic formats to be played through it, creating a myriad of different moods from vivid WOW factors to very subtle mood enhancing 'liquid wallpaper' - bubbles, stars, shapes, etc. ACSP interfaced both the LightJockey and the Madrix controllers together. A Pulsar 1-10V universal interface was also supplied to control all the white light sources around the building including the bar and entrance-ways, allowing them to control the light levels in the different areas as they wish.
ACSP also recommended the two lasers that are installed in the club, which run through the LightJockey 2 system.
Already Whisky Mist Beirut is a major success, making its mark as an international cool destination for jet and trend setters worldwide, as well as an accessible and welcoming local hub for those wanting to celebrate special occasions or simply relax in a fabulously fashionable atmosphere.
Lance concludes, "It is very pleasing to see the potential of lighting aesthetics taken so seriously in creating a great environment. We are very proud to have been involved and to have assisted Light Tecnica in delivering a truly spectacular lighting scheme."
The rights and ownership of all trademarks are recognised.
The information contained herein is correct at the time of printing, however as we are constantly refining our product range we reserve the right to change the specification without notice. E&OE.
__________________________________________________________________________________
Editor's Note
A.C. Special Projects Ltd. is part of the worldwide "A.C. Group" of companies, which has its origins in the early 1970's.
The Group also includes A.C. Entertainment Technologies Ltd. (UK headquarters & International sales), A.C. Lighting Inc. (North American sales) and A.C. Lighting Asia KK (Asian sales).
A.C. Special Projects Ltd. provide supply and installation services for specialist lighting, audio and AV projects, from the initial design and build concept through to a finished system. The company has extensive knowledge and experience, as well as access to A.C. Entertainment Technologies' vast stockholding of leading brands. As a result, it is superbly suited to act as a supplier of all equipment and manage delivery according to your schedule.
UK-based A.C. Entertainment Technologies Ltd. is a leading one stop provider of professional equipment and related services to the entertainment industry. Operating from modern facilities located in High Wycombe and Leeds, the company supplies dealers, distributors and end users in over 80 countries worldwide. A.C. Entertainment Technologies Ltd. has a multi-million pound stock holding covering a vast range of products, accessories and consumables all available for same-day dispatch, and access to over 200 leading industry brands. Dedicated Lighting, Audio, Rigging and Video sales divisions mean customers can now enjoy all the benefits of purchasing their equipment from just one supplier, whilst still receiving the added service level that comes from dealing with specialist sales teams.
Contact
For more press info. on ACSP, please contact Louise Stickland on +44 7831 329888 or +44 1865 202679 or EMail louise@loosplat.com For more general information about A.C. Special Projects Ltd., please contact: A.C. Special Projects Ltd. +44 (0)1494 838392 info@acspecialprojects.com www.acspecialprojects.com
E-mail:louise@loosplat.com
Web Site:www.acspecialprojects.com