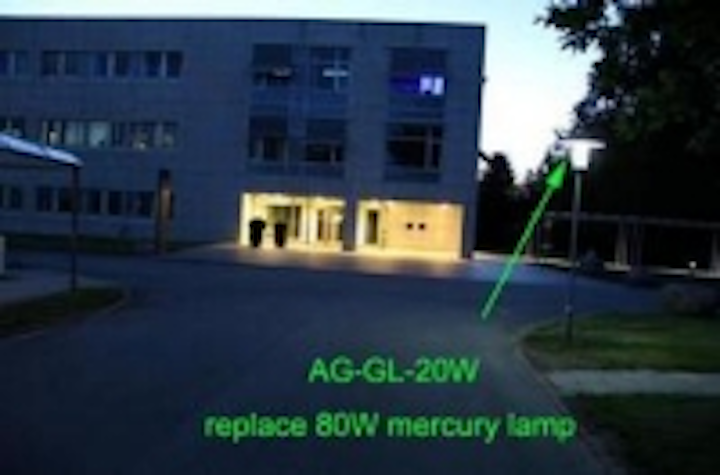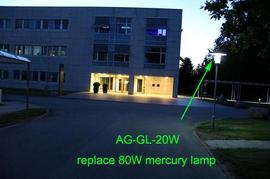 Date Announced: 05 Jul 2011
The Project,AG-GL-20W- replace 80W mercury lamps perfect.
The LED Garden light can be stead for traditional bulb. It is round, Can be bring light for 360 Degree for E40/E27 base.
Ambergreat AG-GL-20W is green product. Very friendly to the environment! Save your money and protect our earth!This High Power LED light fits standard E40 / E27 size fixtures. It can handle a wide range of input voltages, from 85V to 265V AC. It is also available for 12V or 24V AC/DC suitable for solar-powered installations.The lamp uses 24 extremely efficient 1W LEDs to produce 2700 lumens. Compared to traditional HID lamps, the high quality of the LED light (CRI > 75) allows much clearer, brighter colors to be seen at night. The lamp is available in Pure White (6000K-7000K), Natural White (4000K-6000K) or Warm White (2700K-4000K).The LED light source combined with superior optics yields a 70% saving over conventional sodium or mercury lamps. Round design body focuses the light into 180 degrees. The precise light distribution pattern significantly reduces light pollution.The lamp is virtually unbreakable, and has an expected life of 50,000 hours, many times longer than traditional light sources. The LEDs emit no UV or IR to cause aging or yellowing of lenses or fixture covers. Requires no noisy, energy-wasting ballast. No warm-up time, lights up immediately.
The LED Garden Light Warrantee are 5 years.
Please feel free to contact us(www.ambergreat.com).
Contact
Bran Marketing Department Ambergreat Electronics Pte Ltd Singapore 258 Boonlay Dr#06-513 Singapore 640258 Tel:0065-68982180 0065-67913539 Fax: 0065-63382898
E-mail:sales@ambergreat.com.sg
Web Site:www.ambergreat.com