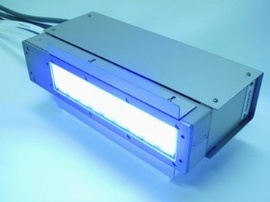 Date Announced: 11 Jul 2011
Kyoto, Japan -- Kyocera Corporation today announced that it has developed the KVL-G3 Series LED-UV curing system, a key component in industrial printing machines, which supports the industry's fastest label printing (80m/min.)*1 for use in UV curing-type printing -- a printing method that hardens and fixes ink with irradiating ultraviolet (UV) rays.
Moreover, the new product achieves a 70% reduction* in power consumption by using LEDs in place of conventional lamp-system products (metal halide). The KVL-G3 Series was made available to the market on July 8.
(* *2 Based on research by Kyocera. Estimated using the KVL-S09E-G3 when compared to a metal halide lamp of 4.8kW, and based on the following conditions: 8 hours/day x 250 days of operation/year.)
The LED wavelength is 385 nm, and the systems' designated lifetimes are 15,000 hours.
Recently, the use of digital printing, which enables fast printing of even small-volume wide-variety labels in a short delivery time, is expanding in the label printing market mainly engaged in printing product packages for commodities such as beverages. Among the various printing methods, the UV curing-type attracts attention due to its convenience in allowing printing on a wide variety of non-paper media including plastic sheets, as it enables printing without the need for ink to penetrate the print medium, as well as its eco-friendly composition that does not use volatile organic compounds (VOCs) as solvents.
The KVL-G3 Series features a power-saving system which enables a 70% reduction in electricity consumption compared to existing lamp-system products (metal halide) by using LEDs as the light source for curing ink. In addition, thanks to Kyocera's proprietary high-density packaging technologies, the company has succeeded in arranging LED chips on a high-density surface as opposed to in-line conventional products. With this development, Kyocera has enabled the fastest label printing capability for the UV curing-type printing method in the industry (80m/min).
Kyocera has been actively rolling out inkjet printheads, key devices for digital printing, which feature high-speed, high-definition and highly reliable printing. With the launch of this product, the company proposes an even more efficient printing method by combining its inkjet printhead and LED-UV curing system. In addition, in other markets such as offset printing, Kyocera will actively encourage customers to replace their current UV curing systems -- which use much higher energy-consuming lamps -- with this new product by focusing on its superior energy-saving features. In doing so, Kyocera aims to contribute to reducing the environmental burden within the printing industry.
For detailed product features please see: http://global.kyocera.com/news/2011/0703_desa.html
About KYOCERA
Kyocera Corporation /quotes/zigman/194992/quotes/nls/kyo KYO -1.73% (tokyo:6971) ( http://global.kyocera.com/ ), the parent and global headquarters of the Kyocera Group, was founded in 1959 as a producer of fine ceramics (also known as "advanced ceramics"). By combining these engineered materials with metals and plastics, and integrating them with other technologies, Kyocera has become a leading supplier of printing devices, printers, copiers, electronic components, semiconductor packages, solar power generating systems, telecommunications equipment, cutting tools and industrial ceramics. During the year ended March 31, 2011, the company's net sales totaled 1.27 trillion yen (approx. USD15.3 billion). The company is ranked #604 on Forbes magazine's 2011 "Global 2000" listing of the world's largest publicly traded companies.
Contact
KYOCERA Corporation (Japan) Judah Reynolds, +81-(0)75-604-3416 Corporate Communications Fax: +81-(0)75-604-3516
E-mail:webmaster.pressgl@kyocera.jp