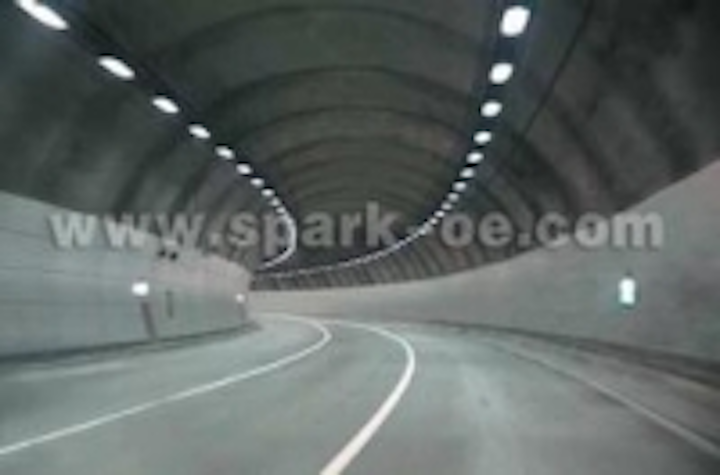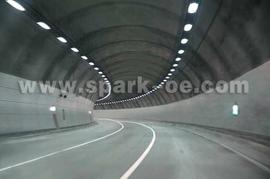 Date Announced: 06 Jul 2011
With improvement of LED technology these years, LED industry develops very fast and become the hottest field in the market, at the same time, LED is been applied in more and more areas. At this moment, there are 3000—4000 LED lighting companies specialize in many application field, like home lighting, commercial lighting and industrial lighting.
Intelligent LED tunnel light is the most popular product in this field, the advantages as following:
1.Special optical design, compare with traditional lamp, this design enlarge lighting area, eliminate glaring and no hurt to people's eyes.
2.Integrating design, the lens not only take responsibility for gathering light, but also protect inside LEDs, avoid waste of light energy, and make product more beautiful.
3.High power LED plane lattice encapsulated, radiator and fitment base integrating design, meet requirements of heat-sink purpose and ensure long lifetime of LED, and also meet requirements for free design on LED lamp fixture and show the vivid characteristic of LED lamp also.
4.Adopt high power LED, match with high efficiency power supply, save 80% energy than traditional incandescent lamp, at same power consumption, it's brightness is 10 times than that of incandescent lamp. Compare with traditional sodium lamp, it save more than 50% energy.
5.Long life time over 50,000 hours, which is 50 times than traditional osram lamp. Adopt advanced encapsulation technology--eutectic crystal welding, strongly ensure long life time of LED.
6.No flash, working under DC power, eliminate Perspective fatigue.
7.Green light source, totally environmental friendly, no lead, no mercury, no any pollution to environment.
8.Impact resistance, thunder resistance, no UV and IR radiation, no glass cover which may hurt people if it breaks. No any hurt to human being.
9.Work under low and safe voltage, lamp surface temperaure≤60℃ (Ta =25℃).
10.Broad input voltage scope, 100V-264V AC, stable voltage and constant current, ensure life time and brightness of LED will not be influenced by fluctuation of voltage.
11.Adopt constant current start technology, high efficiency, low temperature, high stability.
12.Decrease cable consumption, no pollution to power grid. Power factor≥0.9, THD≤20%, EMI meet global standard, decrease cable consumption, and avoid electromagnetic interference on power grid.
13.Light intensity is over 90lm/W, high color index.
14.Intelligent power supply, temperature, working time phase, remote control function.
During these years, Spark LED tunnel light have been sold in many countries, all of the world, and customer like it very much. Following are some projects information:
1.Sand Bernardo (Brazil)
In May, 2009, Spark installed 1253pcs LED tunnel light in San Bernardo, Brazil, after installation, local public road project inspection center tested the light performance of this project and got conclusion that data got meet tunnel light lighting standard.
Brightness outside tunnel: 3500cd/㎡, vehicle speed: 80km/h
Traffic flow: 700-2400 /h Road surface material: cement
2.Queretaro, Mexico
In August, 2010, Spark provides tunnel light to Queretaro, Mexico, the width of this tunnel is 18m. The road surface is cement, brightness outside tunnel is 3161cd/㎡, traffic flow≥2400/h. At the beginning, they designed to use high pressure sodium lamp, total power consumption is 730KVA. Later they change to use Spark tunnel light, total power consumption is 184KVA, save 70% energy.
The installation is finished in September, 2010. When do trial test by Project Company, all data have over 20% than required.
According to original design, use metal halide lamp, total power consumption is 185KVA, now use LED tunnel light, total power consumption is 185KVA, save 74.6% energy. Original design will invest US $0.94 millions, now change to LED and cost US $1.4 million. The electric fee got in first year will take back the US $0.46 millions.
Contact
Aileen Huang Spark Marketing Director Tel: (86 755) 8390 4366 Fax: (86 755) 8390 4766
E-mail:sales@spark-oe.com
Web Site:www.spark-oe.com