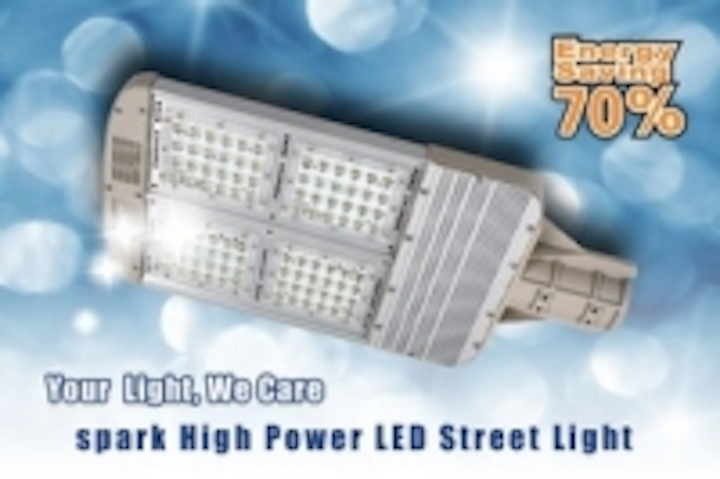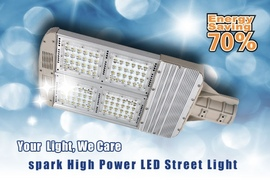 Date Announced: 14 Jul 2011
As one well-known manufacturer of LED lighting products, SPARK brilliantly debuts with LED street lights, which are selected for China National Demonstration Projects. Selected LED street lights all adopt integrated design, are the first ones in China using direct heat diffusion structure. The second time optical lens is made of high rate transmission material, with efficiency more than 93%.
For the modules, LED street lights adopt modular design, using high flux and good heat dissipation original CREE led, can control the power of the lamp freely. In the section of heat dissipation, using direct heat diffusion structure in our LED street lights, the heat can be conducted to the heat sink by high thermal conductivity material, and then took away by natural convection of air. For the electrical design, MCU control system was used on the traditional switching power supply, realizing the intelligent control to the LED street lights.
In order to control the dimming, MCU will collect external environment light signal, temperature signal of the lamp heat sink, time phase etc. And classify with different priorities, to realize light control, temperature control and time control. Achieve better 2nd time energy-saving, also greatly prolong LED's life span, improving reliability, lowing maintenance cost.
This series of LED street lights passed the energy saving testing by China National authoritative testing organization, the saving rate can reach 70%. In the meanwhile, they're CE & UL compliant, belongs to excellent outdoor led lighting products in the global market at present.
In addition, SPARK also developed newly LED high bay lights and led down lights. The unique appearance and exquisite craftsmanship received great interest from domestic and overseas professional visitors. Attracting them to come inside to enquire and visit. Moreover, more than 10 foreign visitors, who intend to buy, came to Shenzhen to visit SPARK factory.
Since year 2000, SPARK was involved in LED lighting industry. The products not only are sold as widely as more than 200 countries and areas, but also selected for China National Demonstration Projects as the only enterprise in Shenzhen. She became the well-known brand in LED lighting field. This show, from the displayed products to booth design, intends to show the development and innovation of SPARK to domestic and overseas professional visitors. YOUR LIGHT, WE CARE!
Contact
Aileen Huang Spark Marketing Director Tel: (86 755) 8390 4366 Fax: (86 755) 8390 4766
E-mail:sales@spark-oe.com
Web Site:www.spark-oe.com