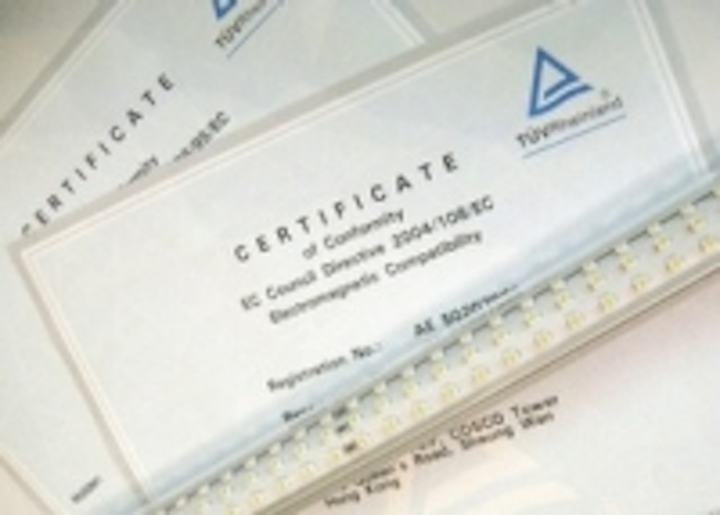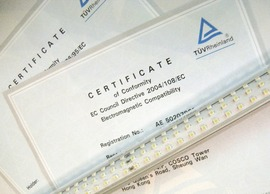 Date Announced: 29 Jul 2011
3elamp, the Hong Kong based company specialized in the design, production and distribution of lights and lamps in high powered LED, has been over 4 years on the LED tubes production and marketing and have developed a product with the maximum benefits of the current state of the art.
And now, after finishing the testing process, just got the CE conformity certification for his new single-end power LED tube from TÜV-Rheinland.
Single-end tubes from 3elamp provide new and important features as:
- Electrical design preventing tube to produce electroshock by improper handling (this has been one of the main reasons why people has been reluctant to retrofit the fluorescent tubes and it is one of the requirements from TÜV or KEMA to certificate award).
- Have only one active end and operate independently of the position in which they are located (do not require a specific direction in the bracket). Of course do not need to rewire the bracket (the other relevant requirement from TÜV or KEMA).
- Built-in isolated driver or, optionally, external driver.
- Connects directly to AC85 ~ 265V.
- The electromagnetic ballasts not necessarily need to be removed (but the tube is incompatible with the electronic ones).
- End caps of the tube are made in non-conductive material.
- Optionally, Zener diodes can be built-in on the SMD, preventing sudden voltage spikes on the line or static electric discharges that can damage the LED.
- Only the conventional starter needs to be replaced with the one that 3elamp provides with each tube (or every two tubes in case of fixtures designed for 2 tubes in series).
- High performance lighting SMD 3528 from Epistar with L70 > 50.000.
- Standard color temperature of 4000-5000K for natural white and 6000-7000K for cool white (other colors under request).
- PF reaches till 0,95.
- Wide range of operating temperature -35ºC ~50Cº.
- Structure of aluminum and polycarbonate diffuser (FR4 transparent, striped or frosted).
- 3 years warranty for manufacture defects.
3elamp also has pioneered the implementation of the optional 180º on the LED distribution using a special design with flexible PCB (as seen in the picture). This shape, sometimes combined with the traditional flat one, allows light designers and architects to better distribute the light in the desired way.
This new achievement consolidates 3elamp as one of the reliable partners in Asia for deliver high quality LED solutions.
Contact
JM Casanovas Managing Director Tel: (852) 8175 8125
E-mail:info@3elamp.com
Web Site:www.3elamp.com