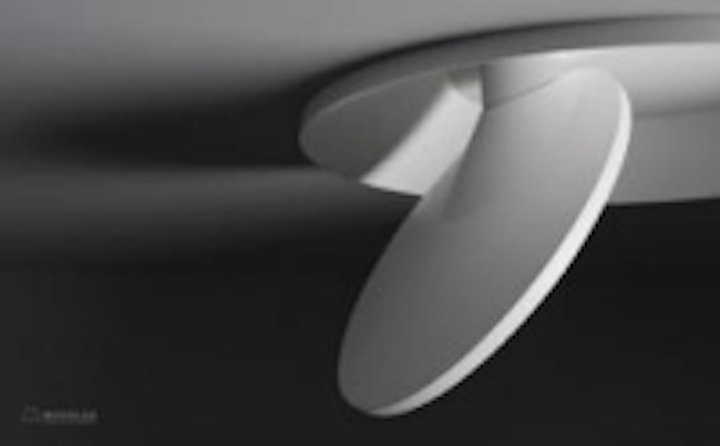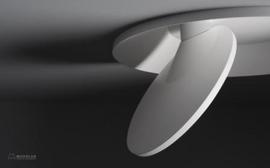 Date Announced: 14 Jul 2011
The new and futuristic Scotty from Modular Lighting Instruments, exclusively available through Atrium, has been designed to blend effortlessly into contemporary interior spaces. Sleek and unobtrusive, Scotty comprises a large LED flat disc positioned asymmetrically and set deep inside a chalice.
Scotty provides the ultimate flexibility with a back plate and special hinge that both have a horizontal rotation of 360º and a maximum LED disc rotation of 60º, which is achieved through its pivoting hinge. All wiring and hinges are integrated seamlessly into the design to maintain the stylish and smooth aesthetics.
Consuming between 22 and 34W, Scotty's revolutionary flat LED disc generates a luminous intensity of up to 1400 lumens, making it an ideal substitute to the classic halogen lamp. However, the difference lies in its longevity. The broad surface area of the luminaire may achieve a striking aesthetic but crucially - keeps the LED cool and allows Scotty to deliver a lifetime of 50,000 hours.
Scotty is also available in an adjustable version, which can be installed as a downlighter and a wall washer. Both versions can be fully recessed or installed partially flush in a false ceiling so that a subtle protruding edge remains visible.
"Scotty is an exciting new LED luminaire offering specifiers the ideal combination of ecology, technology and aesthetics," explained Ulysse Dormoy, Managing Director, Atrium. "Scotty has been developed following the success of SPOCK, the first design fitting with a flat LED disc, and offers the same meticulous aesthetics and attention to detail that Modular Lighting Instruments is renowned for."
For further information about Scotty from Modular Lighting Instruments contact the Atrium team on: 020 7681 9933 or sales@atrium.ltd.uk.
Contact
Gerry Cherry / Atrium CIB Riversway, Leatherhead Bridge, Guildford Road, Leatherhead, Surrey, KT22 9AD
E-mail:pradmin@cibcommunications.co.uk
Web Site:www.cibcommunications.co.uk