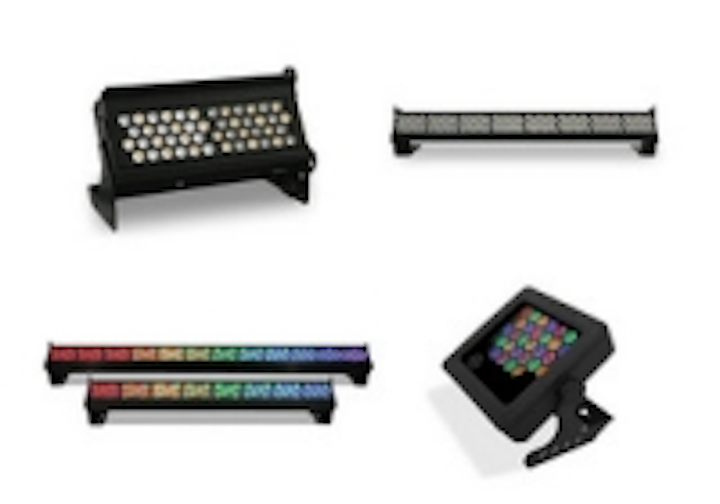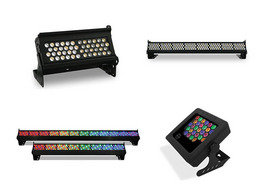 Date Announced: 25 Oct 2011
A.C. Lighting Inc.'s booth at the 2011 LDI show, Orlando will be showcasing the latest technology innovations from Chroma-Q™, Jands Vista and LedGo – all of which are distributed in North America by the reseller (Booth 403).
The eagerly anticipated new Chroma-Q Color Force Compact™ will be officially launched at this year's show. Utilizing core LED technology from the incredibly popular Color Force™ range, the Compact provides a powerful 1,700 lumens of output in a slim, compact profile – making it ideal for lighting areas while occupying a very small footprint.
By incorporating the same LEDs as the 12", 48" and 72" fixtures, the Compact works in perfect harmony with the popular Color Force range; providing the deep cold blues, red hot lava looks and super soft pastels that designers love.
Another Chroma-Q innovation on show is the recently launched Studio Force™ White LED range, which has been designed specifically for broadcast and other studio lighting applications.
Studio Force is also available in 12, 48, and 72 inch versions, and the range features a choice of 6,100K CCT, daylight white (Studio Force D) and 3,000K – 6,100K CCT, variable white (Studio Force V) models – between them providing an extreme output ranging from 5,300 up to an impressive 28,000 lumens!
Based on the same renowned core technologies as the Chroma-Q Color Force range, the six Studio Force white LED models all offer at least twice the light output of their RGBA color variants. A sophisticated custom optical design provides a smooth, uniform wash output.
The new Chroma-Q Color Span™ 2 will also be launched on the booth. Featuring an improved second generation design, the Color Span 2 is a configurable low profile, ultra bright LED cove lighting and wall wash system for wide ranging applications. The fixture allows users the flexibility to specify many aspects of its design including the IP rating, body length, body color, LED colors, and optics. For more information visit: www.chroma-q.com
A.C. Lighting Inc. will also be demoing the recently released Vista v2 software running on the Jands Vista control range. The next generation Vista v2 software was designed from the ground up to allow all levels of user to get the most from whatever mix of technology they have available, whether dimmers, moving lights, LED, or media.
Available in a wide range of hardware options, Vista v2 offers both the simplicity to work fast, with the power to control the finest details, so everyone can focus on creating a great looking show rather than on programming a desk. For more information visit: www.jandsvista.com
Following A.C. Lighting Inc.'s recent appointment as LedGo's North American distributor, the booth will feature LedGo's range of modular video solutions. LedGo panels are brilliantly engineered and incorporate high-quality hardware and components to deliver incredible video performances at economical prices.
On display will be the 0.2 inch, 0.4 inch, and 0.6 inch resolutions (6mm, 10mm, and 15mm). LedGo video panels feature easy "Rig and Click" hardware for quick assembly and very high refresh rates by using the latest LED drivers to avoid flickering on cameras. For more information visit: www.LedGo.tv
In addition to aforementioned products distributed in North America by A.C. Lighting Inc., the company carries a vast stockholding of the latest stage, studio and event worship lighting products, accessories and consumables. This choice of on-the-shelf products is coupled with competitive prices and the highest level of service and support.
Contact
Louise Stickland +44 7831 329888 +44 1865 202679 A.C. Lighting Inc. (416) 255 9494
E-mail:louise@loosplat.com
Web Site:www.aclighting.com