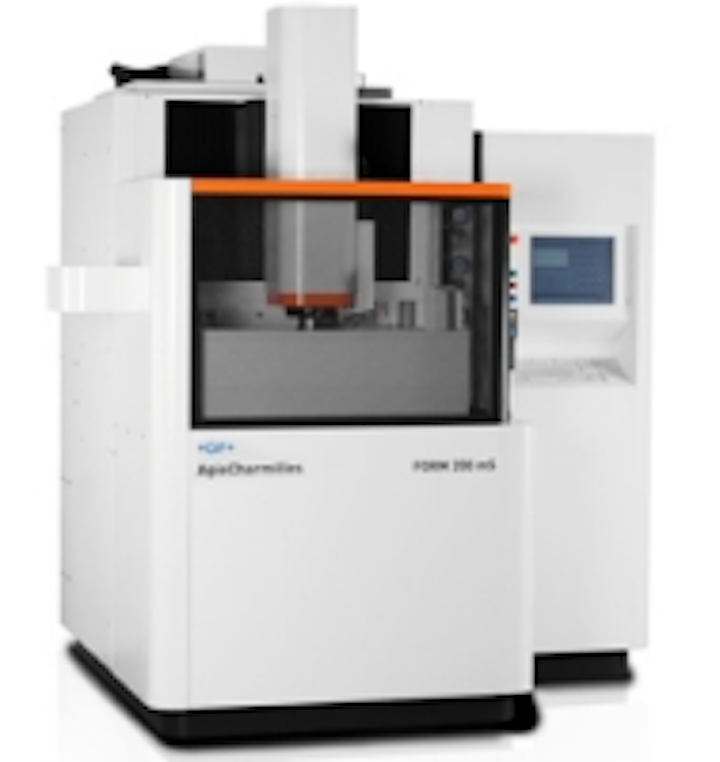 Date Announced: 25 Oct 2011
Just as GF AgieCharmilles' FORM 200 mS die-sinking EDM machine masters all aspects of micro machining – from molds for integrated circuits and cavities for light-emitting diodes (LEDs) to the detailed forms of connectors – its companion Rotary Tool Changer (RTC) masters tool changing to take your mold manufacturing operation to the next level of efficiency and productivity. The FORM 200 mS equipped with RTC adds flexibility and increased running time to your precision machining operation.
Optimized for speed and performance, the FORM 200 mS ramps up your productivity even more with the addition of GF AgieCharmilles' RTC. The modular 16- to 160-position RTC features automatic scanning of the tool magazine, extending your independence and saving your time. In highly competitive fields like electronic component production, time saved equals money saved.
Dedicated micro machining interface
A star in GF AgieCharmilles' FORM range, the FORM 200 mS is designed specifically to help you reach absolutely perfect geometric quality. Integrated Automation offers a high degree of autonomy, and the FORM 200 mS boasts a user interface with functions dedicated to micro machining. But the FORM 200 mS does not stop at micro machining: Its generator also enables a wide range of standard applications. That means more flexibility for your machine invest-ment.
With its MicroTEC discharge circuit, the FORM 200 mS allows power to be modulated and maxi-mizes material removal while accommodating undersize (<20 µm) electrodes. For even the tiniest applications, higher machining outputs are achieved while maintaining the geometry of electrodes – and most intricate cavities – thanks to an extremely low rate of wear.
Embedded experience
The FORM 200 mS puts GF AgieCharmilles' many decades of EDM know how at your fingertips. Whether it is sparking energy control according to electrode shape, or gap supervision and real-time spark analysis, the FORM 200 mS has you covered with around-the-clock monitoring and process optimization for highest repeatability and reliably predictable superior results. Our iQ (innovation + Quality) technology significantly reduces wear on graphite and copper elec-trodes to further drive your efficiency and productivity.
Adding the flexibility with RTC
While the FORM 200 mS alone exceeds expectations, but equipped with the RTC it brings additi-onal value to your micro component production process. Customers looking for reliable tool changing in order to increase their running time need look no further than the RTC in combi-nation with the FORM 200 mS. But the RTC goes further, ably managing multiple tools, in up to 160 positions with varying shapes and increasingly your flexibility. With the FORM 200 mS and RTC, you get the best of both worlds: increased running time and increased flexibility.
The FORM 200 mS with RTC represents GF AgieCharmilles' ongoing commitment to driving your real world need to outperform your competition by being faster, more precise, raising production volumes and delivering superior quality.
A continuum of Customer Services
Like all GF AgieCharmilles products, the new FORM 200 mS and RTC are supported by a full range of Customer Services that can be tailored to each customer's needs.
Operations Support ensures optimimum levels of performance and precision in daily operations and offers a wide range of certified consummables and original wear parts. Machine Support maximizes machine up time with original spare parts, technical support and preventive services. Business Support enhances operational potential with tailored business solutions.
Contact
GF AgieCharmilles Elke P. Magnin Media Relations & Communication Manager
E-mail:trade.media@ch.gfac.com
Web Site:www.gfac.com