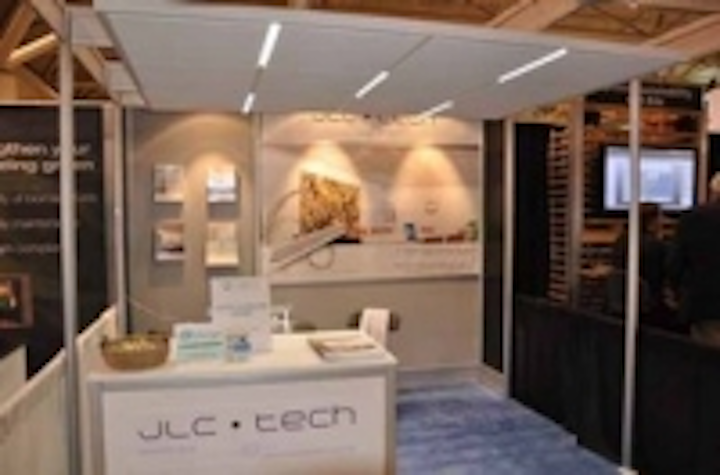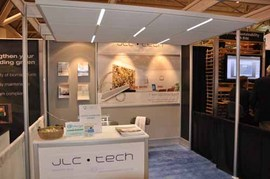 Date Announced: 20 Oct 2011
JLC-Tech LLC successfully launched the T-BAR LED Smartlight™ at Greenbuild 2011 in Toronto. Three days of exhibition were filled with visitors from all over the globe. The JLC-Tech booth was crowded daily with curious viewers ranging from architects and designers to builders, lighting agencies to product distributors, facility managers to venture capitalists, and many colleagues of the industry.
Onlookers were continuously poking their heads into the booth wondering just what this new LED light was all about. On first observation many speculated the LED lights were simply adhered to the grid of the suspended cloud. All were pleasantly surprised, when they were given the explanation of just how the T-BAR LED Smartlight™ is so uniquely designed.
The new line of LED lights with innovative construction allow the fixture to be integrated directly into an suspended ceiling. The body of the T-BAR LED Smartlight™ is designed to maximize the heat dissipation from the LED board maintaining the shape of a standard cross tee of a suspended ceiling system. Therefore, your LED light product is integrated into the visual structure of the grid ceiling. As the T-BAR LED Smartlight™ is not actually part of the weight baring structure of the grid ceiling; there is no need for meeting additional seismic or fire safety codes. The new, innovative, reliable and cost-effective LED light solution to replace fluorescents, can now be widely used in offices, show rooms, airport terminals and much more. This patent pending innovative and minimalistic light-product was designed to give an alternate solution to the classic 2x2 and 2x4 troffers, eliminating the chessboard ceiling effect.
"With over 120 new direct contacts made at Greenbuild- 2011 and subsequently signing several new representation contracts for Canada, the USA and South America, we are overly pleased with the outcome." says Mia Antonia, Marketing and Communications Manager at JLC-Tech LLC. "We are confident that the modern and sleek design of our T-BAR LED Smartlight™ will be what sets us apart from other products that are simply duplicating products that we have already seen in the past."
T-BAR LED Smartlight™ is offered in two available dimensions: 2 ft and 4 ft.
The efficiency of T-BAR LED Smartlight™ is 65lm/W. A class II power supply is offered for remote installation, which can run up to five 2 ft T-BAR LED. The T-BAR LED Smartlight™ runs on 24V-DC and absorbing only 17W per 2ft T-BAR LED. It adopts high luminous efficiency CREE XP-G LED technology giving off approx. 1100 lumen.
The T-BAR LED Smartlight™ is an eco-friendly, solid-state LED lighting system that produces bright, even illumination. It is a smart energy consumption and installation cost reducing product that will improve not only the acoustics but the aesthetic quality of any ambient.
To learn more about T-BAR LED Smartlight™ visit our website at www.tbarledsmartlight.com or join our mailing list by contacting miaantonia@jlc-tech.com
About JLC-Tech LLC:
Bright ideas! JLC-Tech is a young organization born in the year 2009 with the objective to develop new ideas and innovative products to be then introduced into the industrial market for which they were designed. JLC-Tech is specialized in LED Lighting solutions for commercial and residential applications. The founder of JLC-Tech carries almost 20 years of experience in the lighting sector with both national and international expertise.
Customer first! People at JLC-Tech are dedicated to offer the best possible service. Our vendors are all selected among the most reliable and have all operated in the lighting sector for many years. Our logistical platform can manage small or large orders taking the promised delivery date as a commitment.
Made locally! JLC-Tech LLC is committed to bringing back jobs into the country where the products are sold. By using a sophisticated logistic platform our products can be made locally in the global area where they find their market.
Contact
JLC-Tech LLC International Sales Department Tel/FAX: +1-781-585-6368
E-mail:info@jlc-tech.com
Web Site:www.tbarledsmartlight.com